Thanks to crowdfunding websites like Kickstarter and Indiegogo, we've seen an avalanche of alleged "new and improved" products in recent years. Facebook is awash in ads for wallets, travel pants, and so-called tactical pens that claim to be bigger, better, and faster. So, it's easy to write off yet another everyday carry bag as, well, just another EDC gear bag. However, when the brains behind said bag include famed gear junkie and blowing-stuff-up expert Adam Savage, we take notice.
Every craftsman reaches a point where they decide they can design the tools of their trade better than anyone else. Emeril Lagasse did it with his All-Clad pan sets; Dr. Dre with his Beats by Dre headphone line; and George Foreman has his grill. So, it's fitting that Adam Savage would try his hand at designing a go-to, all-purpose gear bag fit for craftsmen of any trade.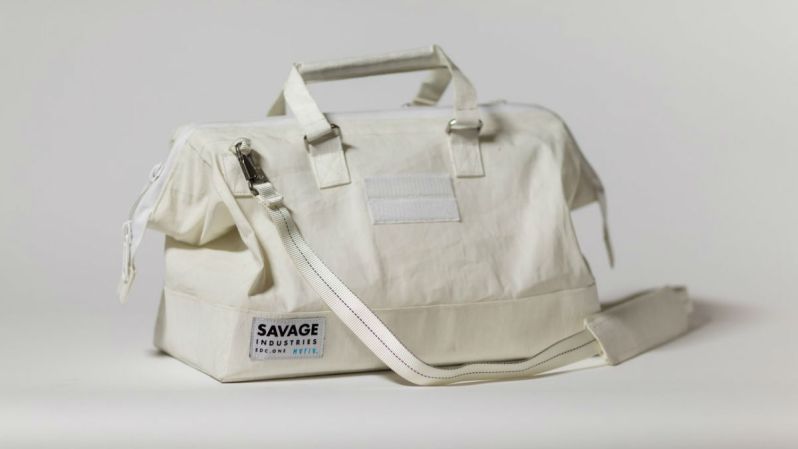 As a model builder for Industrial Light & Magic and one of the driving forces behind Mythbusters, Savage has a decades-long resume of in-field experience and inspiration from which to pull. His first and, so far, only foray into product design has come to life in the form of the EDC ONE, a gear bag created in partnership between California-based Mafia Bags and Savage's newly formed Savage Industries brand.
Everything about the EDC ONE is utilitarian, almost to a fault. For starters, unlike every other "urban tactical" bag on the market, it's available only in white. This is an intentional decision both from a design perspective (Savage notes each bag will develop a unique, worn-in patina over time) and a functional one (it's much easier to find lost bits in a white bag than a black one).
The shell is crafted from salvaged and upcycled sailcloth, so the look, feel, and design of each bag is unique. The material is lightweight, durable, and machine-washable, ensuring the first bag you buy will likely be the last. All are marked with a one-of-a-kind serial number. Dual handles and a web shoulder strap provide twin carrying options. It's the clever details that set it apart, however. Magnets hold the grab handles together upright, for example; and the bag's wide, clamshell mouth remains open thanks to integrated springs.
The inside is likewise stripped down, with only a few horizontal pencil loops and small pockets to keep loose bits in check. The bottom is Kevlar-reinforced and lined with strips of Velcro. The latter seems to indicate the company is already planning for add-on accessories like padded camera inserts or extra compartments for sensitive electronics.
The Savage Industries EDC ONE bag is available now for USD $225 directly from AdamSavage.com. Additional bags — including a smaller one and a regulation carry-on version — are already in the works. You can check out some of our other picks for everyday carry essentials here.
Feature image courtesy of Adam Savage/Facebook.
Editors' Recommendations