As fall clouds start rolling in, the rain, snow, sleet, hail and anything else Mother Nature can think of isn't too far behind. And, if you were smart, you took advantage of the off-season sales and bought yourself a quality pair of winter boots at a cut-rate price.
Why waterproof? It's protection of your investment. As boots/shoes flex in regular use, grit and grime gets into the fabric and can cut the life of your new purchase significantly.
A good-looking and worn-in pair of boots can complete a look and save your feet from hours of drenched unpleasantness. We've sifted through dozens of options and come up with 9 of the best ways to waterproof and protect your shoes/boots whether they be leather, suede, fabric or otherwise.
How to Waterproof Shoes
As You Begin Wearing Your Footwear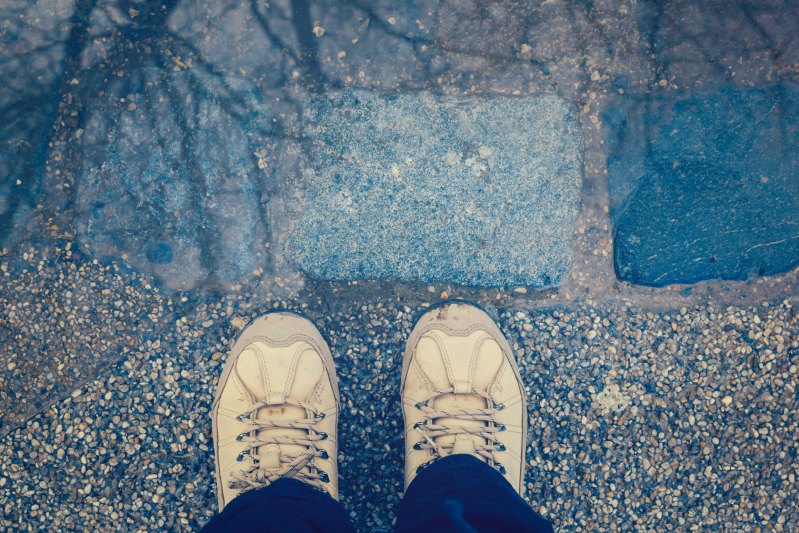 Allow time to break in the fabric – Once the shoe conforms a bit to your foot, the fabric will reveal unique creases and any waterproofing solution will be able to get into those seams and prolong extra wear.
Clean after heavy uses – Don't leave mud and grit on the tread after a day on the trails (or in your favorite metropolitan area). Simply keeping shoes clean with a damp towel or brush preserves the finish.
Dry upside down and invest in a shoe tree – Drying boots upside down will help moisture naturally evaporate and the horn will keep the shoe's shape over time. REI says you can use a piece of yesterday's Times inside the shoe to help wick moisture away too.
Commercial Products for Those with Little Time

Scotchgard – Easily one of the most popular products on the market, 3M's spray-on line has a regular and a "Heavy Duty" option depending on your needs and it works on every fabric. It's also a simple application: spray on a coat, let it dry, spray on a second and in an hour, bam, waterproofed.
Rust-Oleum Never Wet – Another spray-on liquid, but specifically developed for boots and shoes (they even claim their product works on tennis shoes). As opposed to Scotchgard, which can make fabrics feel starchy and stiff over time, Rust-Oleum won't change the flexibility and feel of your footwear. However, Never Wet is more chemical-based, so it is a good idea to use gloves when applying.
Dry Guy Footwear Waterproofing Spray – This spray is one of the few that claims to be environmentally friendly, using water as its "main dilutant". Also, Dry Guy doesn't require multiple applications, so it's a "one and done" product.
DIY Options for Craftier Folks (or Cobblers in Training)
Wax n' Dry – With candle wax and a hair dryer, you can apply a very basic waterproof buffer to your shoes. Barely heat the wax, then rub it into your footwear. Then, use a hair dryer to gently melt it into the fabric. Do not leave the dryer on any particular spot at too high of a heat for too long or else the fabric may crack due to rapid moisture loss. This applies to just about any fabric outside of synthetics.
Boil N' Brush – Using just a couple ingredients and a heat source, you too can make your own waterproofing liquid for pennies on the dollar and can apply to just about anything. It will also make you long for the prairie and potentially protect every piece of clothing you own.
Editors' Recommendations