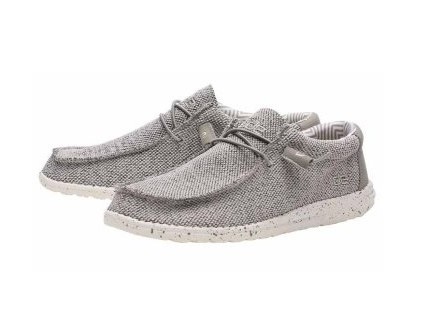 This content was produced in partnership with HEYDUDE.
Thanks to HEYDUDE, long gone are the days when you had to choose between comfort or style when it comes to footwear. Now, you can enjoy a pair of ultra-comfortable shoes that also look great, thanks to HEYDUDE's wide range of shoes for the whole family. There's something for every taste and interest here, so it's a good idea to click through to the link below and see just what's out there. If you're new to all things HEYDUDE or need a reminder of why the company is worth checking out, you're in luck. We're on hand with a quick look at six key reasons why you need to buy shoes from HEYDUDE so you can feel confident you're making the right choice.
HEYDUDE shoes are super comfortable
Comfort is a core part of the HEYDUDE ethos, and all their shoes are focused on providing plenty of support and comfort, no matter how far you're walking or how hot it is. Features like mesh uppers and foam insoles all add to the experience, so you get plenty of comfort, along with breathability. After all, a comfy foot isn't comfortable when it's hot and sweaty, so it's a smart move by HEYDUDE to prioritize comfort, no matter what the conditions.
HEYDUDE has the best collabs
One of the interesting things that HEYDUDE offers is their limited edition collaborations with various brands and specialty artists. One fan favorite is the Mossy Oak Country DNA collection, which combines Mossy Oak's legendary camo print with HEYDUDE comfort for the whole family. With boots for those braving the great outdoors or slip-on styles for everyday wear around town, there's a comfortable, foot-hugging style for all. Another exciting callout is their recently introduced Collegiate Collection, launching September 19th. Now, you can show off your school spirit in the best of ways with a head-to-toe look featuring a pair of specialty HEYDUDE shoes. While these unique collections aren't eligible for promotions, they're worth the splurge, especially if you want to rep your favorite school or blend in with the foliage.
Because you hate complicated lacing systems
No one likes to spend ages lacing up shoes. It's inconvenient, takes a while, and can even fray the laces themselves (or your hands!). We won't delve into how much of your life could involve lacing up shoes. Instead, we're delighted to see that HEYDUDE shoes get rid of those issues. Their shoes have an easy-on lace system, so you can simply pull them onto your feet without any hassle. It's so much easier than lacing, and it looks pretty good too.
They're affordable
Usually, ultra-comfy shoes that look great tend to cost a small fortune, but that's not the case with HEYDUDE. The company offers tremendous value, even when there isn't a sale taking place. With styles available starting at $40 and many pairs only costing just $65, this is an impressive value for shoes that are built to last. Even the most expensive shoes at HEYDUDE are affordable – their Branson Boot Craft Leather boot is made from leather and still offers everyone's favorite easy slip-on/off system at an amazing price. Boots that can be worn at work or on the town for just under $100? You can't beat HEYDUDE's value.
There are so many styles to choose from
There are a lot of different styles at HEYDUDE. For instance, the Wally Patriotic offers an American flag design that could look perfect for the 4th of July, Labor Day, or American celebrations. There's also the off-white patriotic design, which is a bit more subtle. Away from that, there's the Wally Stretch range, which suits every outfit, or you could always go for a camouflage design if it matches your aesthetic. That's even before delving into the many boot designs or the Sirocco range, which closely resembles a pair of sneakers.
Your feet are going to love you for it
You've only got one pair of feet, and they need to last you a long lifetime. That means it's vital you have the right footwear to facilitate that and avoid joint issues or simple aches and pains. Alongside that, what you wear on your feet can affect your hips and knees, and who wants to need surgery for any of those joints, right? The level of comfort that HEYDUDE brings is sure to give you a fighting chance. While none of us are guaranteed to be ache-free in our old age, it's still a smart move to do what you can to keep you a little safer. On a basic level, life is way more fun when you can walk around without your shoes rubbing or hurting your feet. That's the biggest reason of all why HEYDUDE is so irresistible, with its range of different shoes crafted for wherever your feet may take you.
Editors' Recommendations