If you haven't already heard, which would be nuts since everyone has been talking about them for decades, Cuban cigars are a hot commodity. And getting your hands on them can prove to be a bit tricky since the sale of Cuban cigars in the United States remains illegal (thanks a lot, JFK) — the Cuban Trade Embargo is still in effect and there are no plans to lift it (at least not during this current presidency).
Cuban Cigars: Legal or Illegal?
The previous administration (thanks, Obama) did lift several travel and financial restrictions for U.S. citizens. Americans can now bring back Cuban cigars from Cuba or from other third-party countries, although the cigars that come back are for personal consumption or gifts only and cannot be resold. Oddly enough, there is no dollar limit on how many cigars you can bring back, so make sure to pack an extra suitcase the next time you head to Cuba, but be prepared to declare them upon arrival back on U.S. soil.
How Cuban Cigars Are Made
Cuba's production of cigars can be compared to Napa Valley's wine culture; it's taken extremely serious and also draws in tourists from all over the world. Cuban cigars are generally made just like any other cigar. Tobacco plants are planted late in the year and grown for three months before farmers pick them, leaf by leaf. Next, the fresh leaves are taken to the drying room where the leaves are hung to dry in a process of curing, which can take up to three months. Once the leaves are cured, the cigar is ready to be rolled. How each cigar is rolled can influence the quality of the cigar so it's imperative that the cigar is rolled with all the leaves wrapped in the same direction, leaving a smooth and shiny wrapping. Rolling a perfect cigar is a skill and takes years to master.
What Makes Them Cuban
So what differentiates a Cuban cigar from another cigar not made on the Communist island? Basically, it's all in the Ligero, which are the top leaves of the tobacco plant. And what makes these leaves any different from other leaves? Just like with any agricultural product like grapes, the quality of tobacco leaves and the final Cuban cigar depend on many aspects that include climate, temperature range, the rains, the wind, the soil, and even the human hand. Even within the region of Pinar del Rio, the premier Cuban tobacco region, there are differences in the quality of some growers compared to their neighbors. Although there are outstanding tobacco farms in other parts of the world, the fact is that tobacco leaves from the Pinar de Rio region in Cuba reign among cigar aficionados around the world, mostly because they consistently put out good quality tobacco leaves.
Why Cuban Cigars Are So Special
It's all about the strength and flavor of the tobacco. For those who love to indulge with a cigar, Cuban cigars represent the ultimate experience, known for their strength and flavor; they typically offer spicy, woody and earthy tones that blend beautifully to create a unique experience. Although there are milder brands and others that offer herbal notes, the bulk majority of Cuban cigars offer that more intense flavor. It's really all about the strength and complexity, something a novice cigar smoker most likely wouldn't be able to describe or detect.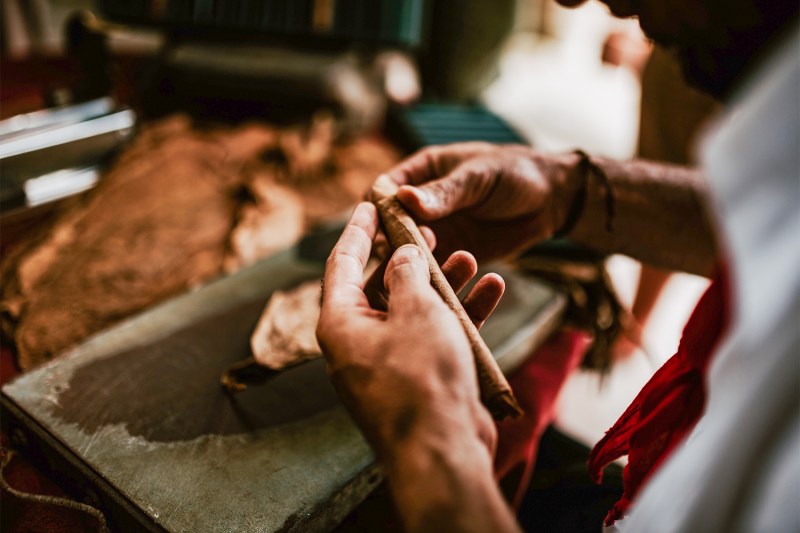 Are Cuban Cigars Worth the Hype?
Yes. Absolutely, 100 percent, fly to Cuba right now and buy a box or two. It's true that some Cuban cigars can cost three times as much as any other cigar, but at the end of the day, the difference in cost will offer something totally unique, more intense, and something that is more robust in flavor. There's a reason why Cuban cigars are so famed beyond the embargo, which has only helped propel them into such a coveted luxury. So treat yourself next time you are in Cuba or a reputable cigar shop overseas. Beware of imitations and fakes (oh hello, Mexico) because you'll be duped into paying top dollar for a basic cigar with a fancy fake label on it. Try pairing your deliciously expensive Cuban cigar with your favorite cognac, brandy, scotch or port wine.
Editors' Recommendations