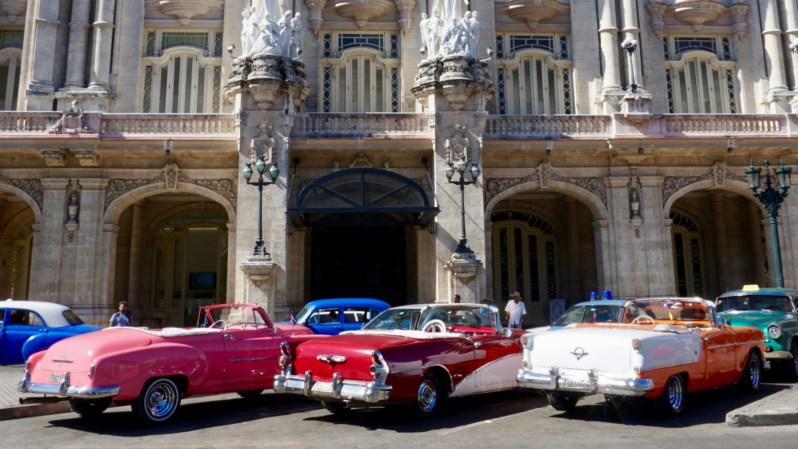 While we knew Cuba was known for its abundance of classic American cars, nothing quite prepared us to witness these behemoths barreling down grand avenues and marauding along the famous Malecón.
How did all of these vintage rides end up on the island? It all started when Fidel Castro overthrew the mafia-loving Cuban president Fulgencio Batista on January 1, 1959. When Castro rode into town, many wealthy Cuban's immediately fled the country, leaving behind their homes and their cars. Because of the following trade embargo with the United States, which forbade further export of American cars to Cuba, those abandoned classics that were once luxuries of the elite became necessities to the locals who inherited them (or simply walked up the driveway and drove off in them, since many still had the keys in the ignition on January 2).
As the decades of hardship droned on, those classic American cars had to be maintained with whatever parts were available on the economically isolated island. The Cuban's nicknamed these cars "The United Nations" because the bodies are American (like the UN headquarters in New York) but the insides are made up of parts from around the globe.
While new cars are now easily imported to Cuba (minus any from the U.S.), these vintage cars are well loved by locals and tourists alike. Most of them are now used as taxis and are a great source of income for Cubans.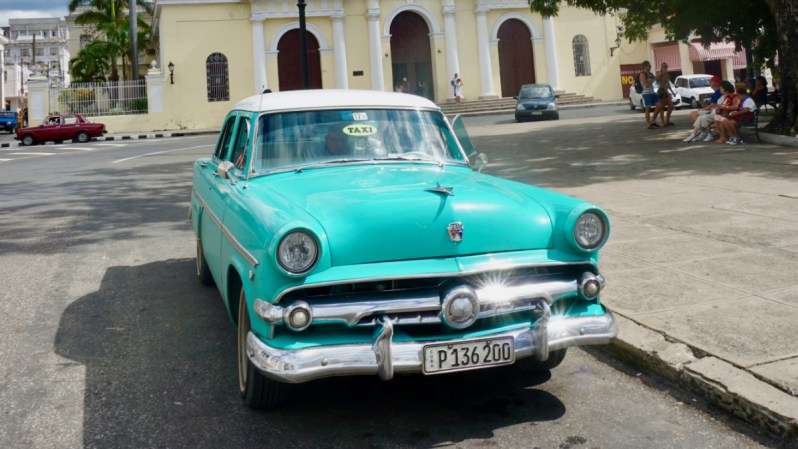 Since the average monthly salary is the equivalent of a whopping $30, taking a one-hour tour around Havana in one of these beauties for $50 is well worth the price and helps drivers achieve a better life for not only their families but their country as a whole.
While we had to stop ourselves from photographing every single classic car we saw, here is a fleet of photos of some of our favorites we spotted in Havana, Cienfuegos, and Santiago de Cuba.
One of the first classic cars we spotted was in downtown Havana. It sports a very "parade-car" vibe as if the ghost of Fidel might ride in the back of this puppy down Havana's main drags.
Check out this vibrant portrait of purple versus pink (top left) at Cuba's Museum of Fine Arts. We discovered a study in blue courtesy of a Buick (bottom right) in Urban Historic Centre of Cienfuegos. Clearly, pastels and bright colors are favored among the classic car crowd.
However, we were also able to find a few palate cleansers, like this Chevrolet (bottom left) in front of the mosaics in Fusterlandia and this white wonder (bottom right) pulling up to the artist commune in Cienfuegos.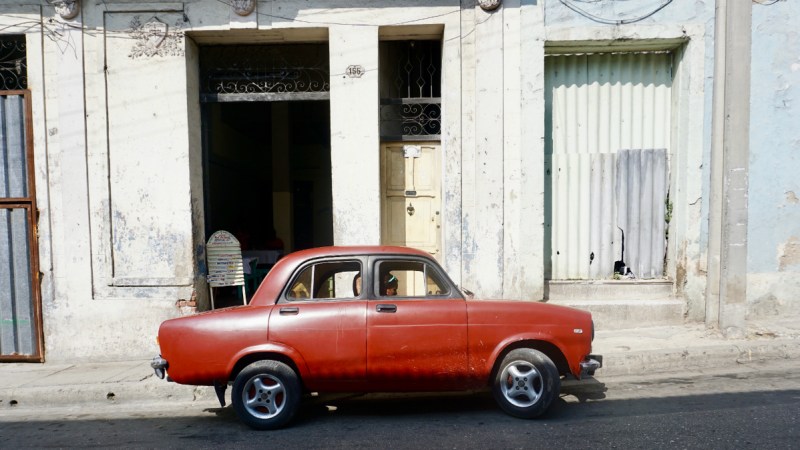 Walking up to the main square in Santiago de Cuba, we spotted this tiny Russian number. The USSR backed Cuba from just after the 1959 revolution until its dissolution in 1991. Approximately 60,000 pre-1959 cars are still plying the streets of Cuba.
The gold logo on the front of this Cadillac (left) is the icing on an already perfectly polished cake. You should have heard the horn on this fellow red beauty (right). We don't think it was original since it sounded like the honk from a Model T, but a little bit of anachronism never hurt anyone.
An all-time favorite, this 1957 Chevy (left) — complete with winged fenders and rocket-ship rear lights — drops guests off at the historic (and UNESCO-protected) Castillo de San Pedro de la Roca in Santiago de Cuba.
A black matte Chevy with some serious rims (left) looks like the Cuban version of Knight Rider. On the right, is that a Cadillac Eldorado in a shade of eggplant or Batmobile?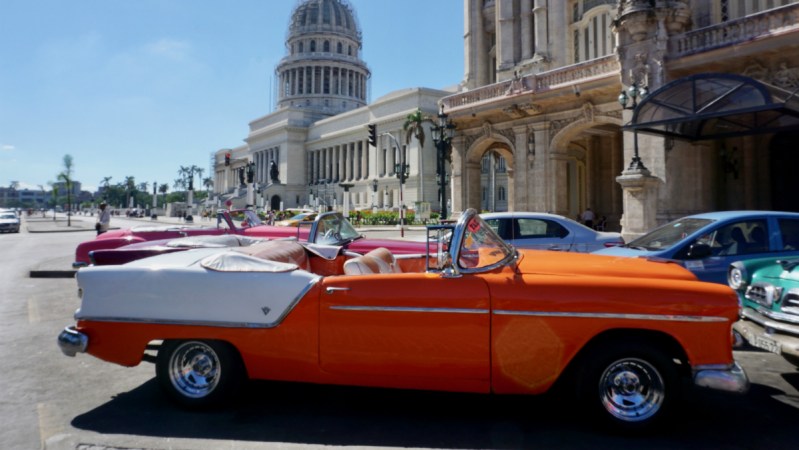 Parked next to the central square of Havana (right) , this looker's driver stopped for a quick coffee at the iconic Hotel Inglaterra of Havana.
Public transportation is hard to come by in Cuba and many inventive locals have turned their trucks into bare-bones, bone-rattling, people-moving machines (top left). However, other taxis boast more recognizable bodies. Check out the tiny flames on the Jeep (top right).
Before you visit yourself, be aware of these important travel tips.
Photos by Cator Sparks/The Manual. Article originally published November 30, 2017. Last updated by Nicole Raney.
Editors' Recommendations