For decades, Cuba has suffered from an "image problem" — at least for American travelers. First, we could visit whenever we pleased, then we couldn't, then we could again (sort of). Last year, President Trump sought to make travel to the island nation more difficult. Now, after a few months with an elevated threat level, Cuba is once again safe-ish to travel to.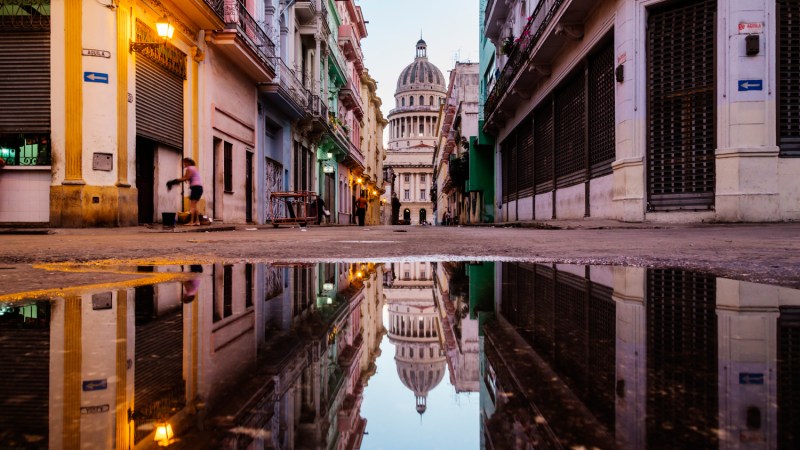 Late last month, the U.S. State Department relaxed its official advisory for travelers to Cuba from "avoid travel" to "exercise increased caution." If you're as confused as us, don't worry — the change is a good thing for those looking to visit Cuba. In theory, it should be safer. The country had been listed under a "Level 3" threat after a bizarre string of mysterious incidents hit U.S. embassy personnel in Havana with unexplained health-related attacks. The department still warns travelers to stay vigilant, in particular: "If you experience any acute auditory or sensory phenomena, immediately move to another area." Seems like sound, if obvious, advice. Secretary of State Rex Tillerson clarified the warning, however: "We have no reports that private U.S. citizens have been affected, but the attacks are known to have occurred in U.S. diplomatic residences and hotels frequented by U.S. citizens."
In January of this year, the State Department rolled out a new global threat advisory system with the intention of making it easier for Americans to understand how safe each country is for travel. All are ranked on a four-point scale. "Level 1" means "Exercise normal precautions." It's effectively the absence of a warning and applies to destinations like Australia and Iceland. "Level 4" is the highest threat level reserved for the world's most dangerous countries to which Americans are advised, "Do not travel." This applies to war-torn nations like Afghanistan, Syria, and South Sudan.
It's worth noting that the State Department's travel advisories hold no sway over where U.S. travelers are legally allowed to travel. They're merely recommendations based on the government's assessment of a destination's potential for danger to American visitors. However, many travelers rely on and listen to those recommendations. So much so that, according to Reuters, the number of U.S. visitors to Cuba dropped by 24 percent in the first half of 2018. This, after numbers hit an annual record 620,000 in 2017.
Even for experienced travelers, Cuba can be a challenging country to visit. First-world "luxuries" we take for granted like ubiquitous Wi-Fi, cell service, and paying for everything with plastic can be far more difficult, even nonexistent, on the island. Booking a guided adventure tour is often the best option both legally and logistically. However you choose to visit, check out our primer on what to know before you travel to Cuba.
Editors' Recommendations