Iceland has fast become the go-to destination for Americans seeking out-of-this-world experiences on a budget. The capital Reykjavik is a worthy stop in its own right, but plenty of outdoor adventure awaits beyond the city limits. Here are four of Iceland's most stunning, rural vacation cottages.
Panorama Glass Lodge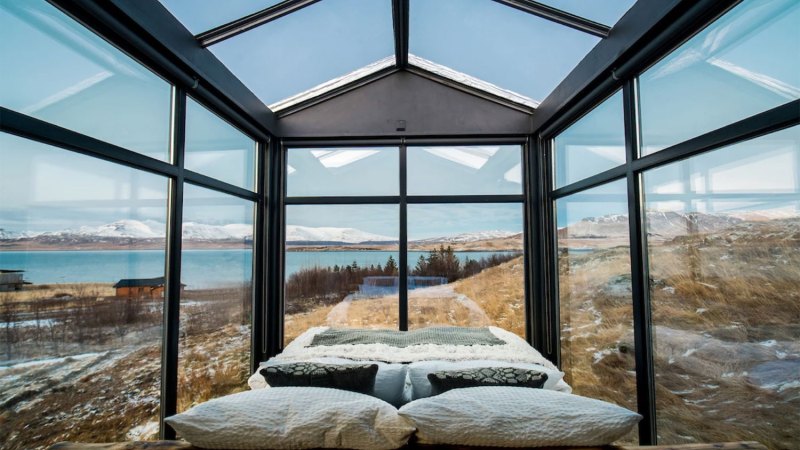 We won't bury the lead. The one-of-a-kind room at Iceland's Panorama Glass Lodge offers views that are literally jaw-dropping. The luxury glass cabin is perched on a bluff overlooking the sea in West Iceland. Here, travelers can enjoy all the comforts of home, including a fully equipped kitchen, a private bathroom with a rain showerhead, a dining area, Wi-Fi, and a private outdoor tub. If that isn't enough, there's even a glass-enclosed bedroom where there's always a good chance of spotting the Northern Lights from your bed. Worthy nearby attractions include hiking at Mt. Esja, the Glymur waterfall, and the viewing platform at Staupasteinn.
Mjóeyri Cottages
Travelers looking to escape the tourist crowds of western Iceland need only head to the opposite side of the relatively tiny island. The country's east coast is rugged, less traveled, and offers some of its most diverse wildlife watching. Overlooking the Reyðarfjörður fjord, adjacent the rural town of Eskifjörður, the five rustic Mjóeyri Cottages are perfectly situated to explore it all. For outdoor-lovers, it's an ideal spot for trekking some of Iceland's most stunning natural wonders. The country's largest forest, the 740-square-kilometer (286-square-mile) Hallormsstaðaskógur, beautiful lake Lagarfljót, and the region's largest settlement, Egilsstaðir, are all within a short drive.
Fönnin Cottage
If eastern Iceland isn't remote enough for you, head north. Iceland's northern reaches are the most remote of anywhere on the island — it's an area truly off the beaten path. The region is home to Europe's most powerful waterfall, Dettifoss; fantastic seal-watching along the Vatnsnes Peninsula; and whale-watching at Húsavík. Fönnin Cottage is a stocked vacation rental smack in the middle of it all. While you're unlikely to want to spend much time indoors, the cottage offers plenty of creature comforts. There's sleeping for four, a proper bathroom and shower, a full kitchen, and a living area. Outside is a wraparound deck with a barbecue kit, a hammock, a hot tub, and miles of stunning views.
Artist's Tiny Cottage
For sheer charm, it's hard to beat this tiny artist's cottage. The 344-square-foot, one-room structure features all the essentials: a sleeping loft, a compact kitchen, and a comfortable living area. But — as with all things in Iceland —the real draw is what's outside. A tiny wraparound porch overlooks a blissfully remote hillside landscape with views of the Hekla volcano. It's well situated for exploring the island's southern reaches. Given the near-zero light pollution and its fully exposed location, it's also an excellent spot for watching the Northern Lights.
Editors' Recommendations