Cuba is fascinating, beautiful, and unlike anywhere else in the world. So it's no wonder that the country provides a huge draw for travelers seeking a truly off-the-beaten-path adventure. But, even with the recent relaxing of visiting rules for Americans, it can be a challenging and complex destination. Here are three unique, organized (and legal) adventure tours for U.S. citizens visiting Cuba.
RTW Moto Tours
Christopher P. Baker has been called "one of the world's leading authorities on Cuba travel and culture" by National Geographic. He knows a thing or two about motorcycles and Cuba. So, the long-time journalist is the ideal tour guide for Americans looking to take to the open road in and around Havana. Under the U.S. Treasury Department's "people-to-people" educational travel license, RTW Moto Tours has announced three new multi-day itineraries. With the company's entry-level 8-day 'Western Cuba' program, riders can visit Havana for two days before venturing further afield to Cuba's tobacco country, the Bay of Pigs, and colonial Trinidad (a UNESCO world heritage site). Their flagship 14-day 'All Cuba' itinerary allows more adventurous riders to explore the entire island, including Guantánamo, Santiago de Cuba, and Baracoa (the oldest city in Cuba, dating to the early 16th century). On every tour, riders can choose between several bike models from Harley-Davidson, Triumph, and BMW.
When: select dates in December 2017 through early 2018.
Trek Travel Cuba People-to-people Multisport Adventure
For slow travelers who prefer to get around under their own power, Trek Travel's awkwardly named Cuba People-to-people Multisport Adventure could be just what you're looking for. The 8-day/7-night expedition moves at a leisurely pace, but covers plenty of ground, including Cienfuegos, the Bay of Pigs, the town of Remedios, and Trinidad. Like most of the company's guided itineraries, the trip focuses on niche cultural activities that travelers might never find on their own. Tour-goers have the opportunity to learn to fashion an authentic mojito, visit with local artists and authors, dance in the streets, and take an in-depth visit to a Cuban cigar shop.
When: select dates in November / December 2017.
ROW Sea Kayak Adventures Cuba by Kayak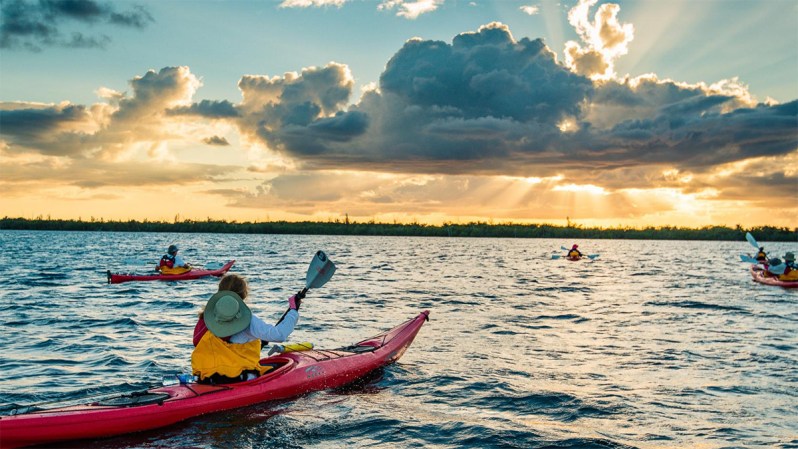 For most Americans, Cuba's allure lies mainly on land. But, ROW Sea Kayak Adventures offers another view entirely. Their multi-day Cuba by Kayak tour takes adventurous travelers on an 8-day journey to the island's lesser-known, water-based spots. The itinerary — which includes kayaking the waters of the Caribbean, paddling hidden rivers through sugar cane valleys, and skimming coral reefs rich with tropical fish — is arguably one of the best and unique ways to explore the island. Additional land-based excursions also allow tour-goers to explore Cuba's highlights like the Bay of Pigs, Trinidad, and Old Havana.
When: late October through mid-April, annually.
Editors' Recommendations