Shark Tank is one of the longest-running reality shows on TV. It's almost like the "American Idol" of entrepreneurship. Normal, everyday contestants come into the tank to pitch their self-made companies with products that are creative and useful for the audience watching at home. The show typically helps these people grow their businesses, either through an investment by one of the celebrity sharks or exposure of being on TV.
With so many seasons and hundreds of Shark Tank products pitched in the tank through the years, it can be hard for fans to remember all of the best items to buy from the show. That's where we come in. From cleaning products for your house to unique to healthy snacks for the whole family, these are 10 of our favorite products from Shark Tank that you should check out right away.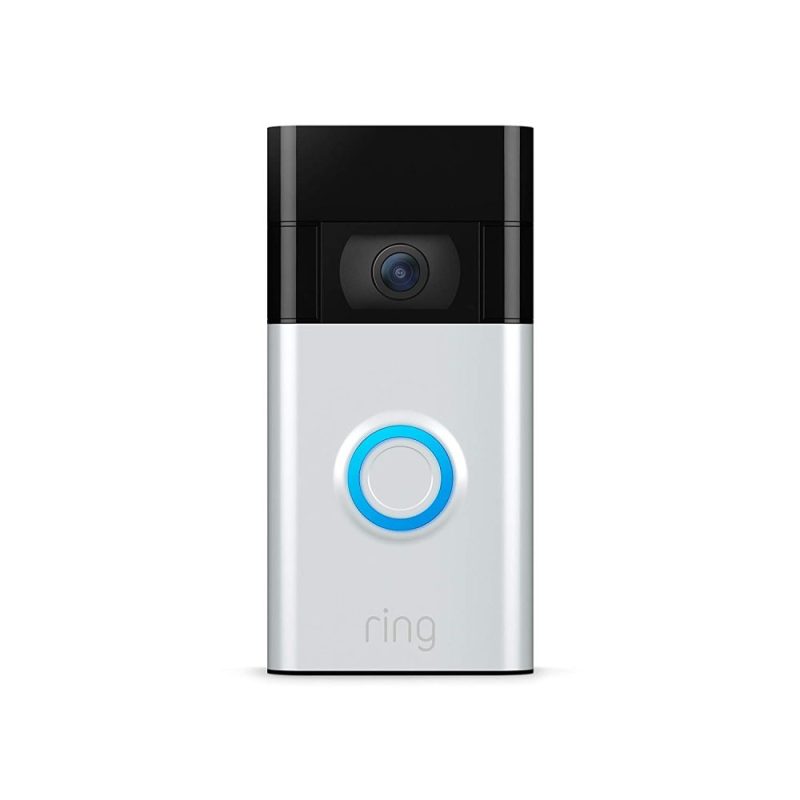 Ring Doorbell
The Ring Doorbell has become perhaps the most famous product that the celebrity investors have ever passed up on Shark Tank. Amazon purchased the company for more than $1 billion about five years after the company appeared on the ABC reality show. Customers have come to see that this ingenious security product is essential at their doorstep.
It allows users to see who is at their door when the bell rings on myriad devices such as tablets, smartphones, and computers. Since partnering with Amazon, the Ring Doorbell line of products can now deliver notifications to customers to alert them when their Amazon packages have been dropped off at their doorstep.
Scrub Daddy
Scrub Daddy is one of the most well-rounded products ever invested in on the show because it combines a clever and fun aesthetic with a useful purpose. The sponge changes its texture depending on the temperature of the water: It gets soft in hot water and firmer in cold water. The smile on the sponge is another example of creativity with a purpose.
You can use this opening to clean spoons, forks, and other utensils that are usually difficult to get to. The company has expanded its line in recent years to include more colors of sponges and different scents. Kids and adults alike will enjoy doing the dishes with this product!
Manscaped
Men shaving their private region has become a lot more in-vogue recently, and the creators of Manscaped capitalized on this with a near-perfect product. Manscaped can take more of than just shaving down under, though. There are razors for other body hair, nose hair, and traditional beard trimmers.
The use of humor, subtle references, and innuendo has helped customers feel comfortable buying the Manscaped line of products since its inception in 2016. Retired NFL tight end Rob Gronkowski has helped sell the product with several commercials that have gone viral online after airing.
Squatty Potty
Sometimes, the best products solve problems we didn't even know existed. The Squatty Potty is a simple stool that you place under your feet when you go to the bathroom, allowing you to relieve yourself in a way that's much healthier for your bowels and digestive health. Sitting on the toilet actually has been proven to make it harder to do your business, so the Squatty Potty helps eliminate this issue.
Kodiak Cakes
Time to eat some breakfast! Kodiak Cakes is one of the most successful food products from Shark Tank because of its simplicity and delicious concept. Breakfast is a difficult market to stand out in, but Kodiak Cakes is a healthy line of pancakes, scones, and oatmeal mixes with all whole grains. The ingredients are marketed as resembling what frontier people ate back in the early western settlement days of the U.S.
Dude Wipes
When it comes to wiping down after using the bathroom, toilet paper has been the go-to product for as long as we can remember. Research has proven that using disinfecting wipes might make you cleaner down there, and they might be better for your skin.
Dude Wipes are marketed toward men, obviously, but that's partially because men sometimes need an extra nudge to maintain good personal hygiene. This product has exploded in recent years because it's simple, effective, and affordable. The size and packaging make them one of the best flushable wipes in grocery stores nationwide.
Pipcorn
Pipcorn is a mini popcorn snack that has expanded into pretzels, cheese balls, corn dippers, and more since its founders thought of it in 2011. The original product is heirloom popcorn that can be enjoyed without making a mess, and it's very healthy compared to traditional snacks like potato chips. The product is easy to buy online or in retailers nationwide, and the brother-sister team behind Pipcorn makes you feel good about buying a family-owned product.
MuteMe
MuteMe is a product born out of the frustration of interruptions during the height of remote work throughout the coronavirus pandemic. This device turns red when you're in a meeting on Zoom, Teams, or another tool of your choosing.
It allows other members of your household to see when they can talk to you and when you're busy, cutting out miscommunications and other annoyances. The company has expanded with other products, such as engraved MuteMes, for a personal touch.
No Mo-Stache
Women often worry about getting every last hair off their lips, cheeks, or other parts of the face before a big event. No Mo-Stache is an ingenious product that allows you to strip the excess hair off your face instantly, and it can be carried in your purse or wallet with ease because of its small size. Its portability and accessibility make it a favorite of travelers all over the U.S.
Zach & Zoe Sweet Bee Farm Honey
Zach & Zoe Sweet Bee Farm Honey has a lot going for it. This company has garnered so many customers because it's family owned, it comes in a variety of flavors, and it helps take honey from a sustainable source. Bee health is one of the biggest concerns in environmental circles today.
Purchasing honey that keeps bees healthy and improves the chances of helping the environment gives customers peace of mind. The honey comes in flavors like ginger, matcha, raspberry, and blueberry.
Zach & Zoe Sweet Bee Farm Honey
The Ice Cream Canteen
Who doesn't love ice cream? Everyone's favorite summer treat has almost no downsides, except for the fact it has to stay frozen, obviously. This has put dairy lovers in a bind when going on vacations, road trips, and more for decades. With The Ice Cream Canteen, you can keep your favorite flavor chilled to the right temperature for about 4 hours due to the insulated design of the ingenious thermos.
Editors' Recommendations