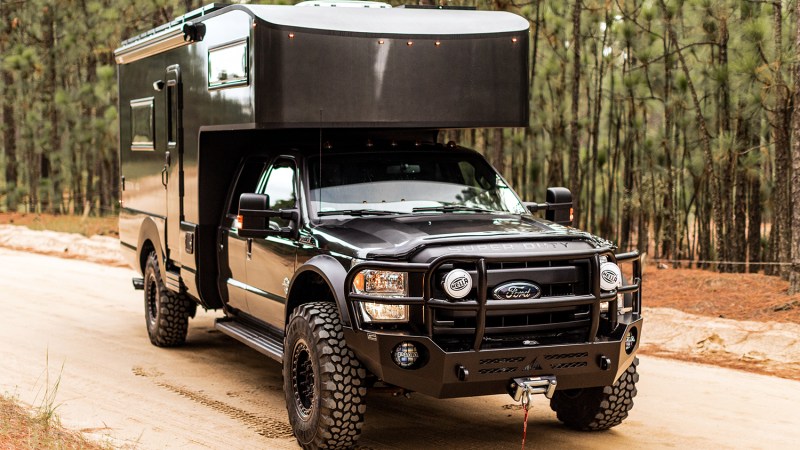 For the long-term journeyman (and the occasional overlander ), a basic trailer or tent setup just won't do. Real enthusiasts look to brands like Tiger Adventure Vehicles in South Carolina to help them build rigs to meet their needs of a broader camping experience without sacrificing too much comfort (or really any comfort at all).
The small, family-run operation hand-builds all of their products using specific domestic chassis. Tiger Adventure Vehicles offer three options at varying levels of luxury for just about any need.
The entry model is The Bengal, which rests on a Ford, Chevrolet, or Ram one-ton 4×4 pickup base. As with all Tigers, it can sleep four comfortably (between a queen-sized bed and 74-inch-by-45-inch couch) and has a full-height bath area integrated into the setup. A 9,600 BTU air conditioner with heat strip keeps the temperature just where you like it, and two burners and a convection microwave promise a sensible cooking experience. It starts at $124,000, with a numerous upgrades available from there. (If you're like us, you'll consider putting out $9,000 to upgrade to the Duramax Diesel V8.)
Next is The Malayan, which bumps up to a Ford F550 or RAM 5500 4×4 chassis, which provides more interior space than its little brother. The $175,900 price tag gets you an all-aluminum body structure with strengthened points for better performance off-road. The 400 watts of solar power and AGM batteries help power the dual inverter charger inside while keeping just about anything else you'll bring with you charged as well.
The interior gets an upgrade to a granite-style composite and a slightly longer bed area. (We'd add a few of their comfort options to make this one ready for weeks on the road at a time.)
Tiger's largest and toughest offering, The Siberian, also runs on an Ford F550 or Ram 5500 chassis. Meant for the highest-level offroader, it comes with upgraded shocks, a single-rear wheel conversion, and the same three-point mounting system so you can go just about anywhere without sacrificing a pleasant ride.
In terms of creature comforts, The Siberian has Corian counters throughout and a two-burner diesel stovetop. The interior is wrapped in a gorgeous bamboo that creates a modern setting that looks more apartment than mobile living. If you need a certain level of luxury while still being able to drive deep into the woods or park in dicey conditions, The Siberian is for you. It starts at $248,500 for either chassis; upgrades move the price north quickly from there.
With a solid base and a variety of options, Tiger Adventure Vehicles are an excellent choice for your next weekend in the wilderness or a long-term adventure on the road.
Editors' Recommendations