I have an awful habit of over-packing. Three-day road trip? We'll probably need a Crock-Pot and 20 pounds of rib-eye steak, right? One day I'd like to gauge my travel needs perfectly, but not yet. Had I been a packing scientist, I wouldn't have chosen the 2017 Ford F-150 Raptor for a recent camping trip to Big Bear Lake, California — and that would have been a mistake.
In many ways, the second-generation Raptor is the vehicular equivalent of over-packing: it can sail through the desert at 100 mph, scamper up the side of a mountain, leap over sand dunes, and run a 1,000-mile off-road race without modification. Overkill for a weekend camping trip? Definitely.
It's also one of the most empowering vehicles I've ever driven. A whopping 450 horsepower and 510 pound-feet of torque move 5,600 pounds of truck quicker than most muscle cars. Beefy Fox Shox provide 13 inches of front suspension travel and absorb tremendous punishment without flinching. Knobby BFGoodrich KO tires never struggle for traction – unless provoked in a truly badass desert drifting display (more on that later).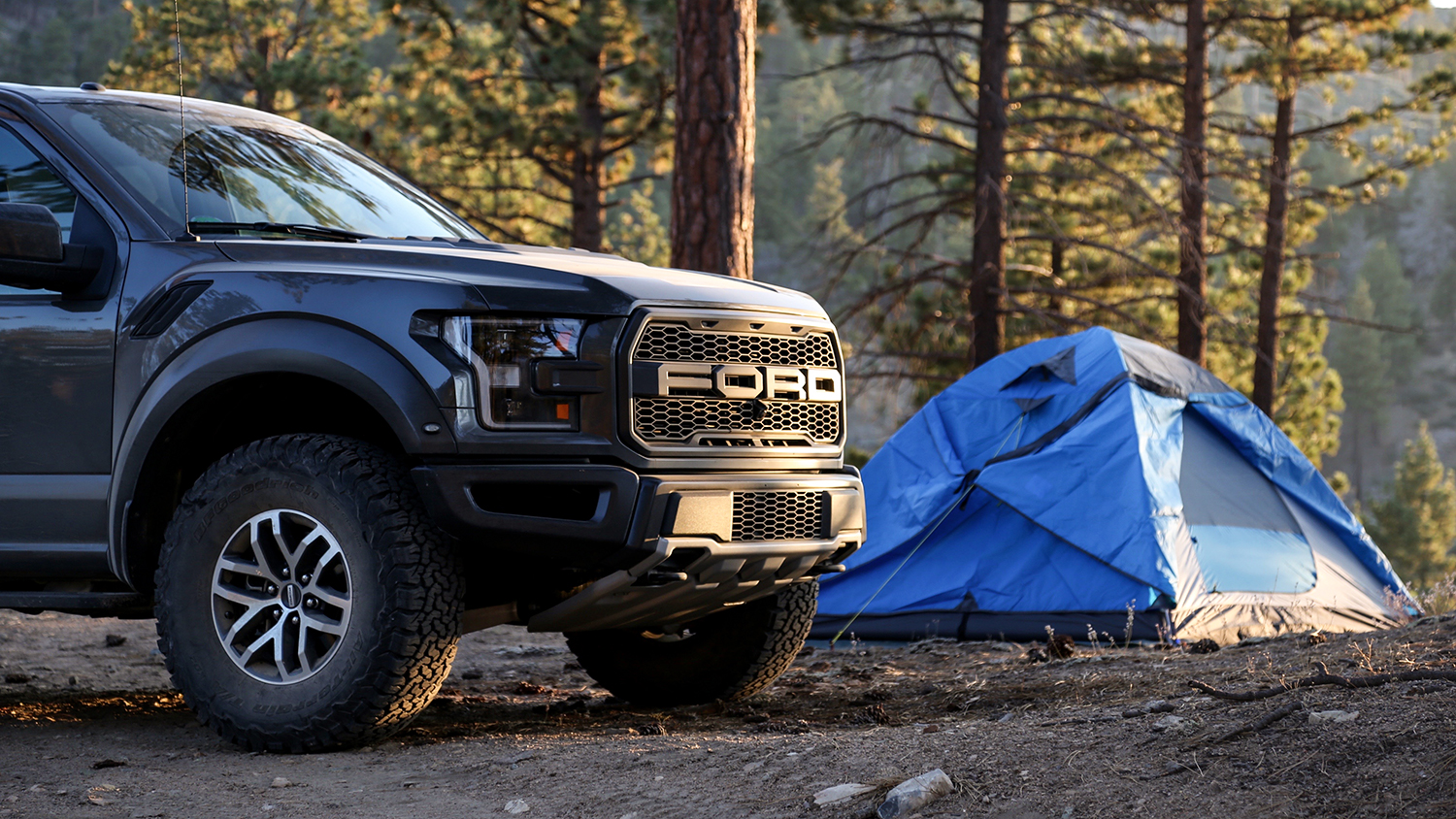 The route to our campsite involved four miles of what I'd consider civilian access (your mom's Toyota Camry would manage), seven miles of high clearance terrain, and two miles of challenging trails. During past visits to the site, I've driven a Toyota Tacoma TRD, Toyota 4Runner TRD Pro, and RAM Rebel – all thoroughly capable rigs. However, none of them made the journey as quickly or as effortlessly as the Raptor. More astounding than the super-truck's vigor is its precision. Placing the big-bodied pickup on a narrow mountain trail is as natural as pummeling sand in the open desert.
In just an hour, my mate and I ascended the mountain and began unpacking. Thanks to the Raptor's cavernous SuperCrew rear cab, all our gear and provisions remained cool and dust-free. Typically, I view camping as a chance to break from technology and amenity, but with two A/C power ports, I sheepishly inflated an air mattress and boiled water with wired devices.
Our phenomenal pace to the campsite meant we set up the tent and prepped dinner before sunset. Watching the sun descend over a ridge of forested mounts and shade the sky in a peach-colored glow, I felt no regret for choosing such a competent rig.
As the last ounce of golden light faded, the Raptor continued to prove its worth with in-bed LEDs to illuminate our preparations for sleep. At this point, I half expected the truck to include a warm milk dispenser. Before I could dream up other terrible camping innovations, a wave of fatigue hit and I made a beeline for bed.
We rose early, ignited the stove, and ate our breakfast in silence. The fresh, chilled air was more rousing than coffee, but caffeine addictions demanded a full cup of brewed renewal. Firing on all cylinders, we quickly deconstructed camp and loaded the Raptor. We had planned for an early return, but the truck practically begged for a last-minute adventure.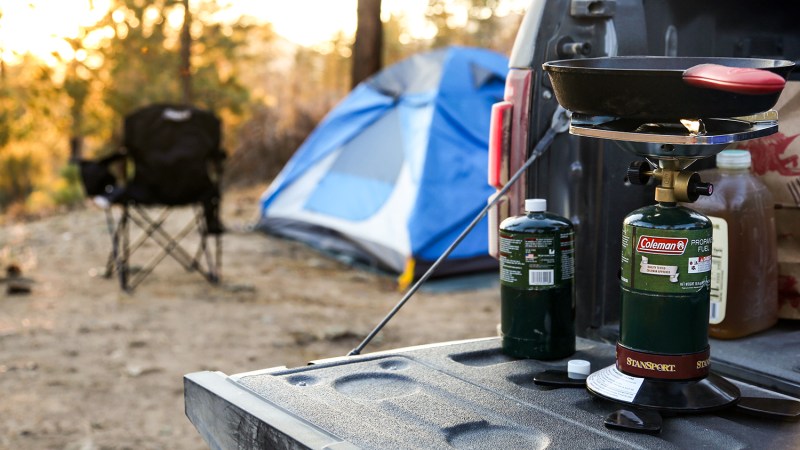 Hastening down the mountain, we set a course for Lucerne Valley's dry lake bed. With the thermometer registering 107 degrees, we turned off California State Route 247 and followed deep grooves in the sand to an isolated plateau. There wasn't a soul in sight – it was the perfect setup for a National Geographic special we would call Urbanites Uncharted.
The unbridled Raptor churned the earth, sending plumes of dust across the dry ground. Barreling up a hillside was fun, but this was ecstasy. My companion braved the mortal heat to snap photos of the Raptor at play. Reviewing the images later, I appear to be cackling with laughter from behind the wheel. Don't judge – you would be too.
It's clear the Raptor could kick sand all day, but the sun eventually sapped the last of our energy. Triumphantly, the pickup skipped along the lake bed before rejoining paved roads. It's an hour and a half journey home – plenty of time to be grateful for my bad habit.
Editors' Recommendations