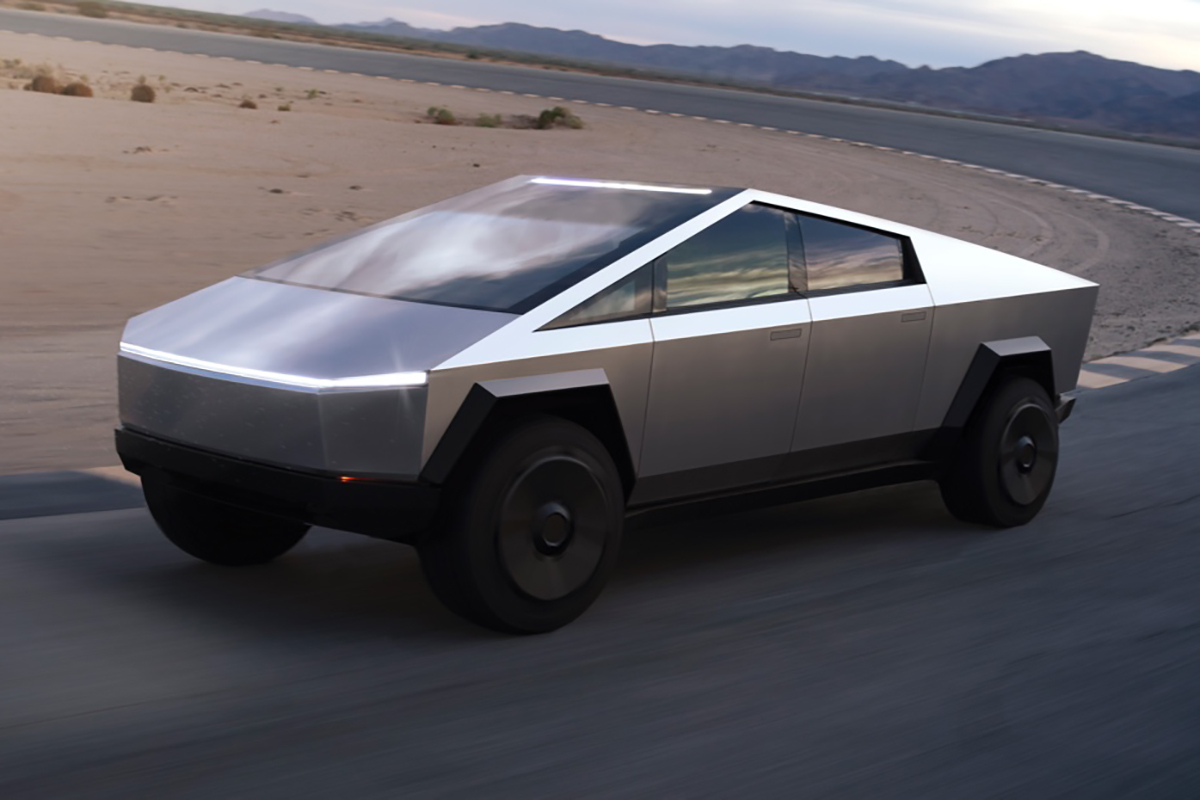 While a production version of Tesla's Cybertruck still hasn't entered the world four-years after the divisive vehicle was announced, we may now know more about Elon Musk's polygonal electric pickup. Many of the vehicle's apparent final specs and features were recently leaked online in a YouTube video from TFLEV and show something comparable to its direct rivals — many of which are already on the market.
In terms of actual pickup truck practicality, the vehicle has an alleged bed length of 72.8 inches and a width of 51 inches. Its tow hitch can support a maximum tongue weight of 1,110 pounds, and the truck can pull 11,000 pounds in total. That last part is a bit of a contradiction with Tesla's official line — as the company's site claims the truck can tow up to 14,000 pounds. There's still a chance both are correct, and the larger number relates to the top-end tri-motor variant's capabilities.
There's also a "frunk" for lighter storage and that has a volume of 7/1 cubic feet. That frunk can also support 420 pounds in weight, because Elon just has to get that reference in there somewhere.
With regards to dimensions, it has an overall length of 18.6 feet and a width just shy of 80 inches — not counting the mirrors. The truck's height is adjustable, but the roof will be 70.5 inches off the ground on the medium setting. There's also a fairly generous 143" wheelbase, which should provide a lot of stability. Then there's the curb weight, which varies. A basic model will allegedly weigh 6,670 pounds, while the tri-motor is a touch heftier at 6,890 pounds.
You may be able to rescue other EVs with it
While not really outlandish enough to be surprising, the Cybertruck allegedly has a feature that will allow it to rescue other EVs amongst other things. Like the F-150 Lightning (with the Pro Power Onboard package), Tesla's electric truck comes with a 220-volt 14-50 outlet. This is notably better if you want to use the vehicle's substantial batteries to recharge another EV, or power a house. It can also be used to directly run large appliances, should you feel the need to plug a clothes dryer into your Cybertruck. It will also be handy if you like to cook on the move, as more powerful stoves can run on a 220 volt power source.
The outlet is situated in the bed of the truck next to the tailgate. It's accompanied by two 110 volt outlets, similar to the ones you'll find in your home and capable of powering smaller devices. There are no outlets in the front, apparently.
While the leaks in the video have yet to be confirmed by Tesla, there's a good chance that they're accurate. Release candidate versions of the vehicle are out in public and have been for weeks. Anyone with a tape measure and some patience can double-check the alleged specs if they spot one. Similarly, the outlets are easy to spot. What isn't certain is if the 220-volt outlet comes with all trims. Rivals Ford have it as a premium feature, so Tesla slapping it on the most basic model would indeed be a selling point.
Editors' Recommendations