There's nothing quite like the feeling of the wind whipping through your hair while you're riding your motorcycle — except the feeling of a safe, secure helmet protecting your noggin, because let's be smart here, gentlemen. Nothing is sexier than safety, but the utilitarian look of most motorcycle helmet bags? Not so much.
Neo and Sons is a new manufacturer that is offering a stylish alternative to the standard motorcycle helmet bag. The design, which is currently up on Kicksarter, is as practical as it is handsome. At publication, the campaign has successfully raised over $12,000 of its nearly $15,000 goal and, with 20 days left chances are we'll see this baby in production.
The bag is a sleek, modern sling made of your choice of brown or black full-grain Italian leather, or black waxed canvas. The pack rests on your back, and a sturdy strap can wrap around either shoulder; an additional strap can be attached across the front to provide more stability, particularly when riding.
The classic, refined feel extends to the interior, which will be either houndstooth, twill, or more waxed canvas. The main compartment is large enough to fit your standard headgear (26 cm by 38 cm at the base and 72 cm by 76 cm around the curvature of the helmet).
As much as we love the look of this bag, the real treat is the extra pouch. Making use of the cavity space where your head goes into the helmet, Neo and Sons has crafted a handy little alcove that is accessible through the back panel of the bag. This is where you can store your wallet, keys, phone, passport, and other everyday carry items.
If the Kickstarter campaign, which wraps up on February 1, is successful, then Neo and Sons will go into production in March. The first round of helmet bags is expected to arrive in July 2018 — as the folks at the company say, "just in time for summer riding."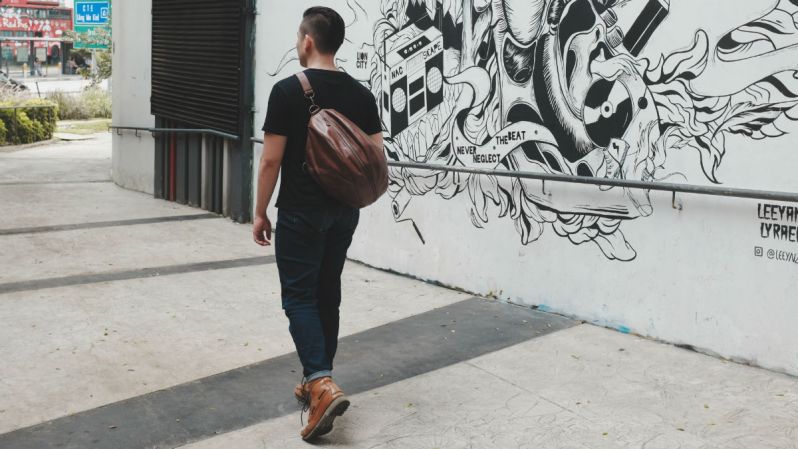 Kickstarter backers can take advantage of a few earlybird specials. The bags will retail for $225 for the waxed canvas option, and $350 for the leather versions.
AETHER has some equally good-lookin' gear to go along with your new bag. If you're new to the thrills of motorcycles, here are some helpful tips.