Over the past couple of centuries, terrestrial transportation has evolved from the horse and cart to the Ferrari 488 Spyder. During that time, the way the presidents of the United States travel about when on the ground has undergone an equally dramatic transformation. The presidential state car serves as a reflection of technological progress, the style of the time, and the stark realities of safety and security concerns.
Further Reading
When George Washington occupied the White House (just checking, history buffs — I know, I know), the horse was his only means of overland transportation. Andrew Jackson was the first POTUS to ride a train, which he did in 1833. William McKinley (who served 1897-1901) was the first president to ride in a car while in office, while a few years later, William Taft (1909-1913) was the Chief of State who finally cleared out the White House stables and replaced the animals with a fleet of cars.
By the time the 1920s rolled around, not only were presidential state cars standard, but they were also awesome. Just in time for President's Day on February 18, here's a look back at our presidents' coolest cars.
Wilson's Pierce-Arrow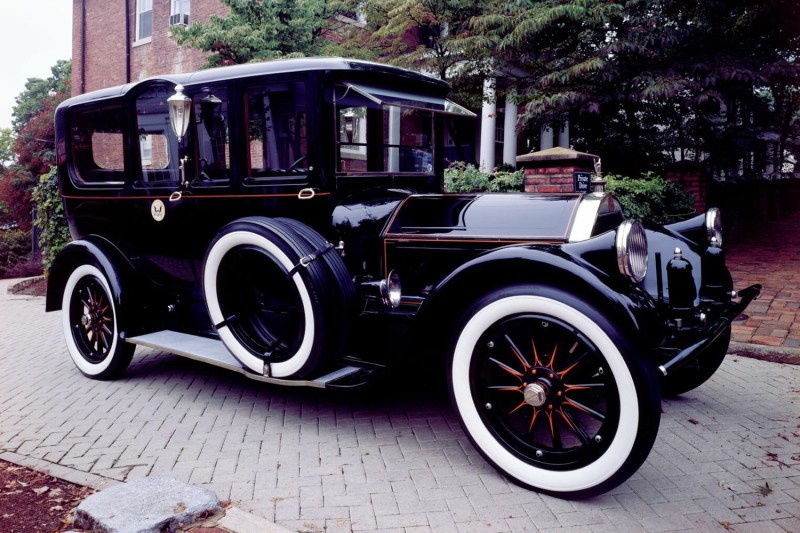 President Woodrow Wilson might not have been legally licensed to drive an automobile while serving in office during World War I, but he still had great taste in cars. In fact, he so loved the chauffeured 1919 Pierce-Arrow that served as his primary mode of transportation that a group of his friends came together to buy it from the government and make a gift of the car to the former president after his term ended.
FDR's Sunshine Special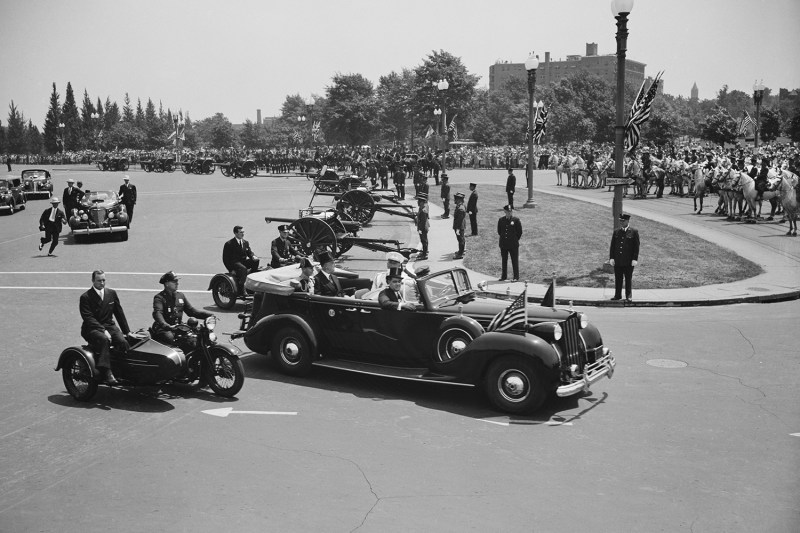 Franklin Delano Roosevelt was not a man who did things in a minor way. Among the cars in his presidential fleet was an armored Cadillac rumored to have been seized from mobster Al Capone, for example. However, FDR's primary set of wheels was a 1939 Lincoln Series K V12 nicknamed the Sunshine Special. The first car ever built specifically for a POTUS, the Sunshine Special was a convertible, allowing Roosevelt to interact openly with fellow Americans; wide rear doors also made it easier for the disabled president to get in and out of the car. It had a police siren and lights, a two-way radio, bulletproof glass windows, a case for guns, and wide running boards on which Secret Service agents could perch.
Eisenhower's Bubble-Top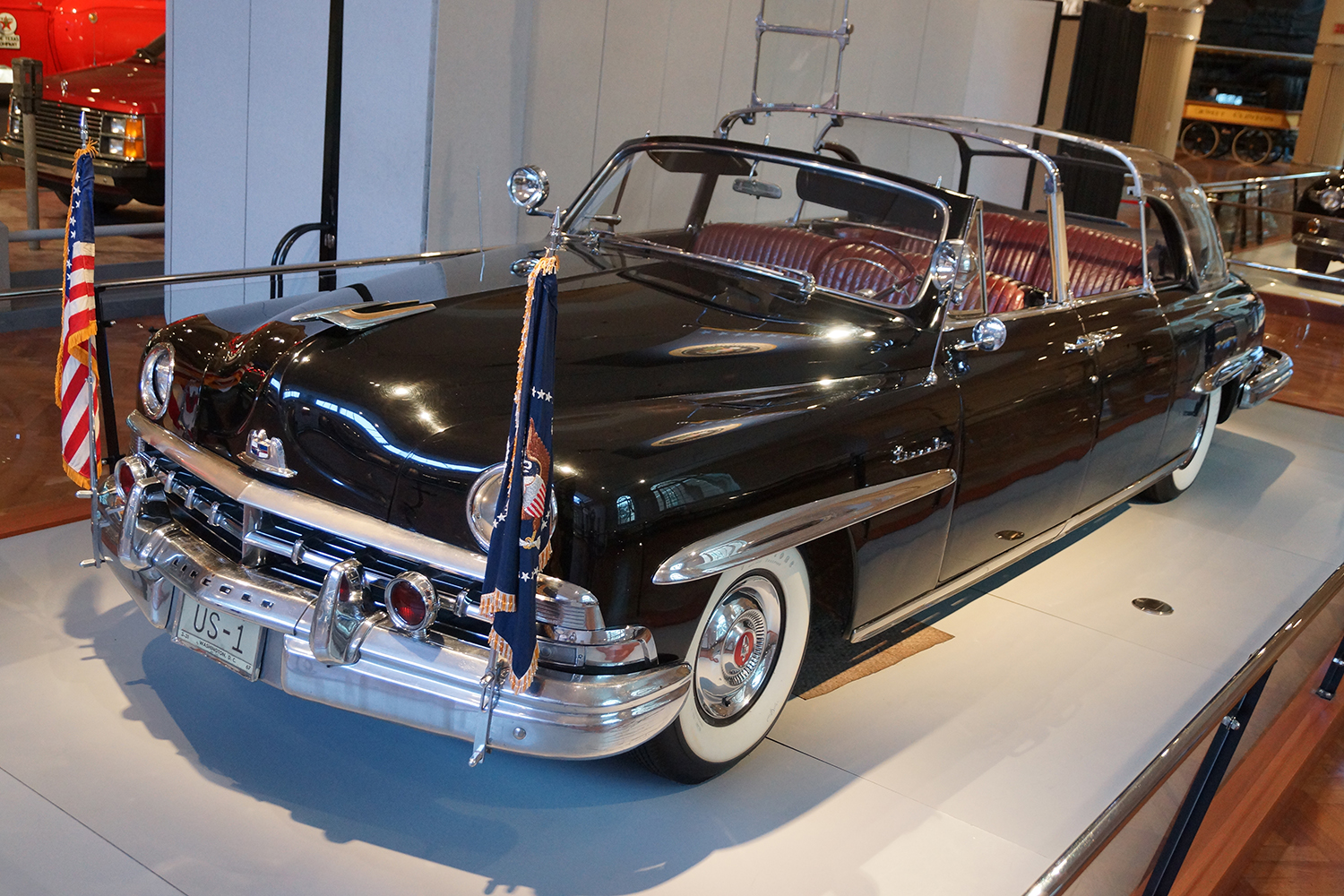 While in fact, it was President Truman who added 10 Lincoln Cosmopolitan limos to the White House fleet, it was Eisenhower who made the Lincoln Cosmopolitan an iconic presidential state car. Eisenhower had a thick, bullet-proof plexiglass "bubble-top" affixed over the back of the car, allowing for a clear view without too much exposure to potential danger. The 21.8-foot limousine would serve Ike for all eight years in office and would remain on standby for other presidents until 1967, giving the vehicle a 17-year working run.
JFK's SS-100-X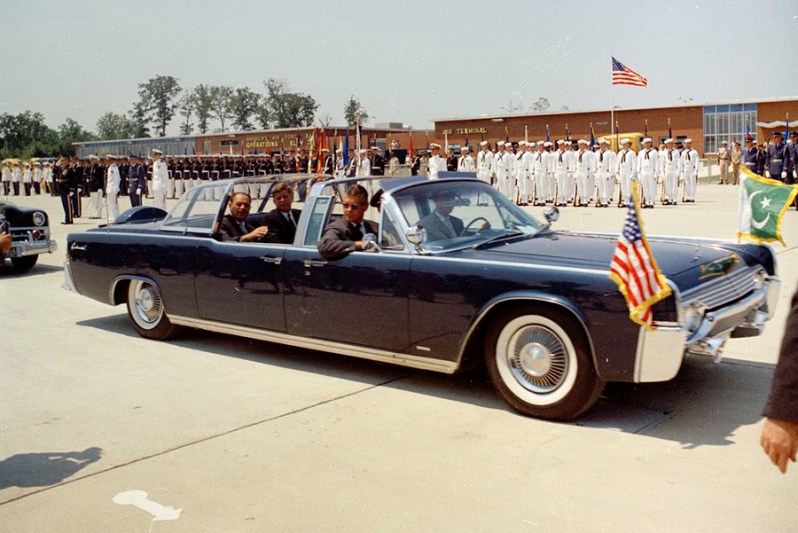 President Kennedy's heavily modified Lincoln Continental, officially known as the SS-100-X, was a masterpiece of defensive engineering. The car, which sold for about $7,350 at the time (about $61,600 today), underwent $200,000 of upgrades (or some $1.27 million today). It had several different removable tops and a hydraulic lift under the rear seat that could elevate the bench nearly a foot, thus making the POTUS more readily visible to crowds. Unfortunately, the removed top and raised seat both made it much easier for an assassin's bullet to find JFK (and Texas governor John Connally) on November 1st, 1961.
The 1972 Lincoln Continental that Was Ready for Battle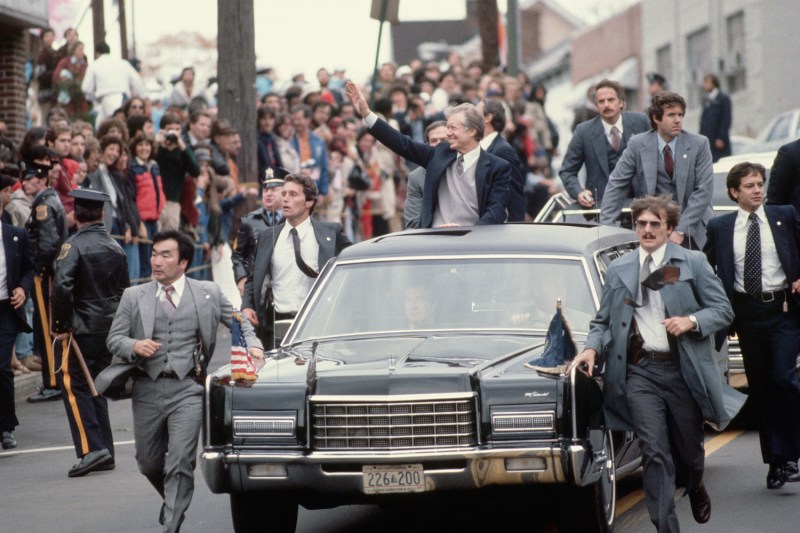 For a nearly a decade and a half, a modified 1972 Lincoln Continental Limousine served as the presidential sate car, ferrying Nixon, Ford, Carter, and Reagan. This armor-plated, bullet-proofed, 21.5-foot, 10,500-pound behemoth was ready to protect the president in all sorts of dangerous situations. It had microphones that could detect even faint noises near the car and hidden compartments bristling with submachine guns for the Secret Service. Unfortunately, the car could not protect President Reagan, who was just outside the vehicle when shot during a failed assassination attempt in 1981, though it did keep him safe as he was rushed to the hospital. President Ford was also secured within the same car a few years earlier after a would-be assassin took a shot at him in San Francisco in September 1975. (Poor guy: Another person had tried to shoot him earlier that month, too.)
W's Purpose-Built Cadillac DTS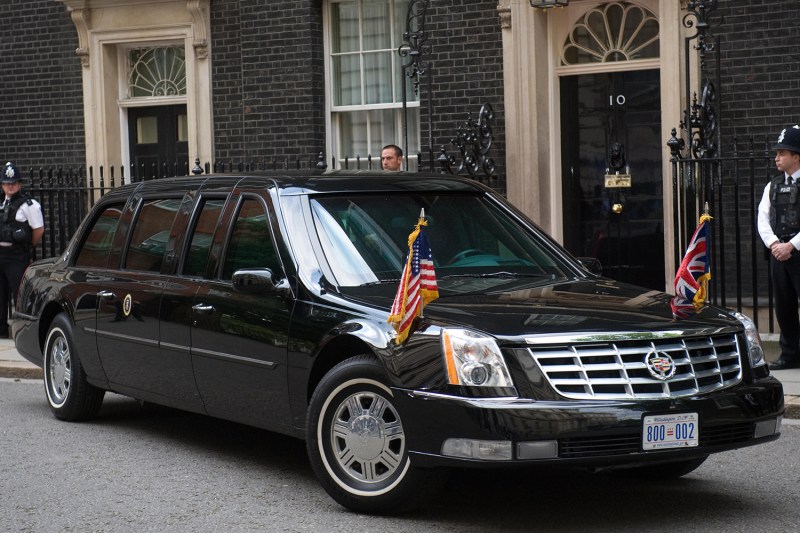 President George W. Bush was the first POTUS to use a vehicle expressly built for the head of state. Rather than a modification of an existing vehicle, his Cadillac DTS was built from the ground up. It sat on a chassis usually reserved for large trucks or SUVs, boasted oversized tires and brakes, and featured a rear cabin complete with its own air supply. And, of course, this 14,000-pound car, nicknamed The Beast, had bullet-proof glass and armor plating all over. Also, it has a 10-disc CD changer and seats that could recline and massage their occupant.
The Next-Generation Beast: Today's Presidential State Car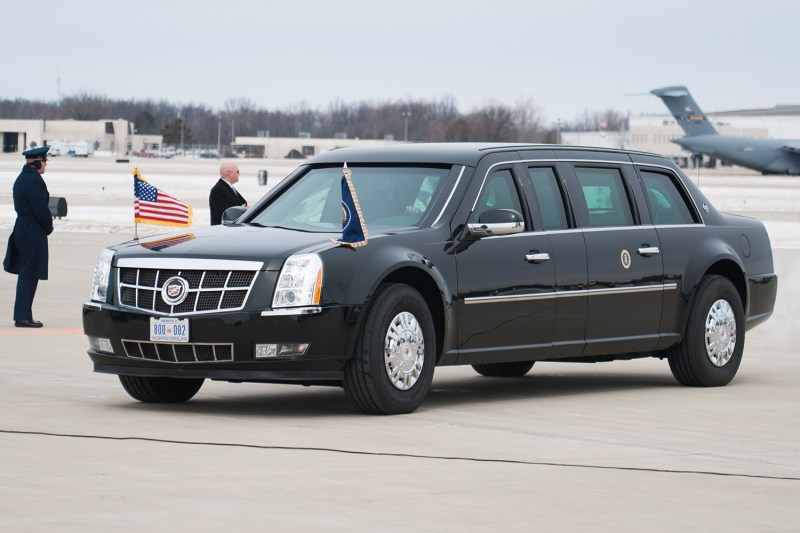 The current POTUS is using a vehicle designed for President Barack Obama. Still using the nickname The Beast, this machine may look like a long black convertible, but it's more like a tank, albeit without a huge gun. Except that it does, apparently, have many other weapon systems, including a tear gas cannon and smoke grenade launcher as well as multiple arms for Secret Service agents. The custom-built Cadillac limo has 5-inch-thick glass, 8-inch-thick doors, and is hermetically sealed against chemical or biological attacks. Only select Secret Service officers even know how to open the doors, and once removed from service, The Beast will be destroyed so its design secrets and technology can be kept under wraps.
Editors' Recommendations