Last week, Bugatti revealed a 1:8 scale Chiron made entirely of LEGO bricks. Moving pistons, spoked wheels, a working 8-speed paddle-shift transmission, an active rear wing, and 3,599 pieces — yes, our big kid hearts were full.
Now, in the best display of one-upmanship, McLaren is showing a 1:1 scale (life-size) LEGO version of its 720S supercar at the Petersen Automotive Museum in Los Angeles, California. The special build was originally shown at last year's Goodwood Festival of Speed, but this marks its first trip to North America. Built from over 280,000 Lego bricks, the 720S weighs 3,200 pounds (almost 400 lbs more than the real supercar) and took over 2,000 hours to assemble.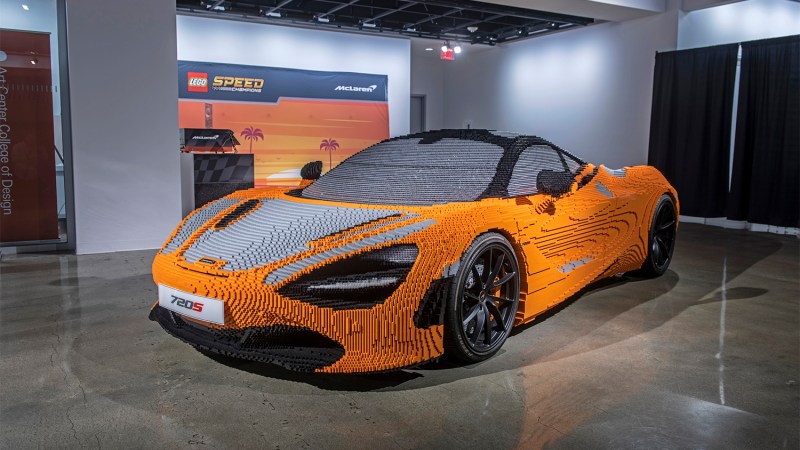 McLaren Automotive worked closely with the only UK-certified LEGOprofessional builders, providing in-depth vehicle CAD data so that the model could be perfectly matching. The LEGO McLaren was assembled around a steel frame (which explains its heft) with a team of six working at one time. By comparison, a production McLaren 720S takes around 12 working days to assemble.
Unable to move with its own power, the LEGO McLaren won't be able to match the real car's 212 mph top speed or its 0-60 mph sprint of 2.8 seconds. However, both vehicles ride on Pirelli's all-new P Zero Corsa tires with silver accents.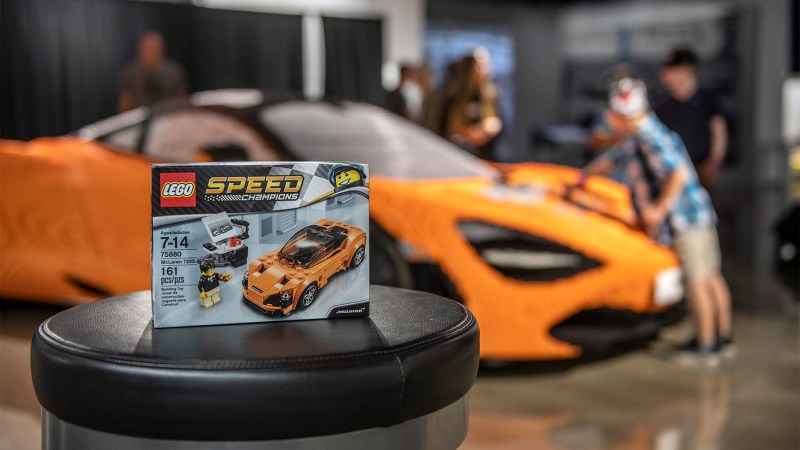 The Petersen Automotive Museum will showcase the LEGO McLaren now until August 19, 2018. Visitors will be able to customize their own mini LEGO Speed Champions McLaren on an iPad app next to the car and can print a sticker of their finished work. A full-size LEGO McLaren is a tough act to match, but the Petersen Museum has a number of incredible vehicles within its $125 million facility. Just like other museums, the Petersen has a rotation of exhibits put on by automakers and custom builders. We definitely recommend checking it out if you're in the LA area.
Unfortunately, you can't buy all the pieces to build a 1:1 scale LEGO McLaren of your own, and if you want the real deal, McLaren charges $284,745 for a 720S supercar. Alternatively, LEGO will sell you a Speed Champions 720S for a much more affordable $15 or a 1:8 scale car to match the Bugatti Chiron at a price of $599.
Editors' Recommendations