Every few years, I retreat to a hammock, turn off my phone, and reread the philosophical tomes that make up Bill Watterson's library of works. For those unfamiliar with Watterson's name, you might better recollect that he is the author of Calvin & Hobbes. It may seem strange starting a story about a motorcycle with references to a children's Sunday morning cartoon, but make no mistake — Watterson and the wonder, imagination, and desire to explore imparted in those volumes both speak directly to the nature of Honda's staggeringly capable adventure-seeking Honda Africa Twin CRF1000L.
"Adventure is out there" is a theme Watterson routinely explored (pun intended). He sparked imaginations the world over, and in one little boy with a penchant for getting lost in woods — striking out across barren dunes, and habitually losing his shoes to swamps and lakes — Watterson made an indelible impression on my ever-expanding mind. So much so, that when I first laid eyes on the Africa Twin, it was Watterson's words that immediately sprang to mind, albeit slightly changed, "If [my] knees aren't [brown] by the end of the day[I] ought to seriously reexamine [my] life."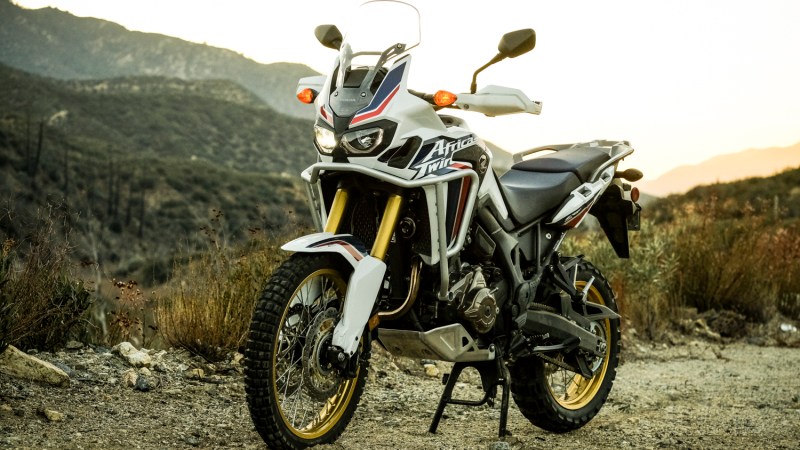 On my first outing, I hopped over the Africa Twin's 5-gallon, long-range fuel tank (good up to 250 miles) and looked at the serpentine stretch of tarmac that makes up California's Highway 2, otherwise known as Angeles Crest Highway, that lay before me. Definitely the right place to test the Africa Twin's adventuring credentials, as well as my own. Angeles Crest Highway cuts ribbons of asphalt through Angeles National Forest, a 700,000-acre national park that's strikingly beautiful. However, hidden alongside the race track-like blacktop, the forest offers countless off-road sections, including fire-trails, abandoned roads, and craggy terrain that would've given Thoreau enough inspiration for three sequels to Walden.
For a vehicle with as small a footprint as the Africa Twin, the motorcycle floats like a cloud, effortlessly bobbing from rut to pothole.
With a wild look in my eyes, I grabbed a handful of throttle, pointed the nose of the motorcycle northward, and sped quickly up the road toward where I could hammer the Africa Twin on dirt, gravel, loose sand, and river rocks.
Heading up, however, gave me a chance to pause and reflect not just on the natural beauty of the peaks and valleys that surrounded me, but on the relative comfort this motorcycle delivers when not being used for desert or forest pounding. At the front of the motorcycle, Honda used an inverted set of Showa long-travel forks that offer the rider up to 9-inches of travel. Out back is a single Pro-Link shock which offers slightly less travel, although it still measures 8.7-inches. While this is not trophy truck-levels of suspension travel, for a vehicle with as small a footprint as the Africa Twin, the motorcycle floats like a cloud, effortlessly bobbing from rut to pothole.
Effortless could be used to describe the Africa Twin's power and torque. The 998cc engine generates 94 horsepower and 72 lb-ft of torque, which was plenty to cope with both the steep climb up Angeles Crest Highway, as well as its 534 pound frame and my extra 215 pounds. The throttle is perfectly linear, and minute inputs can be made for precise control. This specific model, however, isn't the conventional Africa Twin. Nor is it a conventional motorcycle. This Africa Twin is an automatic.
Recently, Honda has been making a concerted effort to lure non-motorcycle people to the habit (trust me, it definitely becomes an addiction) with the adoption of an available six-speed, dual-clutch automatic transmission. It's seen by Honda as making motorcycling more appealing and easy for riders without an extensive two-wheeled resume. And while most traditional motorcyclists would scoff at the thought of an automatic motorcycle, they'd be hard-pressed to find many faults with the dual-clutch unit. Shifts are seamless and available upon command, and makes dirt-work that much more enjoyable.
High above Los Angeles, the city in a haze of dwindling forest fire smoke from the week before, I turned off onto a dirt path and into a dried river bed. Among the scrub brush, a carcass of a long-dead coyote that had been picked upon by vultures and condors, and deep mountain sands, the Africa Twin came into its own — and so did the dual-clutch. On mountain stream-smoothed river rocks, a standard transmission and novice-to-intermediate rider would've stalled the motorcycle countless times. With the dual-clutch, the aspect of feathering the clutch handle is removed, and all a rider has to do is transfer their weight, pick a line, and hit the gas.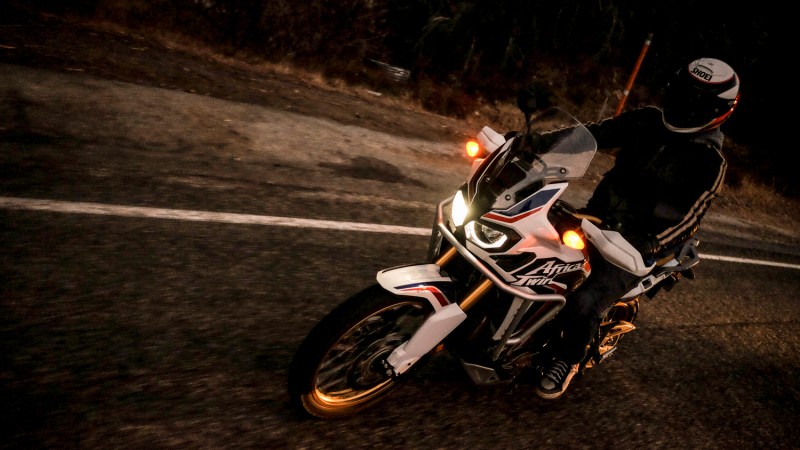 And so that sequence went on for the next two hours, bobbing and bouncing along the trail in a sort of quiet transcendentalism. A moment to breath in an all-too-often breathless society.
Later, leaving the riverbed, I sent a cloud of sand and river particulates high into the air after a little too aggressive of throttle input. As I couldn't see the path ahead, I stopped for a moment and watched it linger in the fading sun. Watterson once wrote, "We're so busy watching out for what's just ahead of us that we don't take time to enjoy where we are." And in the dying sun, all I wanted to do was to take the time to enjoy where I was. I didn't want my adventure to end, nor did I want to return the Africa Twin. It's price made it even more difficult to let go of the keys and capability.
For a motorcycle so well-equipped, so capable both on- and off-road, it;s starting price of $12,999 (standard transmission and street tires) almost seems too low. The dual-clutch only adds $700 (a few more hundred dollars will get you off-road spec tires). And in an age of people glued to their phones, glued to their lives, glued to everything but the world around them, the Africa Twin offers something that can't be given a price tag: adventure. The Africa Twin can take you into the African deserts, the wild's of outer Mongolia, the vast open plains of North America, or just another road in your backyard. It's an inexpensive tool for exploration and fun.
I'll leave you with the immortal words of Bill Watterson: "It's a magical world, Hobbes, ol'buddy … Let's go exploring [on a Honda Africa Twin]."
Images courtesy of Sam Bendall.
Editors' Recommendations