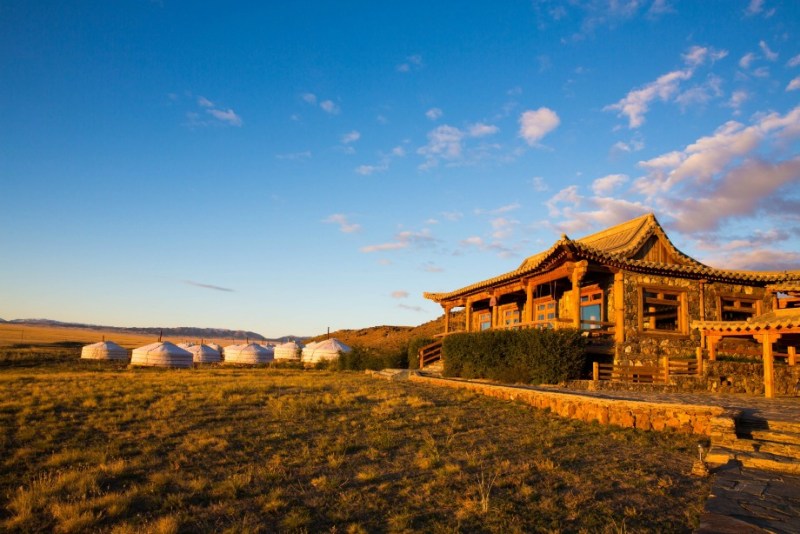 Bordered by Siberian steppes to the north and Gobi desert sands to the south, Mongolia might conjure images of a mysteriously forbidding land, but it has much to offer (cashmere!) and plenty yet to explore. It is in fact the most sparsely populated nation on earth, with many of its people still leading a nomadic way of life that has little changed since the time of Genghis Khan.
Nomadic Expeditions is a pioneer in organized excursions to remote Asian destinations and has been running the Three Camel Lodge since 2003 – for many years the only tourist camp in the Gobi, but still today by far the most comfortable and well equipped.  Inexistent according to Google maps, the camp is in reality "only" a ninety minute drive from Dalanzadgad town, which in turn is a ninety minute flight from the capital city of Ulaanbaatar, which is on the other side of the planet. But after all, doesn't remoteness only amplify the emotion of genuine adventure?
The lodge houses its guests in fifty traditional huts known as gers. Inside these huts are more like circus tents in terms of spaciousness – all are hand constructed from a latticed wood frame covered in layers of canvas and felt for maximum insulation. The Thirsty Camel Bar and Bulagtai Restaurant are both situated within the main lodge – a Buddhist temple-styled structure made solely from stone and wood. Some greens are on the menu here thanks to an on-site glasshouse, but Mongolian cuisine is principally based on two staples; meat and dairy. Lamb, mutton and horse meat are commonly boiled or cooked in stews, whereas the local drink airag, is made from fermented mares milk, and although only slightly alcoholic, it can give you a shocking hangover. The delicately stomached might be somewhat disadvantaged, as refusing any offer of food or drink is considered deeply offensive when it comes to Mongolian customs.
The lodge successfully strives to give visitors an authentic taster of rural Mongolian life whilst simultaneously supporting local communities; perhaps one of the most rewarding experiences is spending a day with a nomadic family, where one can help with livestock 'management', ger building and cooking. Other excursions include hiking the Gobi Altai foothills, camel trekking through the dunes or exploring the Flaming Cliffs – a treasure trove of dinosaur fossils.
Unless you're thick-skinned and hot-blooded enough to brave a Mongolian winter, were lows of minus thirty five Fahrenheit are not uncommon, the brief summer season is a more popular time to visit; specifically the month of July, when the yearly Naadam festival takes place all across the country. These weeks bring together groups of local nomads to compete in wrestling, archery and horseback contests that date back centuries – a memorable display of courage, strength and national pride.
Editors' Recommendations