Leave it to the French to ensure that the future of clean energy is not only functional but stylish. Introducing the Bubble Taxi, an elegant, environmentally friendly transportation solution designed to help cities flow.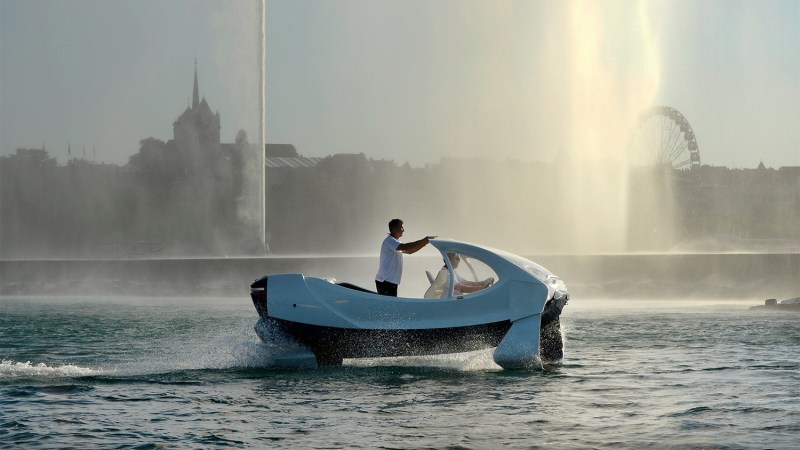 Conceived by a French aeronautical engineer with the dream of "making people fly" and a Swedish four-time champion windsurfer who broke the speed record for his sport, the Bubble Taxi is a self-driving, four-passenger hydrofoil craft powered by electricity. Constructed out of fiberglass, resin epoxy, and carbon fiber, the taxi is over 16 feet long, weighs about 2,300 pounds, and travels between 12 to 15 knots (around 13 to 17 miles per hour). Tell the pilot to step on it, and you'll get to experience the Bubble shifting to "foiling mode," where the craft lifts up to "fly" about 40 cm above the water. This is not only cool as hell, but prevents seasickness.
The Bubble Taxi is a response to experts predicting 4 billion cars in the streets by 2050. Even if climate change doesn't bother you, we bet you'd prefer not to sit in that kind of traffic. And when you consider how many European cities are built around a river, lake, or other waterways, it's not hard to imagine with the Bubble Taxi design team that the future of mobility is aquatic. For designers looking to create a clean, sustainable transportation alternative, it only made sense to exploit these iconic but underused natural channels as a venue.
The Bubble Taxi combines technology and design from the nautical, automotive, and aeronautic industries. The vehicle's battery power lasts for three hours at a stretch and recharges at a dock equipped for solar, wind and water power. We would be remiss not to mention the gull-wing scissor doors, interiors made of brushed leather, and nifty fish-shape that distinguish the Bubble Taxi as not only responsible but aspirational. If the Bubble Taxi's Corvette-esque lines make you think of James Bond, well, that's by design. In fact, this vehicle does the Bond brand one better: the Bubble Taxi's zero-emissions technology also happens to be zero-wave and zero-noise. C'est ingenieux!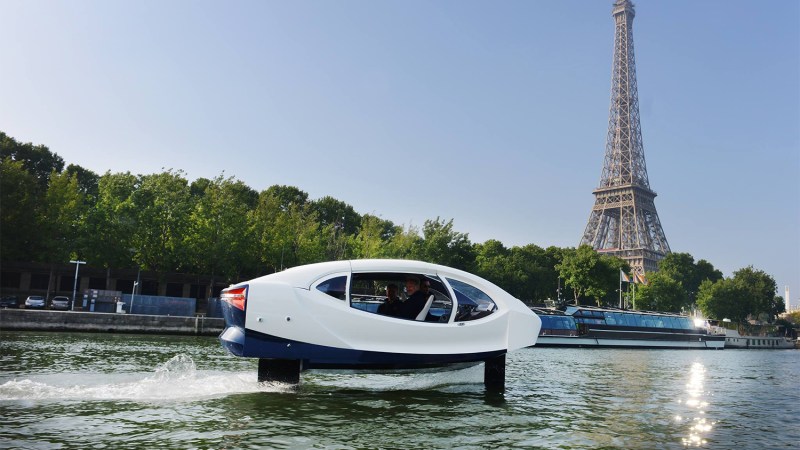 Adaptable to just about any aquatic environment (lakes, rivers, open sea), the Bubble is the only zero-impact transportation system ready right now. The team is already working on plans for branch-out models — we look forward to bringing you news of the Bubble Jet, the Bus Foil, and the Bus Wave Piercer.
As for the Bubble Taxi, the first 20 pre-ordered models have gone to hotels, companies, and select individuals; the official product launch is set for summer 2019. With five-year projections to place similar water taxis in 50 cities, the makers of Bubble Taxi are confident of their mission to make cities flow again. (Yes, that slogan is designed to sound exactly like what it sounds like. Deal with it.)
Editors' Recommendations