If you're going to put in the effort to wash your car, putting some tire shine onto your tires is a simple, easy way to finish off a car wash. Tire shone does more than make your tires pop, they also help protect your tires, which tend to go unloved on most cars. It may seem like a tedious thing to do, especially after you've spent a long time washing your car with one of the best car soaps and waxing it, but the extra step can go a long way.
After years of abuse from road debris, UV rays, and regular use, your tires can fade to an ugly shade of white or start to crack on the edges. Tires take a lot of abuse, and using a high-end tire shine can add another layer to protect them from future harm while making them looking showroom fresh, regardless of whether you have off-roading tires or high-performance ones.
If adding a tire shine to your tires isn't part of your regular car cleaning routine, it should be. These are our top seven choices for tire shines that are currently available in 2022. From gels that will last a long time to sprays that are easy to use, there's a choice for everyone on this list.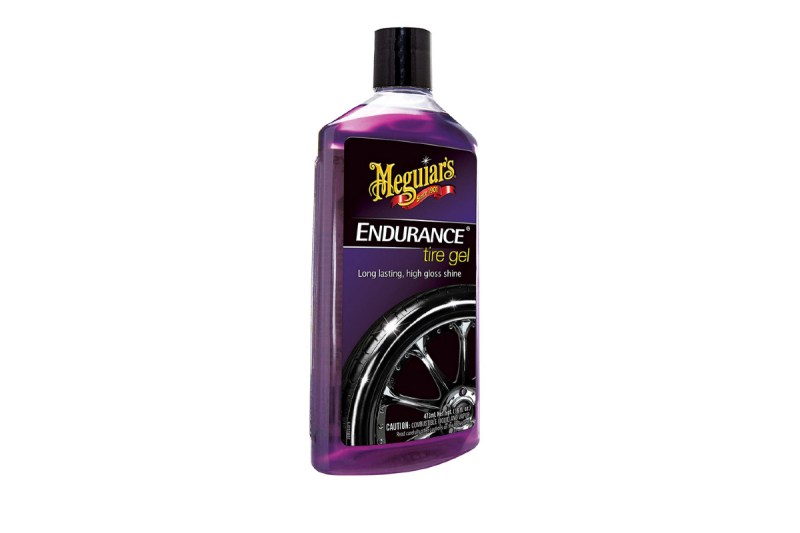 Meguiar's Endurance Tire Gel
While new detailing companies continue to come out, Meguiar's is still hanging around, making some of the best cleaning products for your car. Unlike the majority of tire shines on this list, Meguiar's Endurance Tire Gel is a gel. One of the better properties of a gel and this tire shine is that it lasts a really long time. Other tire shines may only last a few days, but this will last a lot longer, as long as the weather cooperates and you're not driving through muck.
The gel takes a little more effort to apply, but you can put on the exact amount that you want to without having to worry about overspray getting onto a fender or on your wheels. Making sure your tires are clean is a crucial step when using this gel, and you'll want to wipe off any excess left behind, as it can sling off. Meguiar's also recommends letting the tire shine cure for 10 to 20 minutes before driving.
Also, you don't want to get this product on plastic or paint. That's very important. It can stain components that aren't made of rubber.
Meguiar's Endurance Tire Gel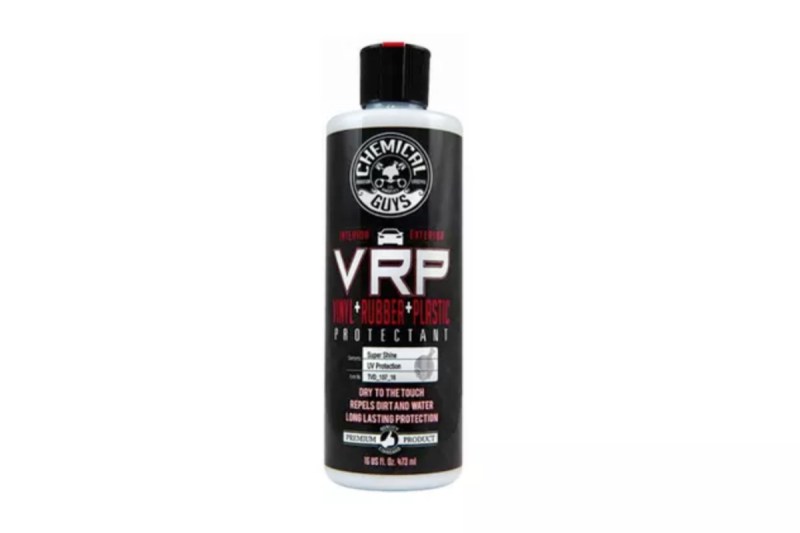 Chemical Guys VRP Dressing
Chemical Guys has quite a few products for your tires. One of our favorites is VRP Dressing. This tire shine falls in the middle of a gel and a spray with a creamy consistency, which means it's still easy to apply and doesn't require any time to dry. VRP Dressing is a water-based production that makes it safe to be used on vinyl and plastic. If you're on the fence about shelling over a lot of money for a product that can only be used on your tires, VRP is one of the better options on the market thanks to its numerous uses — and of course because of its results.
Chemical Guys VRP Dressing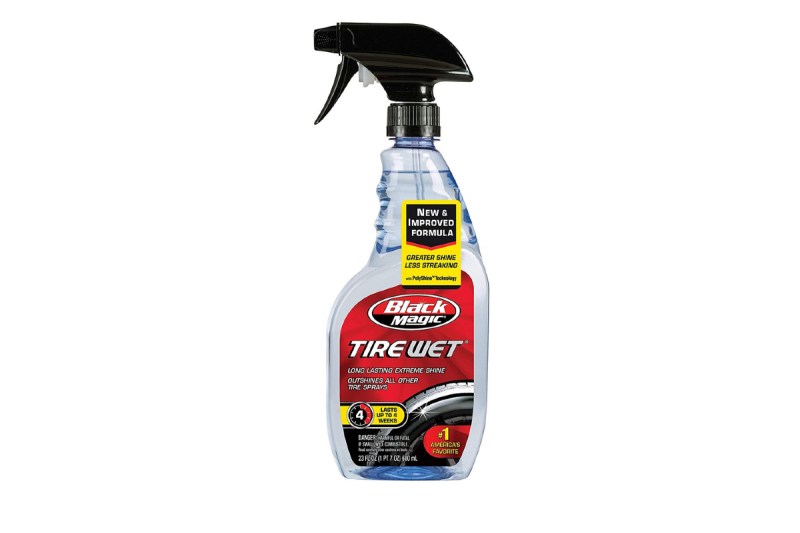 Black Magic Tire Wet
This has been my tire shine of choice for years because it's one of the cheapest products around, delivers great results, and takes little effort to apply. Black Magic Wet Tire gives your tires a high-gloss shine that almost makes them look mirrored. For an extra-glossy look, you can apply the tire shine and leave it to dry naturally or wipe off the excess for a more subtle shine. Black Magic claims Tire Wet lasts up to four weeks, but that's optimistic, especially if it rains.
The issue with Black Magic Tire Wet is that the trigger spray is challenging to use. When that happens, you can get overspray on places where the product can damage the car's paint or stain trim pieces. You'll also want to keep an eye out on how much you apply because it can sling off when applied too liberally and not left to dry properly.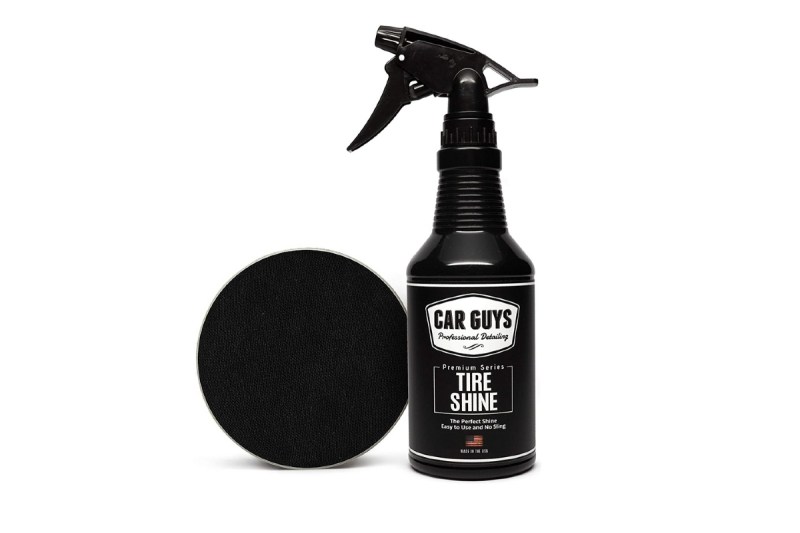 Car Guys Tire Shine 
At roughly $17 for an 18-ounce bottle, Car Guys Tire Shine isn't cheap, but the kit does include a microfiber applicator, which is nice to have. The company claims its Tire Shine spray has a patented polymer additive that helps extend the longevity of the shine and enhance it, too. Additionally, using this product on your tires adds a UV protective layer onto the rubber to fend off the sun's harmful rays. Like many other Car Guys products, Tire Shine can be used on tires, vinyl trim, or plastic pieces to bring them back to quality.
For car owners who live in areas that get a lot of rain or like to keep their car clean beyond summer, this product isn't water-resistant. Even a small amount of rain will wash this product away. If you're the kind of person who doesn't mind applying this product weekly, that shouldn't too big of a drawback for the results you get.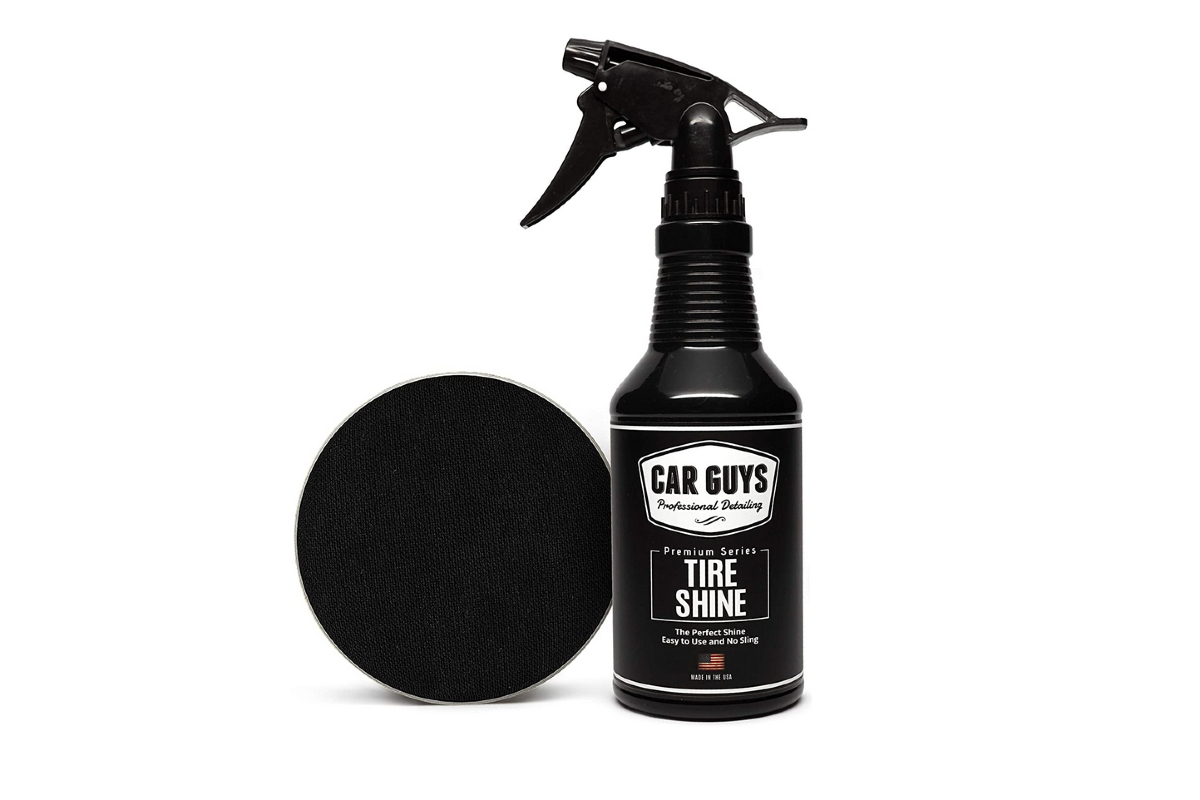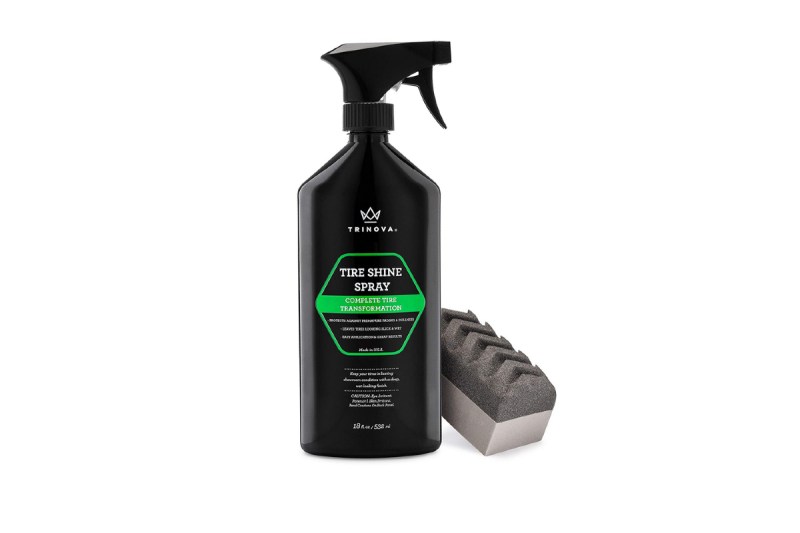 TriNova Tire Shine
TriNova may not be a household name, but the company creates high-quality cleaning products for your car. Its Tire Shine doesn't have any fancy names or gimmicks, but works just as well as anything else on the market. It creates a high-gloss shine that you can clean off after applying to result in a medium shine. While TriNova recommends that you clean your tires before applying, this product can remove some dirt and grime so you don't have to take the extra step if things aren't too bad.
Like with other sprays, TriNova's Tire Shine can be a little difficult to apply. The company recommends spraying the product directly onto your car's tires from 6 to 8 inches away, but you'll want to make sure the product doesn't get onto your paint or rims. If it does, you'll want to wipe it off immediately and, depending on saturation, rinse it off with soap and water, as it can damage non-rubber items.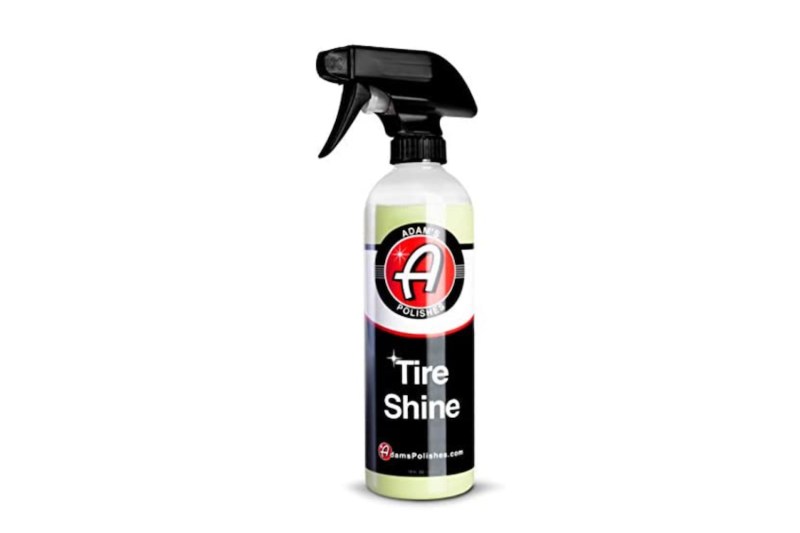 Adam's Tire Shine
If getting a product that smells good matters to you, you'll want to check out Adam's Tire Shine. The tire shine is meant to smell like banana taffy. While it's easy to laugh at the idea of a nice-smelling product, it beats having to use products that burn the inside of your nostrils or require you to use a mask.
Beyond smelling great, Adam's Tire Shine will help bring some life to your tires thanks to its silica-infused formulation that lasts a long time and the SiO2 solution that brings a glossy sheen. Adam's uses a low-sling formula, so you won't have to worry about leaving it on overnight to dry, and it can also be used on plastic.
If you plan on regularly cleaning your tires, Adam's sells its Tire Shine in 1-gallon and 5-gallon options.
Chemical Guys Tire Kicker Extra Glossy Tire Shine
This is the second Chemical Guys product on this list for your tires, but Tire Kicker Extra Glossy Tire Shine is different from VRP because it's a spray. Just like VRP, though, this tire shine can be used on rubber, plastic, and vinyl, so feel free to use it under the engine bay and even in your interior. This tire shine will enhance the way your tires look and protect them from fading because of sunlight thanks to gloss enhancers and UV blockers.
As with other glossy tire shines, this won't last too long if you drive in inclement weather. Being a spray product, applying it on your tires can be messy, which is why Chemical Guys recommends putting it onto an applicator and then applying it to your tires.
Chemical Guys Tire Kicker Extra Glossy Tire Shine
Finishing off with one of these tire shines is a great way to complete the car-washing process. Before applying tire shine to your tires, it's best to wash your car. You'll always want to spend some time scrubbing your tires and wheels to get the most out of tire shine.
After you've washed your car, the next step is to wax your car. While it's a tedious process, waxing your car adds an additional layer of protection to your car's paint to protect it from the elements, debris, and contaminants. We also have a list of the best car waxes you can apply to your car.
Editors' Recommendations