When suitably ringing out a car's neck, the proper attire is a necessity. However, most speed addicts don't consider a helmet a necessity. We disagree. When you've pushed too far, or something's gone wrong, you'll be glad you spent some money on proper headgear.
Whether you're searching for speed at the drag strip, on the Nurburgring, or in the off-road landscapes of a rally course, the most important piece of kit you can have is the helm upon your head. A good racing helmet is worth every penny if it saves your noggin from bashing into your vehicle when things unfortunately go topsy-turvy.
There are a vast number of options, constructions, and pricing, which can make picking the right helmet a bit of a chore. To streamline the process, we've rounded up five of the best racing helmets that range from weekend enthusiast to everyday track-rat. Let's make sure your next racing outing is a safe one.
Black Armor Helmets Circuit Pro – $599
Black Armor is a relatively new company, but make no mistake, the brand's products are top-shelf with full FIA certification. The Circuit Pro features a full carbon fiber exterior designed for lightness (about 4 lb), protection, and durability. The interior features EPS impact lining for better absorption and a NOMEX lining for fire protection.
The Circuit Pro also comes standard with pre-mounted M6 anchors that make adding a HANS device a breeze when you want to up your game in terms of speed and safety. Furthermore, Black Armor offers the option to install comms, a drink tube, and top- or side-mounted air ducting.
Arai's GP-6S is meant for the everyday racer. The shell of the helmet uses the same design as the company's top-tier GP-6RC, but brings it to a level attainable for mere mortals — or for those looking to have fun on weekends and not shell out nearly $4,000 for a helmet. At least not yet.
The GP-6S features a wider eye-port for better sight lines and increased peripheral vision, as well as a single intake and exhaust for circulation. Like Black Armor's Circuit Pro, the Arai GP-6S also comes pre-mounted with M6 anchors for a HANS. There's also a host of accessories available from Arai, including tear-off windscreens, increased ducting, and shield colors. All you'll need to do is pick the color: white or "black frost."
See It
Stilo Rally WRC DES Composite – $869
For those with dirt in their veins, look no further than Stilo's wonderful WRC DES Rally. This helmet are designed for maximum visibility and noise reduction from inside the cockpit, and come with an integrated microphone so the driver and navigator can communicate freely and easily.
The exterior is a Kevlar/fiberglass mixture, which gives the operator great impact protection and reduces the cost compared to the full carbon unit. The WRC DES Rally can be outfitted with an optional flip-down visor and M6 HANS anchors. Stilo's WRC options are really the last word in rally helmets and safety.
Simpson Venator Pro – $1,900
As racers get closer to professional or Pro-Am levels of competition, they need to increase their protection. Simpson's Venator Pro is the perfect mid-level helmet — its fully FIA certified and boasts carbon fiber construction. The outer shell reduces the likelihood of penetration and the inner lining absorbs impacts.
The Venator Pro also features four crown vents and comes standard with a clear Lexan shield as well as M6 post holes for HANS anchors. Simpson also offers multiple shield colors, an easy eject latch, and No Sweat interior lining.
Bell Helmets HP7 –
See It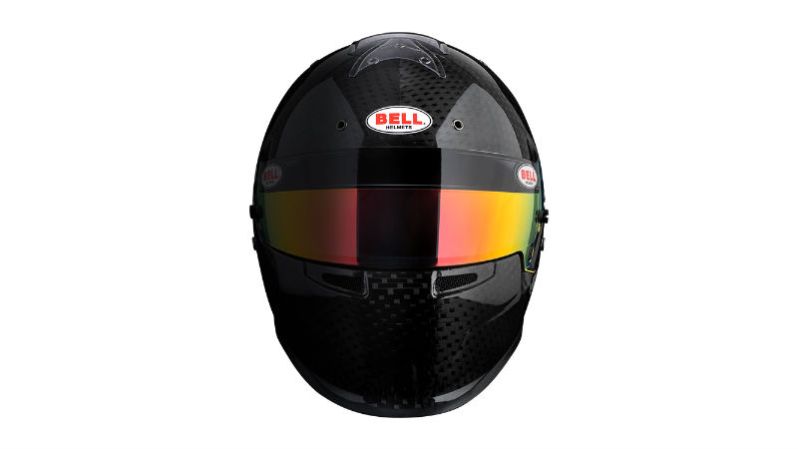 When you graduate to a professional level, you need a professional helmet. The Bell Helmets Carbon Fiber HP7 should be your graduation gift. The helmet has been completely homologated for competition use by the FIA, and developed in collaboration with F1, IndyCar, and other racing drivers to be as aerodynamically sleek, lightweight, and safe as possible.
Bell Helmets actually calls this the "Super Helmet." The Carbon Fiber HP7 can absorb up to 40 percent more energy than standard helmets and uses aerospace-grade carbon fiber. A multiple density foam lines the inside for the perfect fit. It also comes standard with M6 HANS anchors, and is available with a front chin bar and rear spoiler for better aerodynamics for open-wheel racing, as well as a host of accessories all designed to make your racing life safer and more competitive.
See It
Feature image of Jeff Newgarden courtesy of Bell Helmets.
Editors' Recommendations