Atlanta, Georgia, may not come to mind when you picture a metropolis on the rise. Places like Beijing, Seoul, and Austin are more in line with that notion. Yet, spend more than a day in Atlanta and you'll begin to see the telltale signs of a city ripe for a boom. Residential tower blocks are not only springing up around the downtown area, but around the fringes as well. New construction is everywhere and melds into the background of the old South.
Talk with any of the city's residents, and they speak of the impending boom not in hushed, nervous tones, but with bright and jubilant optimism — not only are tourists coming to the city more regularly, but also industry. Specifically, the film industry.
Here, among the long grasses, eerie swamps, great bourbon, fantastic food scene, and ramshackle houses on Atlanta's outskirts, Hollywood has invaded. AMC show The Walking Dead was one of the first to arrive and has made Atlanta its home for eight seasons. So, too, has the juggernaut that is Marvel, which shot the blockbuster Black Panther and the upcoming Avengers: Infinity War here — not to mention the acclaimed namesake FX show Atlanta.
Given Atlanta's renaissance, it makes perfect sense for Buick to launch its new Regal GS here. The company wants its own rebirth.
Decades of withering on General Motor's vine has left Buick's name very much out of the public consciousness. As Chevrolet flourished after its bankruptcy, Buick was left without real market sense and an aging lineup. Yet, new capital investment and a new market (China), has seen Buick transform itself into a more modern car company. Due to the success overseas, it has gained a little more room to stretch its engineering legs, leading us to a luxury offering with performance credentials: the 2018 Buick Regal GS.
On paper, the Regal GS has the right street cred: over 300 horsepower, all-wheel drive, a set of sport seats that hug all the right places but don't tire your back, a sport steering wheel, and room enough for four of your friends to squeal and howl as you rail through the gnarled back roads of Atlanta. However, the actual driving dynamics leave you wanting … more.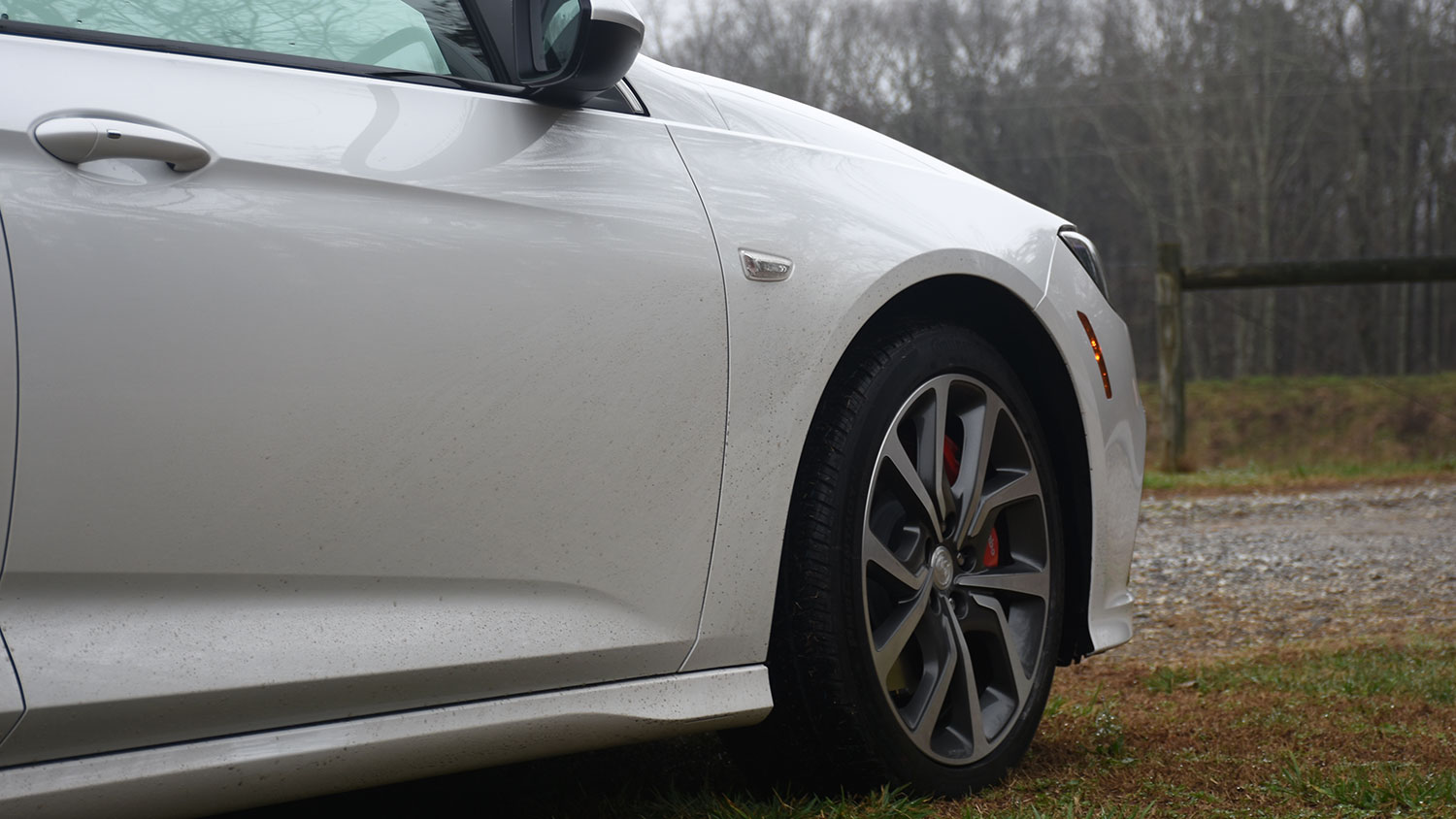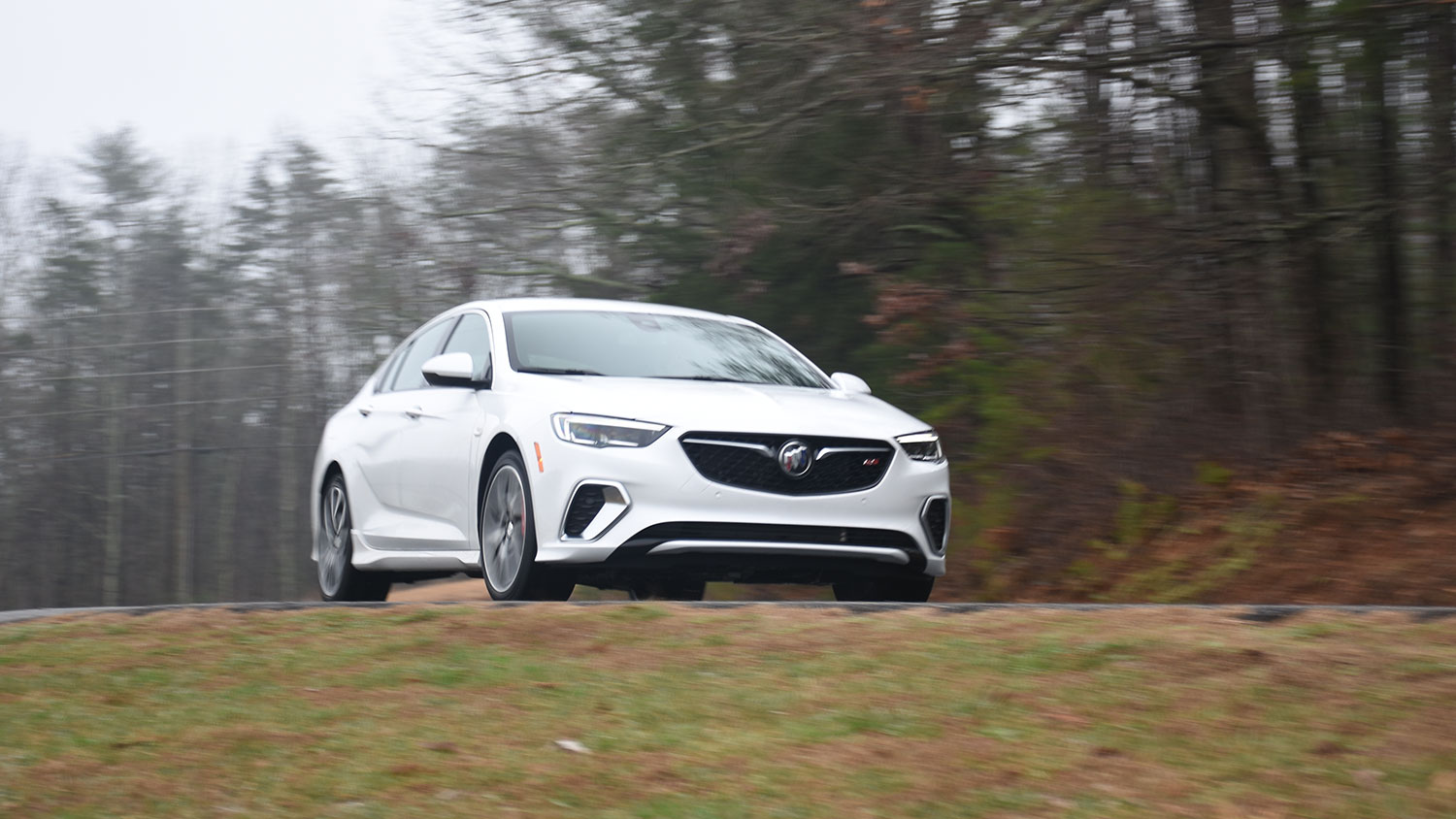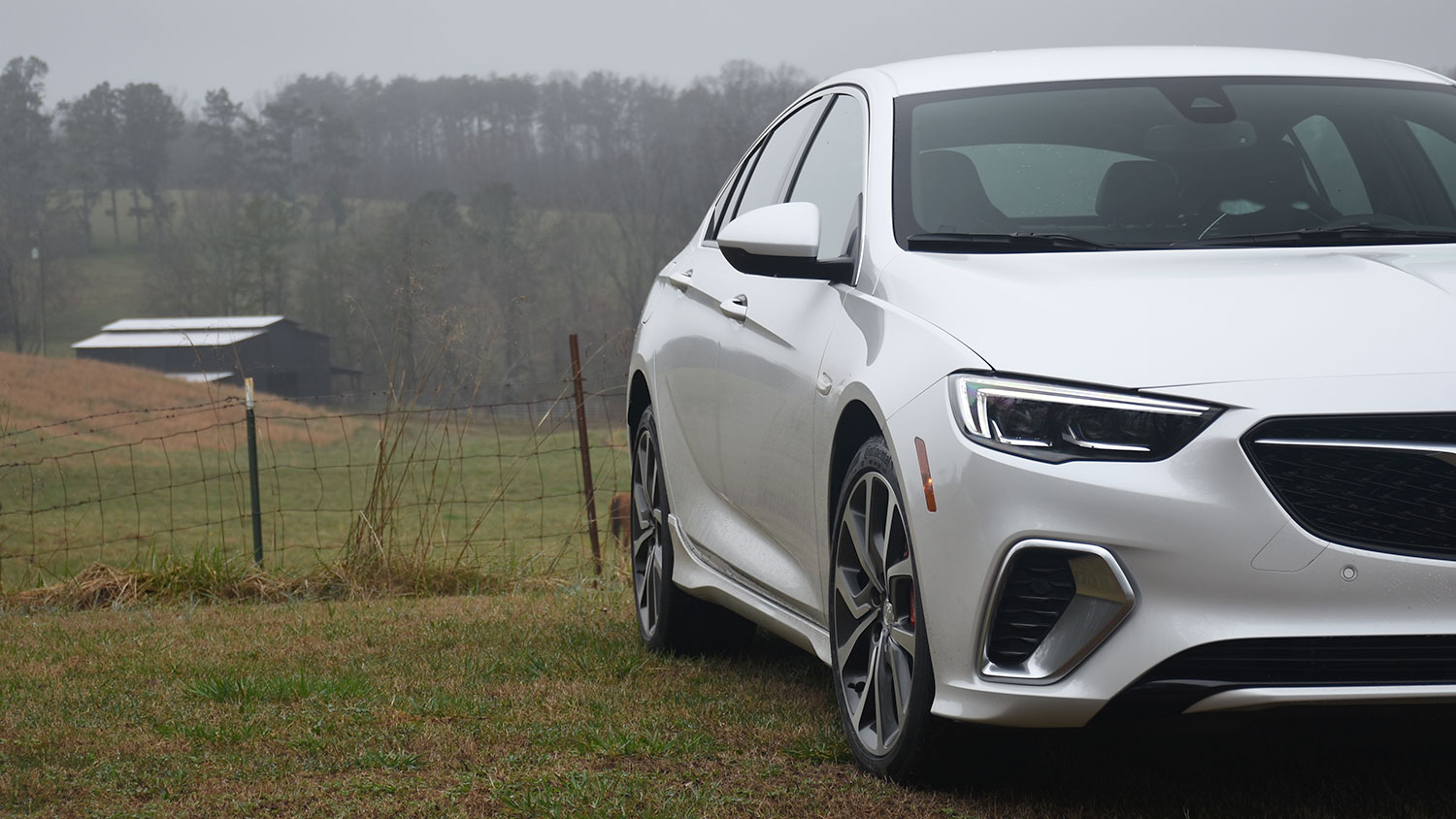 A drizzly, humid rain besieged the city the day of our drive. The slick roads left little confidence in our caravan of Regals at the start. Our hesitation, however, quickly subsided. The car's chassis was engineered at GM's German design center, and as such, is stout. Twisting through the hill-laden countryside, most passenger cars would roll or heave to either side. The Regal GS couldn't be bothered. Bombing from corner to corner with all the pomp of a funeral, both it and I wanted more. Not just more corners, either; there's a sense it could handle an extra hundred or so horses and some stickier tires.
Kicking the throttle, that relative lack of horsepower becomes more widely apparent. It's quick, but whereas the rest of the world has looked to turbocharging or other forms of assisted oomph, Buick went with GM's naturally aspirated 3.6-liter V-6 engine. There's no pizzazz in this engine, nor is there any heart and soul. It feels far too commuter. At the bottom of the hill, my right foot slammed to the floor, I'm left wondering why Buick didn't pluck out the wonderfully punchy turbocharged, 2.0-liter, four-cylinder engine from the Chevrolet Camaro? Sure, it's slightly down on horsepower compared to its six-cylinder counterpart, but that four is very much under-stressed in its current configuration.
Give it more ponies and heart, Buick! It can handle it.
Exterior-wise, Buick's nailed it. No, I'm not going to audibly regurgitate the company's "That's a Buick?" slogan any time soon. But hot damn does this car look good. The Regal GS looks to have taken the best design attributes from Mercedes-Benz, Infiniti, and a handful of others, and built an absolutely lovely four-door coupe. From front to rear, it's a cohesive and good-looking body, something I greatly appreciate as new car design has fallen to the point where it's hard to distinguish a car's make from twenty feet. Everything is too similar. The Regal GS isn't.
Rain pelted the Regal GS's windshield, and I was happy for the inclusion of the heated sport seats. That's not to say the outside air was cold, but there's just something about having your butt nicely toasted while the rain cools the Earth outside. That sense of comfort is furthered by the bolstering seat construction. The padding, soft and supple, let me drive the car all day without back issues. At the same time, when hucking the car from corner to corner, it kept me situated perfectly behind the D-shaped sport steering wheel.
Elsewhere in the cockpit, you can tell that Buick spent the time and money on materials and design. Like the exterior, everything on the inside has a cohesive feel. Nothing is out of reach or out of place. The materials also feel more upscale than your standard Chevrolet production. That said, the new 2018 Regal GS isn't exactly what you'd call cheap.
During the morning briefing before our romp through Atlanta's forests and hills, Buick's team told us the Regal GS is positioned to compete with Audi's S4 and BMW's 3 Series, both of which are tens of thousands of dollars more than the Regal GS (the GS starts at $39,990). Yet, for that type of money, if I wanted a sporty four-door car, albeit one without some of the more refined characteristics of the Buick, there are quite a few more interesting options to choose from one, the most glaring being the Honda Civic Type R. It's far more garish in terms of exterior styling, but the Civic Type R offers similar space both front and rear, comparable style of seats, more standard technology, and performance stats that beat the Regal GS's in every way. It does so, however, for $6,000 less.
That said, no one is cross-shopping the Regal GS and the Civic Type R — it's a point that needs to be made to understand that, just as Atlanta is still in its expansion and improvement stage, so is Buick and its new Regal GS.
The car, like the city, is on the rise. For both, the infrastructure and push to make them special is there. Neither, however, are quite ready to be called world-class. The bones are there, both just needs that last little push toward.
Photos by Jonathon Klein/The Manual.
Editors' Recommendations