Atlanta's Ponce City Market is a shining example of urban renewal. With a mere 2 million square feet to renovate, this once vacant mass is humming again with quality restaurants, local and national anchors, as well as slick urban living spaces.
For someone like me who grew up in Atlanta, seeing the formerly derelict Sears, Roebuck & Co. building restored to glory is a source of pride. Both of my parents used to get dressed to the nines to shop there in the 50s and it is even the location several years later where my father was dropped off to enlist in the Vietnam War.
In my time, it was briefly a satellite office of City Hall, but mostly it was just a huge amazing eyesore of the past with shattered windows, trash-strewn steps, and one very lonely flagpole.
Built in 1926, the vast restored space has no lack of places to go and things to do. You can spend the day perusing the many retail stores, walking the Belt Line, or just hitting up the variety of bars and restaurants. Check out their events page for book signings, pop-up shops and other seasonal events.
While there is a lot to take in, here are our top picks:
Menswear
While the main floor has a great selection of big name brands, head upstairs for the more in-the-know local finds.
Citizen Supply – While this is more of a market place than a menswear store, there is plenty in here we love from the ATL sweatshirt made with Billiam Jeans to the Edison Bikes and the super sturdy Utility Bag by KMM & Co.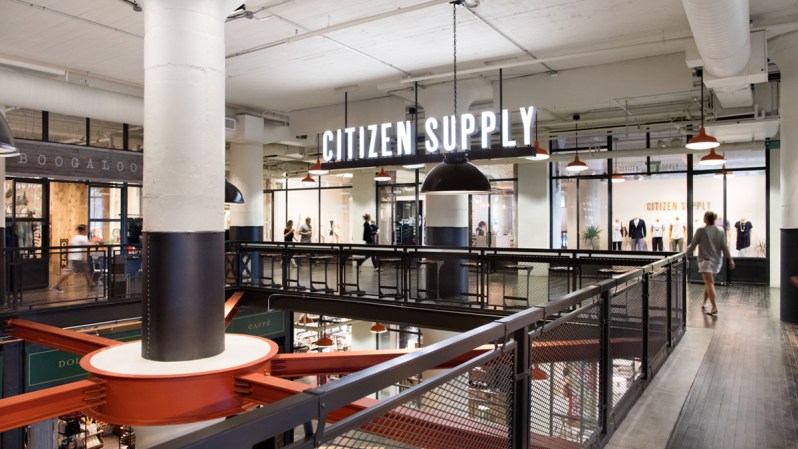 Cobbler Union – Looking for sharp looking shoes that don't cost a fortune? Cobblers Union shoes and boots are all hand crafted in Europe and are direct to the consumer so those fine looking Oxfords are only $395 and not $900 +.
Elk Head Clothing – Founded by designer Garret Hilgendorf, the brand is focusing on modern silhouettes with high quality fabrics. Their twill shirts, selvedge denim, and leather accessories aren't loud, but will stand out from the crowd.
The Food Hall
Think of Pike Place in Seattle and Chelsea Market in New York City; this is not your mall food court.
Biltong Bar – This cool new joint features organic, all-natural South African beef jerky, otherwise known as biltong, as well as sandwiches and other South African delicacies (like Frikkadel). There is also a damn good craft cocktail list, local brews and a full wine list.
H&F Burger – This burger is a direct descendant of the original that debuted at the 1904 St. Louis World's Fair and was a cult favorite at Holeman & Finch Public House in Buckhead. Their fries, shakes and floats all call for elastic waistbands.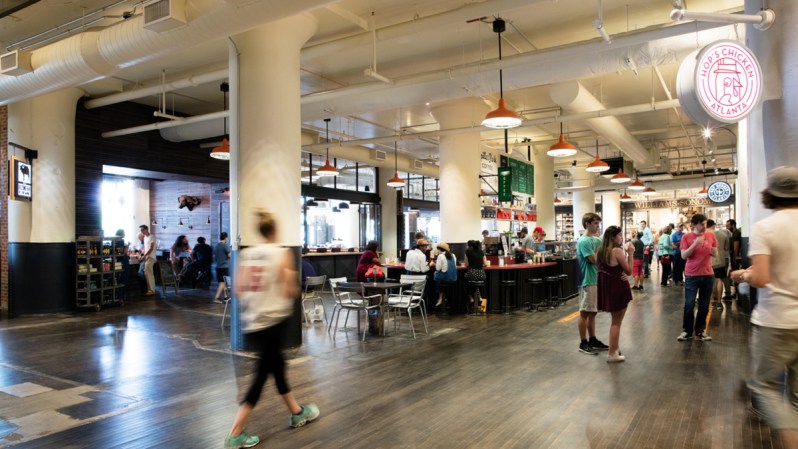 Hops Chicken – People may sing the praises of Chic-fil-A, but it is still fast food and who knows where those chickens are raised. Over at Hops they use all natural Georgia chickens and their chicken sandwich and chicken biscuits are pretty damn hard to beat.
The Mercury – Located above the food hall, this full service restaurant harks back to the Mad Men days of heavy cocktails and classic American fare, from a classic wedge to a 16 ounce Prime NY Strip. Julian Goglia handles the bar and it is constantly voted best bar in town.
Editors' Recommendations