This is the first year The Manual is giving awards to our favorite spots in eight cities across America that we think are doing great things for their neighbors, town and overall community.  Winners were chosen both by writer's opinions as well as readers who could vote on The Manual's Facebook page. Winners will receive a decal to mount in their establishment as well as exposure on the site and on social media. We are excited to take this trip across America with our friends at the leather and lifestyle brand, Moore & Giles. Enjoy!
Ten years ago Atlanta was getting a bad rap: too big, too fast, too much traffic. Well while the traffic can still be a nightmare, downtown has been thriving and little towns around Atlanta such as Decatur, Cabbage Town and Inman Park are thriving resulting in walking/biking communities avoiding the gridlock all together. Plus their brilliant Belt Line is one of the most ambitious urban redevelopment projects in America and is bringing neighborhoods together like never before.
With the transformation of the city, new, inspiring restaurants, bars, brews and brands have boomed putting the Empire City of the South back on the map for more than malls and sprawl.
Best Restaurant: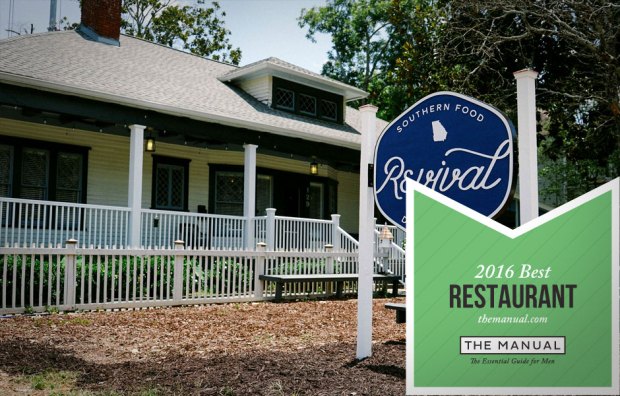 Located in a historic turn of the century bungalow in Decatur, this is the newest restaurant for chef Kevin Gillespie. Created as an ode to his grandmother, you may just find yourself shouting 'Hallelujah' after taking a bite of their wet batter fried chicken or mind-blowing meat loaf wrapped in bacon. They even make their own coffee, Red Beard's Delight that they infuse into their monster truck sized chocolate cake slices. This is family style dining at its finest.
Best Bar:
This former railroad depot (again in Decatur) has been through many incarnations but the owners of Kimball House (named after a grand old and long gone Atlanta hotel).hit the zeitgeist with their seasonal cocktail menu and popular oyster bar (serving 22 varieties). September 22, 2015 rang in their second anniversary and there doesn't seem to be anything slowing this space down. Décor is what a former train depot should look like, lots of wood, brass chandeliers and leather. While this is our favorite bar, the dinner menu is nothing to scoff at. Take note: This place is bustling and they don't take reservations, so come early and ease into the evening.
Best Coffee Shop: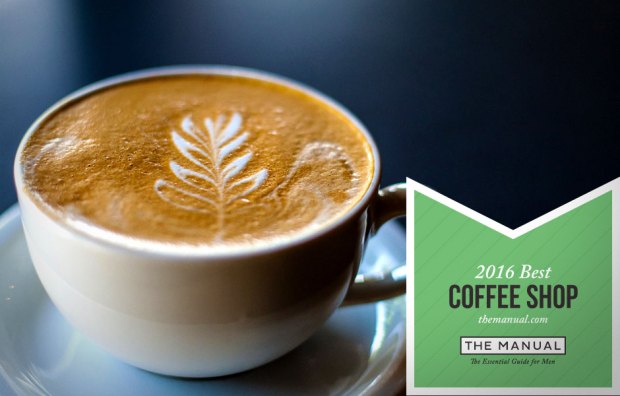 One of the beauties of Atlanta is the bountiful number of trees surrounding it, giving it the nickname, City in a Forest. If you head out to the Chattahoochee Coffee Company's Riverside location (only open to the public during the week since it is in an apartment community) you can order a latte and stroll right out to the river for a hike or just a swing in their hammock. The company is also socially conscious giving back to a variety of organizations, which is something we are always fans of. Oh yeah, and the Counter Culture coffee is awesome too.
Best Local Brew:
With the first beer being poured July 19, 2013, Three Taverns is relatively new but their brews are winning accolades around the world. Known for their Belgian IPA's their White Hops is a standout as is the bourbon barrel aged Heavy Bell. While their brewery and 'parlor' are located in Decatur and worth a trip, you can find this brilliant beer all over town from The Ritz Carlton to the Vortex.
Best Shop:
We are not sure if this is a good or bad thing but there is simply no competition for the brilliance of Sid Mashburn. Opened by a dedicated fashion follower (and father to five girls!) in 2007 off the now very trendy Howell Mill Road, the space has been a constant source of inspiration for well-dressed men all around the South. Here you can find a beautiful Italian made suit (and in-house tailors to fit it to you like a glove), Filson luggage, Tretorn shoes and Musgo Real grooming products as well as Mashburn's namesake brand of belts, clothing and shoes. This man knows quality. He also knows how to make a man feel at home. Drinks are always served and the record player is always spinning.
Best Barber Shop:
Most traditional barbershops don't take appointments. And while this irks us to no end, The Shave has the perfect solution, you leave your name and they call you 15 minutes before they are ready for you. So go run your errands, grab a beer or write a love letter. They got you. They also are damn good at cuts and shaves and beard trims. Located in this hip Virginia-Highlands neighborhood there is plenty to do before and after your cut.
Best Local Brand: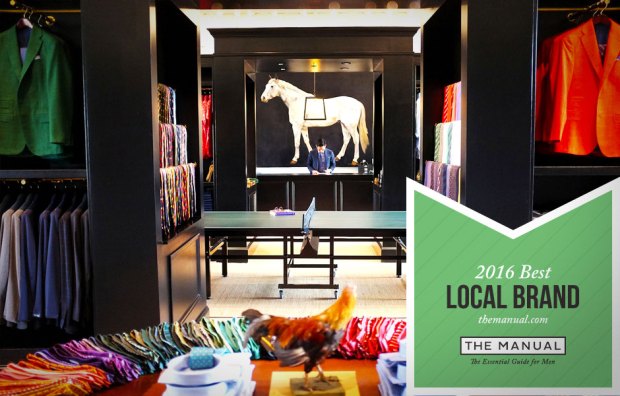 So nice we had to choose him twice. We have a major bromance going here. Once you try Sid's handsomely cut trousers, blazers, shorts and shoes you won't want to wear anything else. His cuts are classic but he always throws in some eccentric colors from Eggplant pants to Day Glo kicks. His customer service is unparalleled and his tailors are top drawer. Plus he ships anywhere in the U.S. and once they have your measurements you can order online and have them altered before they ship. Now that's bananas.
Editors' Recommendations