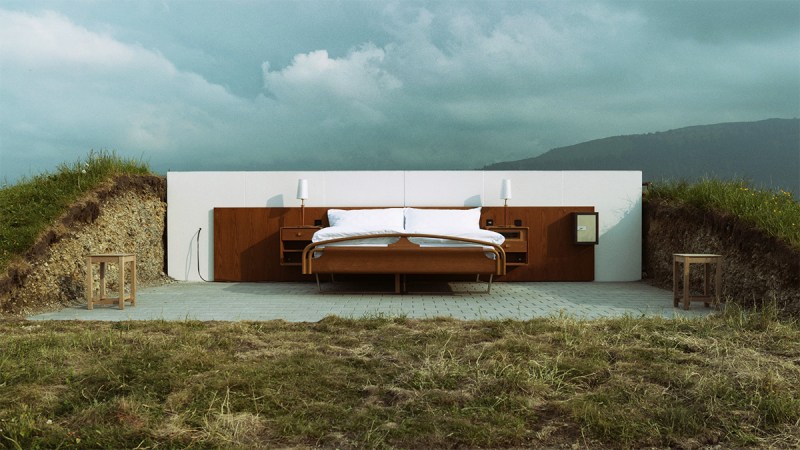 Switzerland is hardly known as a budget-friendly vacation destination. But a new mountainside art installation-cum-hotel purports offer the world's first (and possibly only) "zero-star" lodging.
With each stay at the Zero-Star Hotel, guests are provided little more than a bed and an outhouse. On paper, it sounds more like a rural hostel. In reality, the "bedroom" is a luxury designer suite situated amid the beautiful rolling hills of Switzerland's Appenzell region. Guests receive a free cocktail on arrival, cooked-to-order breakfast daily, and the service of a butler (usually an area farmer in galoshes). The latter shows guests around the admittedly amenity-free property, shares corny jokes, and offers weather forecasts via an old TV set.
The aforementioned outhouse bathroom is just three minutes away on foot, and it doubles as backup lodging during inclement weather. Storms canceled nearly two-thirds of scheduled stays in 2016. The suite changes location each year. Previous locations included a mile-high spot atop the mountainous Grisons region, as well as in a decommissioned nuclear bunker.
Along with collaborator Daniel Charbonnier, co-founding brothers Patrik and Frank Riklin launched the first suite several years ago as an art project of sorts. Switzerland boasts some of the highest costs of living in the world, and stays at the country's stunning ski resorts are hardly affordable for most "commoners." The project's primary goal takes aim at the concept of a traditional luxury vacation. "Our artistic perspective is to go in the other direction. There is freedom in the zero to define luxury anew." While it may sound a bit highfalutin, it's hard to argue their motives. The founders note that the installation has been a hit among art fans. However, Swiss hoteliers are less than thrilled about the blatant jab at their business practices.
For 2017, nightly rates run around 295 Swiss Francs (just over $300 USD), but sky-high demand means the unique space sells out fast. Guests travel from around the world — from as far away as Australia, the U.S., and Africa — just for a chance to stay at the one-of-a-kind site. Amid nearly 1,500 requests this year, it's almost sold out already.
Editors' Recommendations