I must admit that certain things come to mind when I think "Wyndham," but "luxury resort," "trendsetter," "culinary hotspot," and "adventure" didn't previously hit the top of my mind. Have I been wrong all along? Will the Wyndham Palmas Beach & Golf Resort change this forever, and is this the kind of resort that will provide you with the ultimate Puerto Rico travel experience you want?
Wyndham Palmas has recently reopened following a major renovation that includes new restaurants and newly redesigned rooms alongside its prime location in Palmas del Mar on Puerto Rico's southeastern coast. I recently visited Wyndham Palmas to experience for myself this newly improved resort and to report back to you on what to expect here, what you can do at the resort and in the larger region, and whether this Wyndham resort in Puerto Rico should have us all rethink our assumptions of a Wyndham brand hotel.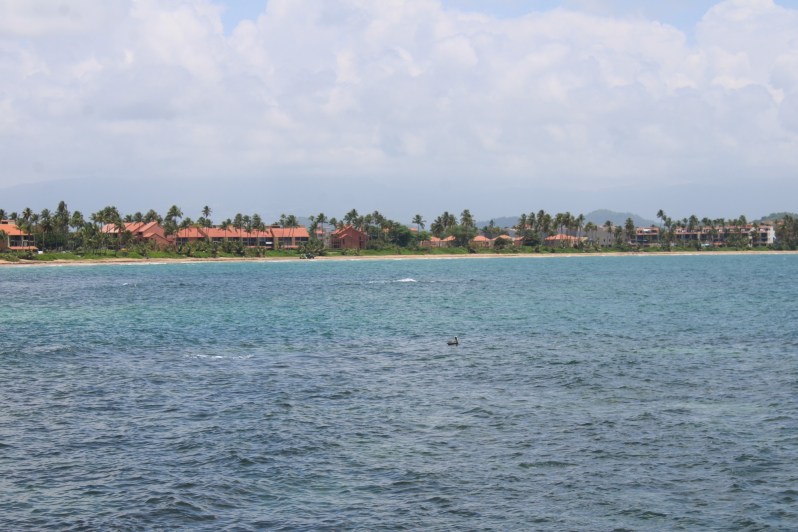 Here's the lay of the land (and sea)
The Wyndham Palmas Beach & Golf Resort is located within the exclusive Palmas del Mar private master-planned community in southeastern Puerto Rico, making Wyndham Palmas the only resort on this side of the Caribbean island. As part of Palmas del Mar, Wyndham Palmas guests have special access to the community's two world-class golf courses, multiple lush hiking trails, unspoiled beaches, horseback riding, and the largest tennis center in the Caribbean.
On the flip side, though, Palmas del Mar is about 40 miles southeast of San Juan, meaning that you'll have to drive a while to reach some of Puerto Rico's most popular attractions in Old San Juan and the Santurce neighborhood. But if your Puerto Rico travel plans include a visit to the renowned El Yunque National Forest, which is the only U.S. national park to feature a tropical rainforest, as well as an exploration of lesser-known natural treasures like the Humacao Natural Preserve, then Wyndham Palmas offers a great launchpad to explore more of Puerto Rico's natural wonders.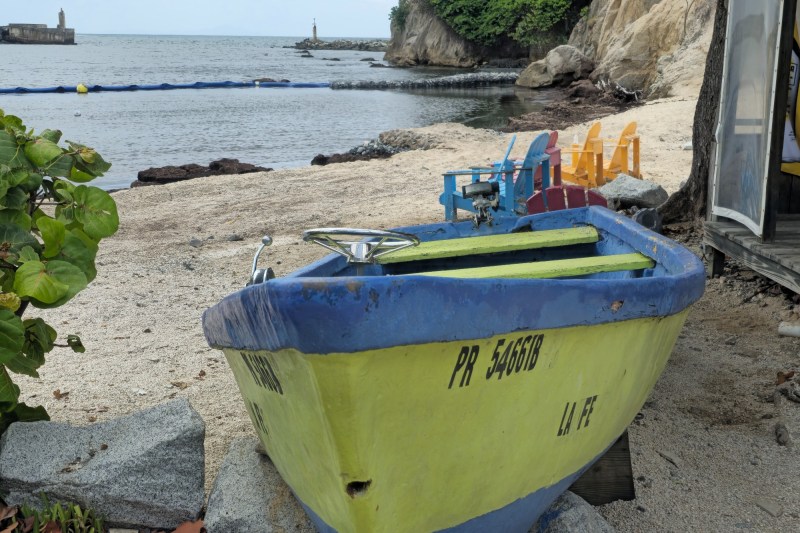 What to do
We've already begun to discuss all the things you can do at the Wyndham Palmas Beach & Golf Resort and Palmas del Mar. But if you want more details on the best activities in the area and the best ideas to include in your Puerto Rico travel itinerary, you've come to the right spot.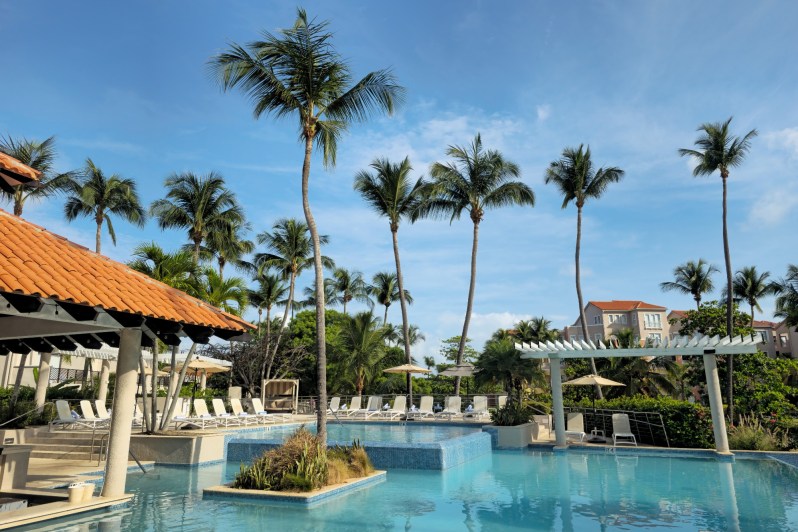 The beach and the pools
If you like spending quality time at the beach, then you may love the secluded stretches of sand and shore that Palmas del Mar has to offer. In fact, Palmas del Mar has about six miles of exclusive Caribbean Sea frontage. The only downside is that this part of Puerto Rico is prone to dangerous riptides, so this isn't a very swimmable beach.
If you don't mind the not-so-swimmable waves, there's plenty more for you to enjoy at the beach. If you're lucky, you might find sea turtles nesting here; green turtles, hawksbill turtles, and leatherback turtles call this stretch of the Caribbean home. Otherwise, it's easy to find a nice stretch of sand, then stretch out and enjoy the usually abundant peace and quiet on this side of the island.
Fortunately for everyone who really wants to jump in and swim, Wyndham Palmas has two pools for guests to enjoy: A "beach-entry" style family pool and a freshly refurbished Costa infinity pool. Though the "beach-entry" family pool can never really be a complete replacement for a real swimmable beach, it at least allows the little ones and the kids at heart the opportunity to enjoy some sand along with a fun swim. If you prefer more of a chill adult pool, the Costa pool offers plenty of peace and quiet, along with a bar and a swim-up pizzeria.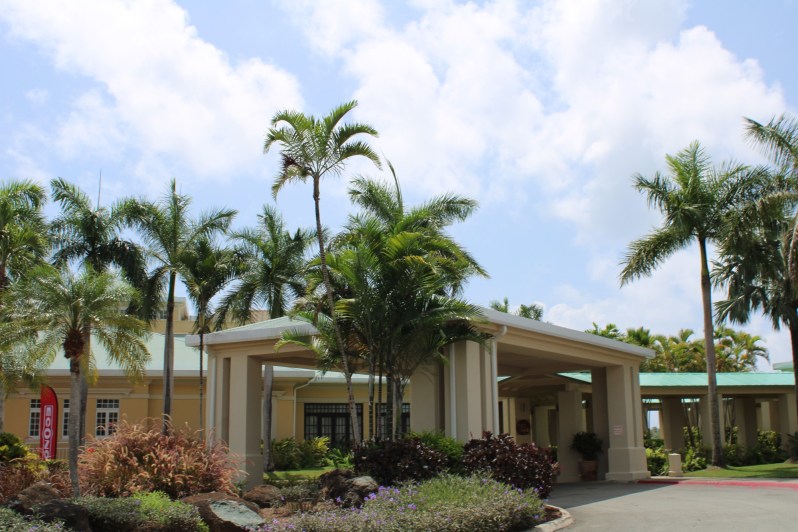 Tennis and pickleball
There's no reason why these sports can't be part of your Puerto Rico travel plans. With the Caribbean's largest tennis facility that features 20 courts offering surfaces ranging from hard to clay, you can practice your serve in special style right here. If pickleball is more your jam, then you can play ball here as well.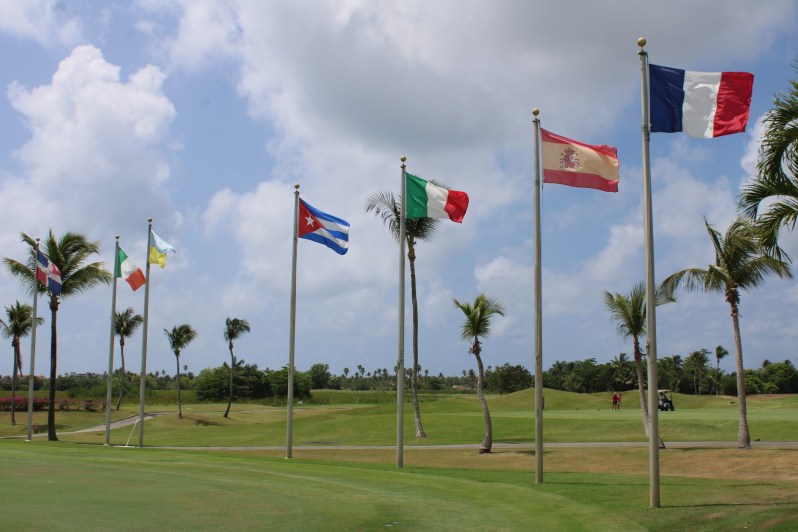 It's tee time (golf)
If you've always dreamt of golfing in Puerto Rico, then the Wyndham Palmas Beach & Golf Resort will make your dreams come true. Since the resort is part of Palmas del Mar, guests have special access to the private community's Flamboyán and Palm Courses. The Flamboyán Course is an 18-hole championship-caliber course designed by Reese Jones, and it offers picturesque Caribbean Sea views that are so stunning that you might have a hard time focusing on your swing.
If you want an even more challenging set of greens, try the Palm Course, an 18-hole championship-caliber course designed by Gary Player that features water hazards, strategic hurdles, undulating greens, tropical landscaping, and great Caribbean Sea views. Both courses offer easy access to Palmas del Mar's 40,000 square-foot clubhouse, which has a covered patio, a restaurant, a golf shop, members-only locker rooms, and more.
Horseback riding
Yes, Palmas del Mar really does have Paso Fino and Paseo horses available to ride at their equestrian center. As this is the most complete equestrian center and best training facility in the Caribbean, here you'll find multiple uninterrupted trails, round pen training, and even a facility designed for international competition.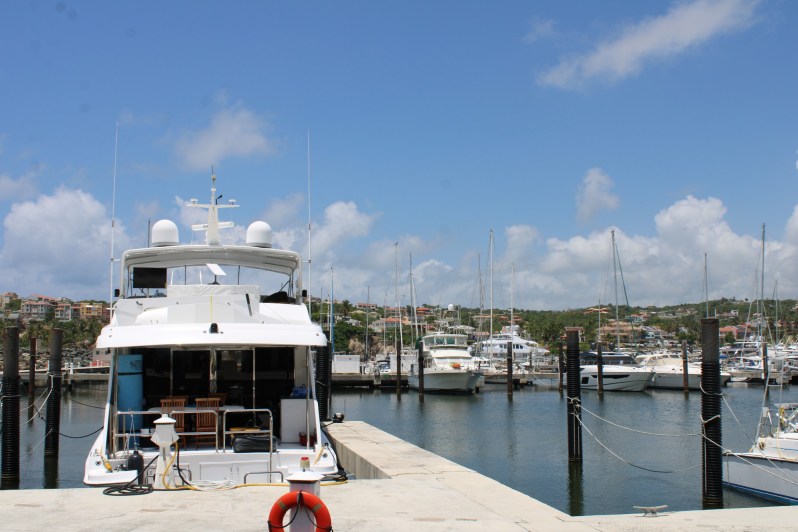 Yacht club and marina
If you prefer your adventures at sea, then Palmas del Mar's Yacht Club Marina probably has what you crave for your ultimate Puerto Rico travel fantasy. With 162 slips, it has ample room for you to park your boat. If you don't have your own boat, no worries: They offer boat rentals, and you can book fishing excursions that leave from the marina every day.
Where to stay
Yes, I know that Wyndham has a bit of a reputation for running "boring" mid-market and budget-friendly hotels that cater to stereotypically Middle America-type travelers. But when we look more closely at Wyndham's full suite of accommodations across all their brands, the reality is more complex. It's even more complex here in Puerto Rico, where Wyndham Palmas and their sibling property, Wyndham Grand Rio Mar, are actually owned by the hospitality investment firm LionGrove LLC. For greater context, the arrangement that LionGrove and Wyndham have for these Puerto Rico travel hotels is fairly similar to what we see at Marriott's "soft brand" Tribute Portfolio hotels, Curio Collection by Hilton hotels, and JDV by Hyatt properties.
Perhaps the best example of the more complex and exciting reality behind the "boring" stereotype is Wyndham Palmas. All 107 guest rooms and suites now sport a more contemporary boho chic style that feels different yet inviting, and the roomy floorplans make them feel quite comfortable as well. But wait, what's exactly boho chic about these rooms? Well, think of cool contemporary art, clean white linens, and a funky mix of medium-brown wood and neutral-toned textile accents, and you'll realize Wyndham Palmas' new design palette.
Honestly, I was pleasantly surprised by my room at Wyndham Palmas. My room really shattered that "boring" stereotype with its surprising sense of style and even more surprising array of amenities. Though the room didn't serve the kind of ultra-posh luxury that you can find at one of Puerto Rico's five-star resorts, I nonetheless felt quite comfortable with the large and plush king-size bed, the spacious bathroom area with a walk-in rain shower and a full-size soaking tub, and up-to-date electronics and appliances that made my room feel properly 21st century. In addition, the thoughtful little touches, such as the memory foam pillows and the great-smelling bath products, makes Wyndham Palmas feel even more like a chic indie boutique hotel.
Nearest airport: Luis Muñoz Marin International Airport
Time: 60–90 minutes by car
Distance: 39 miles (or about 63 kilometers)
Where to dine
This right here may be the biggest change that this Wyndham resort in Puerto Rico has made. This past May, they opened their brand new Trova Coastal Kitchen featuring cuisine from a new pack of celebrity chefs. How good was it, really? And what else can you eat here? Let's dive right in and find out.
Price Key
"$" = budget-friendly or cheap
"$$"= average
"$$$"= expensive
Trova Coastal Kitchen
As a visitor to the new culinary star of Wyndham Palmas, I had to taste for myself whether Trova lived up to its pre-game hype. Thankfully, it did. From the baked yuca fries that were baked to perfection and paired with lemon aioli to the Persian Love Rice that was literally bejeweled with delectable fruits, pine nuts, and pistachios, everything tasted incredible!
Also, if you like pizza, you will absolutely love Trova. Their sunflower pizza might have the best crust I've ever tasted, and the pesto and grilled veggie toppings are delectable as well. Also, make sure to sample their drink menu because their cocktails and mocktails are quite fun and inventive. I especially loved the guyaba martini with four-year Bacardi, as well as their all-star margarita with mezcal and Cointreau.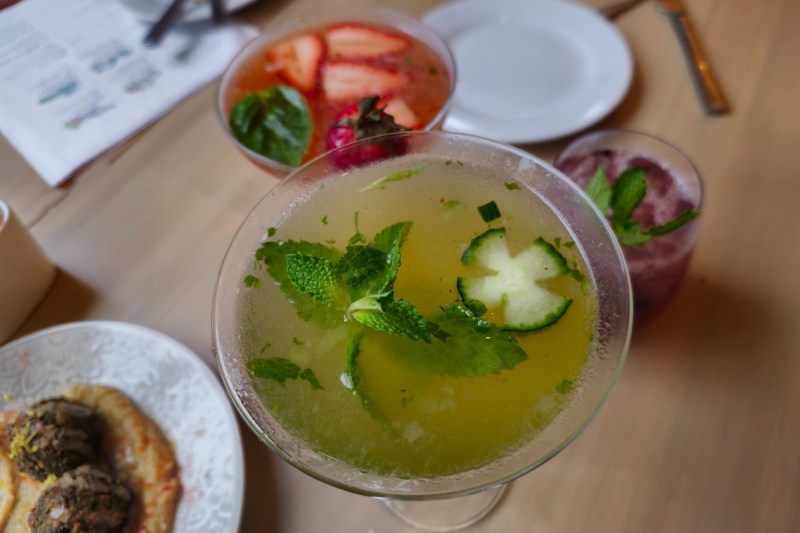 Botica
If you're into tapas and you like sampling different food from around the world, you might want to try Botica. Featuring a very diverse and globally inspired tapas menu, Botica is a fun spot for cocktails and casual dinner. (Spoiler alert: Botica shares the same kitchen as Trova, and the food menu is a condensed version of Trova's menu that's selected to make the best bar food.) I was curious to see how their mezza platter stacked up against the real Middle Eastern food I got to try last year: It wasn't really authentically Levantine, but I nonetheless appreciated their version of hummus alongside garlic naan and whipped feta.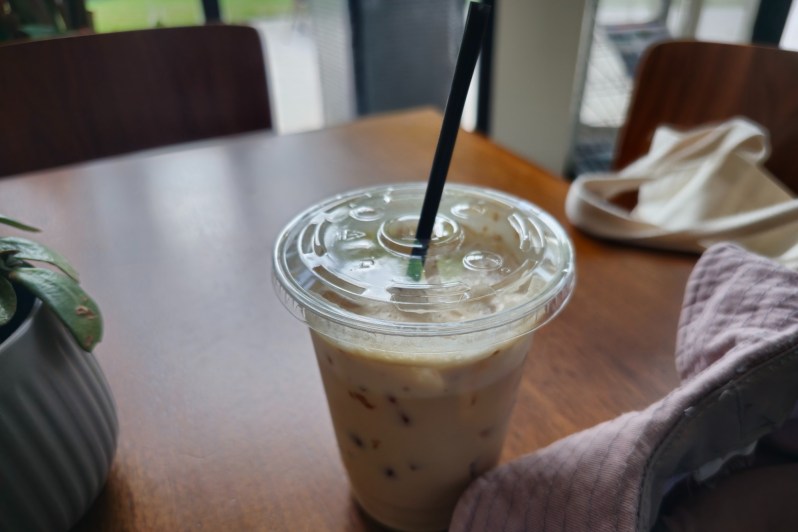 Café 1736
If you simply need some coffee and light fare to start your day, pop on over to Café 1736 for some real Alto Grande Puerto Rican coffee, breakfast pastries, lunch sandwiches and salads, and even afternoon high tea service.
La Pescadería
Though it's not actually on the Wyndham Palmas property, I'm including La Pescadería here because it's within the Palmas del Mar gates, and because it's always a good idea to include some more locals-oriented restaurants on your Puerto Rico travel itinerary. La Pescadería is a delightfully casual seafood shack by the marina. The one downside is that diners sometimes have to smell petroleum residue from the boats, depending on which way the wind is blowing.
As long as you can handle the occasional whiff of boat fuel, you can enjoy a great variety of classic Puerto Rican dishes here. I'm particularly a fan of their mofongo, and the mofongo with shrimp and garlic sauce is truly incredible! If you're especially hungry, try the croquetas as well.
Here are some tips for a better Puerto Rico travel experience
Location and transportation
Wyndham Palmas is about 40 miles southeast of San Juan. If you take the PR-30 Expressway to and from San Juan, keep in mind that traffic can build up during rush hours there and in the nearby city of Caguas. If you're planning outings far from Wyndham Palmas, plan on spending plenty of quality time on the road, either navigating your way through San Juan traffic and/or taking the alternative scenic routes around the island. Also make sure you have a trustworthy map on hand, as navigating your way in and out of Palmas del Mar can be tricky.
Though San Juan has the Tren Urbano automated rapid transit system that's great for getting around the city, it does not reach the airport or anywhere near Wyndham Palmas. Sadly, public bus service is also very limited outside the San Juan metro area. And while Uber has about 4,000 drivers in Puerto Rico, the vast majority of them are based in the San Juan metro area. Basically, if you're planning a car-free trip to Wyndham Palmas, you may need to call and schedule taxi rides in advance if you're interested in outings far from the resort.
Health and safety
As of spring 2023, Puerto Rico has no remaining COVID-19 health safety restrictions other than filling out the Online Travel Declaration Form and providing proof of vaccination for international travelers arriving in the U.S. Face masks are no longer required just about anywhere, though you certainly have the right to wear them if you prefer taking extra precautions to prevent the spread of COVID-19 and other infectious diseases.
When it comes to public safety, note that Puerto Rico tends to be one of the safest islands of the Caribbean and that its overall crime rate is comparable to most of the continental U.S. The most violent gun crimes tend to involve gang activity and/or drug trafficking, so it's incredibly rare for travelers to encounter any of that in areas like Palmas del Mar that cater to tourists. Pickpocketing and robbery are the most common crimes in Puerto Rico, so make sure to take the usual precautions to prevent any potential theft.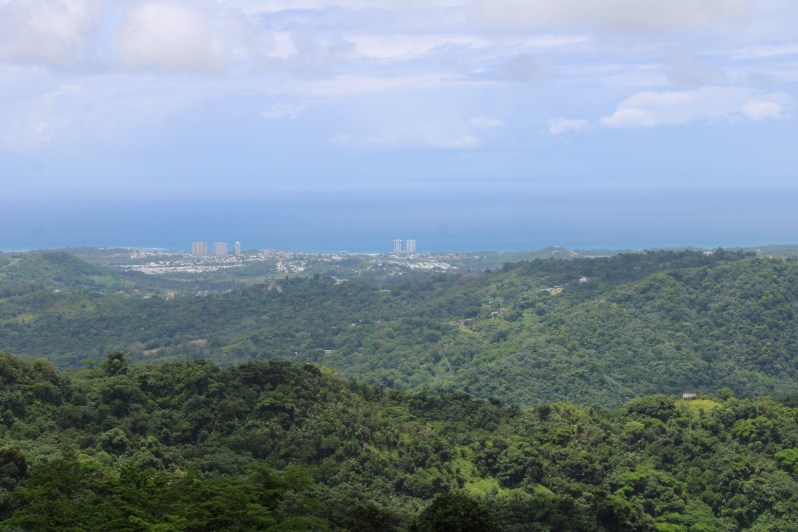 Notes on weather, particularly hurricane season
Staying on the topic of safety, it's also a good idea to prepare for whatever Mother Nature sends your way during your Puerto Rico trip. Like most of the Caribbean (and unlike the more semi-desert ABC Islands to the south), Puerto Rico has a tropical rainforest climate that includes plenty of rain year-round, though summer and fall tend to be Puerto Rico's rainiest seasons.
Yes, Puerto Rico is prone to hurricanes: The last severe hurricanes to make direct landfall onto the island were the back-to-back Hurricanes Irma and Maria in September 2017, and Irma actually hit Puerto Rico as a Category 5 storm. If you're planning a Puerto Rico trip later this year, note that September is usually the peak of hurricane season and that the (relatively) dry season lasts from November through March.
Something else we need to discuss is dust — more specifically, dust from the Sahara Desert. Though these dust storms rarely become life-threateningly severe, they occasionally reduce visibility drastically and take the region's air quality to unhealthy levels. Fortunately, NASA and Puerto Rican health authorities have been working on their advance warning system in recent years, so pay attention when they issue warning notices of approaching Sahara dust storms.
Notes on Puerto Rico's language and culture
Unlike in the continental U.S., Spanish is the most commonly spoken language across Puerto Rico, though both English and Spanish are the island's official languages. While you'll have an easy time navigating your way through Wyndham Palmas speaking primarily English, you might want to try learning at least some Spanish if you plan to venture far beyond the resort and the most touristy areas of San Juan.
While the island's residents continue to debate whether to remain a commonwealth, pursue official U.S. statehood, or even pursue potential independence in the future, most Puerto Ricans consider themselves Americans, though they're also proud of their own Puertorriqueño or Boricua culture and heritage. Locals tend to be quite warm and welcoming to visitors, and they appreciate it when visitors respect the island's special culture.
My assessment and final thoughts
Honestly, I was quite pleasantly surprised by the Wyndham Palmas Beach & Golf Resort! The renovation and redesign make for a refreshed resort that feels less stereotypically middle-of-the-road and more like a sophisticated indie boutique hotel.
We hope you now have some better ideas for travel to Puerto Rico, and we encourage you to consider some additional ideas for new travel plans. For instance, you can check out our guide on how to spend 48 hours and $400 in Granada (Spain), our guide to venturing beyond The Masters in Augusta (Georgia, USA), and our Oaxaca Coast (Mexico) travel guide. Wherever you go next, we wish you a fantastic trip ahead.
Editors' Recommendations