A fairytale castle. Winding, cobblestone alleys. Abundant street art. The best tapas in Spain. These are just a few of the many reasons to visit Granada, Spain, which is one of my favorite small cities in the world. Barcelona might get all the attention, but I've spent just over two years in Granada, and I know all too well the greatness that this pint-sized place has to offer.
When you visit, you'll likely be going briefly as part of a larger trip through the country, so you'll be working to experience Spain on a budget. With that in mind, let's take a look at how to enjoy Granada for roughly $400 over the course of 48 hours. I guarantee that you'll enjoy it.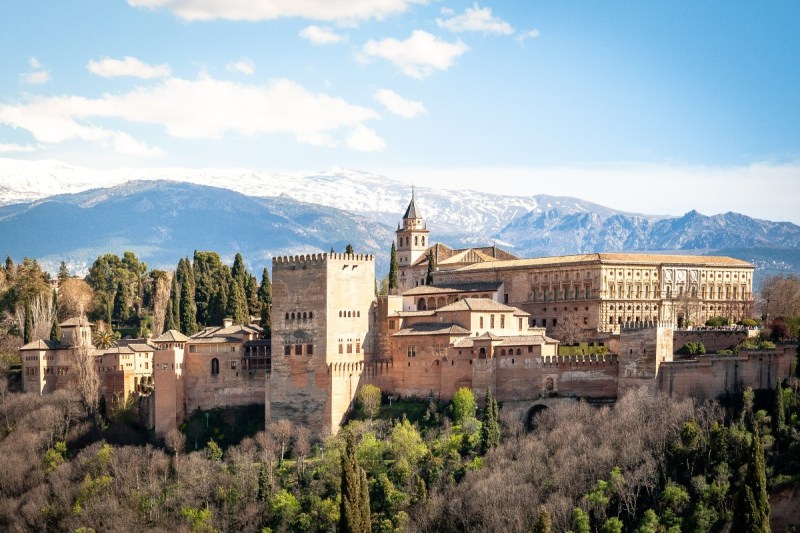 Where to stay in Granada, Spain
While Granada is a rather compact place, the neighborhood you choose will impact how you spend your time. You could stay in the cool cave hotels of Sacromonte, but you'll constantly be commuting to and from the city center. You could book a place with a gorgeous view atop the hill of Albayzin, but while the neighborhood is certainly gorgeous, you'll be doing a lot of sweating your way up and down steep hills.
I suggest you stay in Centro, which provides easy access to pretty much everything. There are many great hotel options to choose from, but Futurotel Granada Spa Garden is a particularly fun, affordable option. This futuristic hotel — as the name implies — offers techy-themed capsule rooms for as low as $50 a night, while its suites clock in at a mere $75. It has a tropical spa garden with a pool, a terrace and bbq setup, and free bikes for guests.
I'm going to assume you've gone with the suite, so let's say this knocks $150 off your budget.
Where to eat in Granada
While Spain is famous for its tapas, Granada is the capital of these small plates; restaurants provide them for free with every drink you buy. Talk about a budget saver.
Accordingly, you can eat pretty much anywhere and enjoy some tasty eats ranging from delicious olives or bread with melted cheese to much more complex, tiny dishes, such as seafood stew or roasted pork with gravy. Some of the standout tapas spots include Poe Bar (which is conveniently close to Futurotel), Bodegas Castañada (get your goat skin bag of wine here), and El Bar De Fede (tell them the American travel writer Nicholas sent you).
If you're looking for a more solid meal — although four drinks and four tapas will do you just fine — check out Restaurante Albahaca. For €13.50, you'll get a three-course meal that's tasty as can be.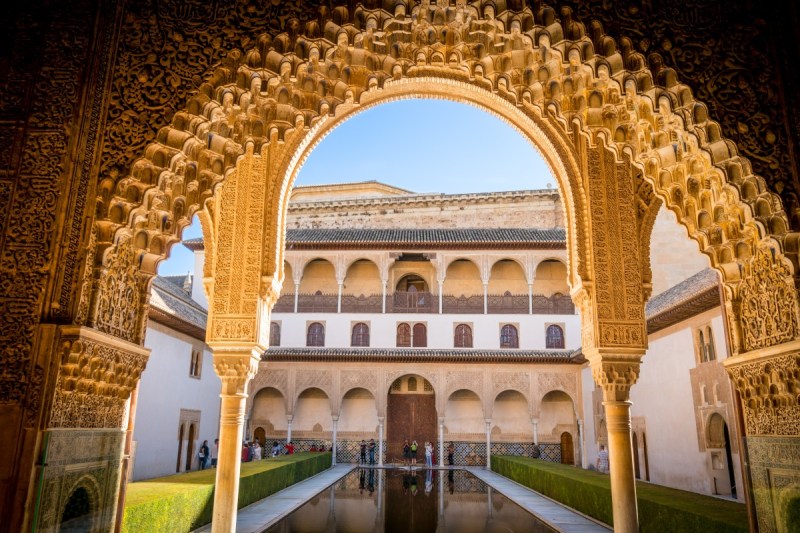 What to do in Granada
First, the bar scene.
Granada used to offer something unique among the Spain tourism options in the form of Granada Rock City. The program provided a series of local rock shows at venues throughout the city. While the program itself ended with Covid, the music scene remained alive and well, so live music is in abundance. Lemon Rock is a great place to start if you're looking for tunes.
Beyond that, just wander and enjoy wherever things seem wild. In the University District adjacent to Centro, there are a ton of fun college bars. Check out Bohemia Jazz Café for one of the hippest bar experiences in the world. If you're looking to cut loose and dance, Planta Baja, Boogaclub, and Efecto Club are notoriously great places to make bad decisions.
When it's time to sweat it out in the morning, book a visit to Hammam Al-Andalus. This traditional spa and bathhouse is built into historic caves, and it's among my favorite travel experiences in the world, period. It's gorgeous, relaxing, and surprisingly affordable. An hour in the Arab baths plus 15 minutes of Kessa scrub and 30 minutes of massage will clock in at just €110.
Beyond that, Granada provides ample opportunities for exploration. The Arab markets along Elvira are a great place to buy souvenirs. Wander along the scenic Darro River to take some gorgeous photos, and so on and so forth. It's an ancient Spanish city — there's plenty of stunning scenery.
The standout is undoubtedly the castle Alhambra. Originally built as a palace for the Moorish emirs who once ruled the Iberian Peninsula, it was eventually captured by the Catholics. It was here that Isabella and Ferdinand commissioned an Italian sailor by the name of Christopher Columbus to embark across the ocean. Big history, in other words.
The castle is outright awesome, as in inspiring of awe. The outside presents an impressive fortress, while inside you'll find some of the world's greatest examples of Islamic architecture and design. Abundant patterns, complex geometry, and outright psychedelic aesthetics are all over the place. To the rear are a series of tranquil, ornate gardens. Alhambra is undoubtedly one of my favorite places in the world to spend a few hours.
Best of all, most of these experiences range in cost somewhere between cheap and free. All in all, between the affordable hotel and spa, low-cost drinks and free tapas, and generally cheap entertainment, you will easily enjoy yourself while staying under budget.
Editors' Recommendations