Even though Montreal is just an hour north of the US border, it feels like a world away. The proprietary blend of French charm with North American modernity is unlike any other city on the continent and potentially the world. The city and its people will welcome you with open arms as long as you're ready to unlock its secrets.
Montreal is built like a puzzle: several distinct neighborhoods are interlocked by transitive streets while anchored by Mount Royal park in the center and Old Montreal by the water. Large Italian and Portuguese neighborhoods complement the Francophone lifestyle that's proudly enjoyed by everyone with radiant independence. Every culture plays a crucial role in the diverse dynamism of a city that's celebrating its 375th birthday this year.
After a recent trip to La Metropole, we logged some of our can't-miss stops as an itinerary for a city that must be experienced first-hand. Without further ado, our traveler's guide to Montreal.
Stay
This minimalist charmer in Old Montreal is a relatively new project within the city. The hotel sits nicely on a street corner minutes from the shopping on Saint-Catherine Street and an even shorter walk to the subway. Rooms are progressive-chic with waterfall showers, standalone tubs and amenities hidden behind flat wooden cabinets. While it's not a nightlife spot, it does have a solid breakfast lobby and coffee/tea all day long (the latter free to guests). The exterior also looks like it fell out of Paris, which adds to the overall Europe-in-North-America vibe.

Eat
Asian-Fusion seems to be an international trend these days, but few do it as well as the team at this new spot. Clean lines and palm tree prints offer the perfect environment to tackle salmon tataki, roasted cauliflower, duck, chicken and a well-curated wine and sake list. The only thing prettier than the food is the crowd indulging in it all. Twenty and thirty-somethings dot the tables, well-dressed for a night out in one of Montreal's coolest districts.
LOV is a booming vegan restaurant full of bright colors, patio furniture, and outstanding healthy fare. Right down the street from the Gault, it attracts a mix of young professionals and trendy visitors looking for things like quinoa fritters and almond feta. It feels like a slice of Los Angeles in the Great White North. They've recently opened a second location in the Golden Square Mile neighborhood, too.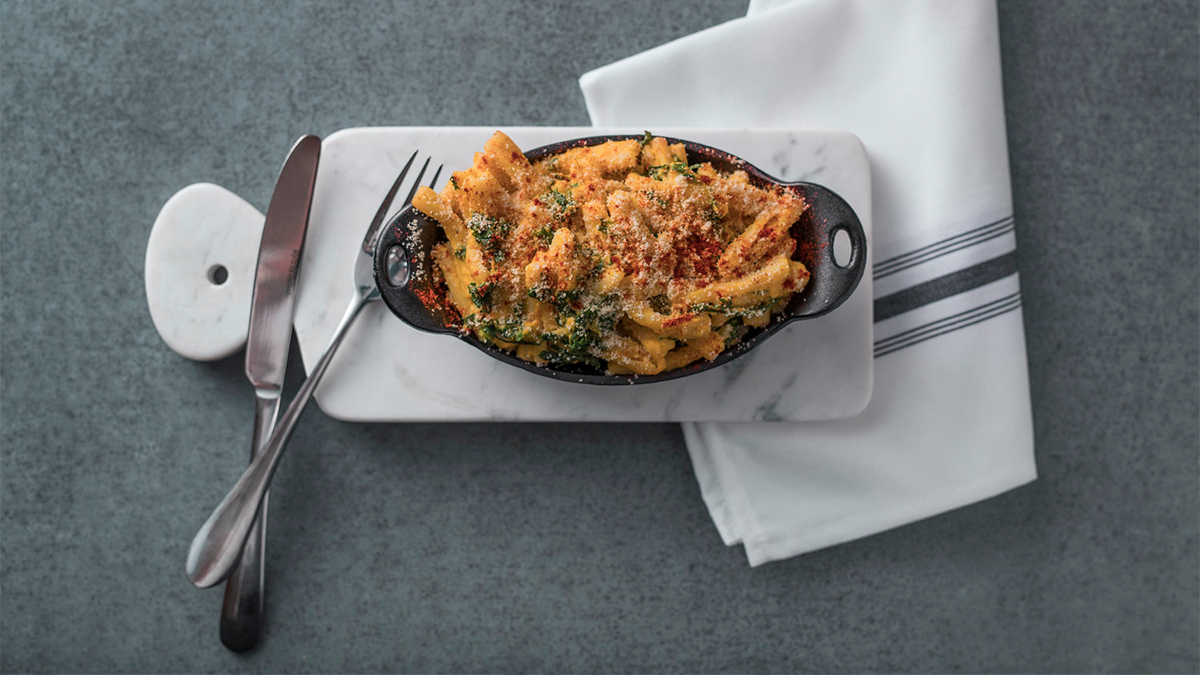 Yes, it's the most popular restaurant in town. Yes, you're going to face a long line of similar tourists eager to see and taste what all the fuss is about. Montreal is famous for its smoked meat and this deli is where it all started. Thick cut slabs of beef center between two pieces of rye with a dab of mustard. If you don't want to wait in a long line, a shorter line is next door for take-out.
If standing in line for a sandwich isn't your thing…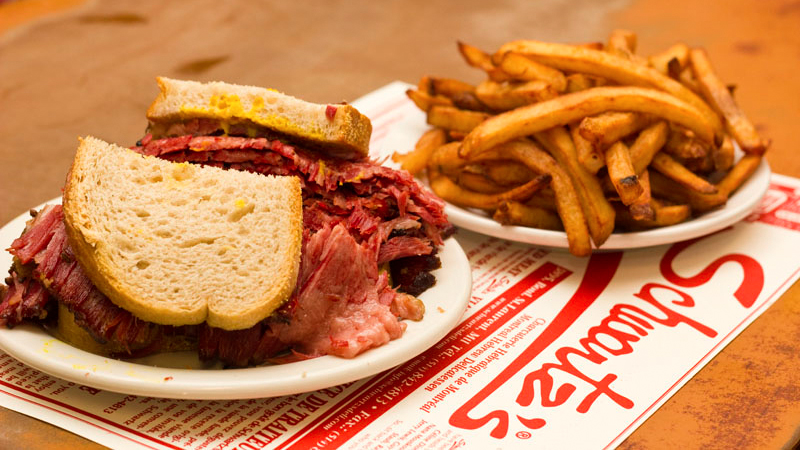 Then try the fascinating Portuguese neighborhood near the deli. Traditional Portuguese chicken sandwiches and coffee replace wafting scents of smoked meat. You'll know you're in the neighborhood when Portuguese flags adorn every storefront window surrounded by unwavering support of national hero Cristiano Ronaldo.
It's as simple as this: don't leave Montreal without having a sesame bagel fresh off the oven line. Make it a point to go to the original location.

Drink
Chances are, you're going to find yourself out in Old Montreal at least one night. The neighborhood has two distinct sections: one is very touristy, the other full of local designers, shops, and solid drinking away from the hubbub. Barroco falls in the latter as a wine bar/bistro hybrid. The menu is full of French and Italian classics and feels like someone carved a restaurant into the French countryside. It's hip, accessible and worth a stop.
Even though you have to descend a flight of stairs to its entrance, calling this craft cocktail haven a speakeasy seems almost unfair. The vibe is very urban with a well-illuminated back bar setting the tone for an intimate, but jovial soiree. The bartenders have a rotating menu of new recipes, often with tropical flavors, but be sure to try something with one a local Québécois spirits. The distillery scene is quietly pumping out some of the best gins in Canada. Drinks are expensive, but they're worth it. Treat yourself; you've made it to Montreal.
Shop
We're listing Maison Cloakroom here because it's a tailor and made-to-measure shop first. The team deals in handcrafted suits and jeans from Japan, coupled with gorgeous bespoke Italian shoes. Beyond that it has a barbershop and, tucked away behind another set of doors, is a small, 25-seat cocktail bar. It's a manly oasis on steroids: rich mahoganies coat every wall while furniture and adornments are placed perfectly on the shop floor. We would spend a lot of time (and money) here.
It's no secret that we're fans of Frank and Oak, so when in Montreal, a stop at their flagship store downtown is a must. The store is three stories of tightly curated current collections paired with a barbershop and café. The staff is super friendly and also a great place to get recommendations for the rest of your Montreal stay.
If higher-end brands like APC and Maison Kitsune are your thing, then this looker of a store in Old Montreal should be on your list. The store has plenty of neutral colors and is definitely more for the minimalist dresser.
Do
Imagine the sultry Montréal evening sky lit up by impressive projections on a number of buildings in Old Montreal. More than 30 short films showcase the history of Montreal from its controversial beginnings to current modernity. The entire project can be controlled by anyone with a smart phone – simply download an app and walk through the streets at night and press play once you've arrived at a designated showing. Every stop has free wi-fi, so anyone can join in. Again, Montreal prides itself on inclusiveness. Cité Mémoire runs nightly for two more years, with discussions in the works to extend the project further.
The heart and soul of a city often reveals itself in its central market and Jean-Talon is no exception. During the summer, vendors are hawking everything from fresh seafood to some of the most beautiful breads you'll see this side of the Atlantic. Produce sampling is encouraged, especially when local fare is in season.
Peruse Saint Laurent Shops
Saint-Laurent is one of Montréal's largest streets, essentially running the span of the city. It also notably divides its French speaking side from its English speaking side (although its more of a ceremonial divide than anything). Up in the Mile End neighborhood, local boutiques and thrift stores adorn both sides of the street, making it ideal for afternoon wandering.
Embrace Art
The Québéc government mandates that 1% of every public project in Montreal has to include some type of art. That could be a sculpture, series of paintings, or projections on the side of a building as with Cité Mémoire. The city is a veritable living art gallery, without even mentioning the Francophone architecture around every turn. When we visited, there was a glass sculpture outside the city's art museum, multiple colorful outdoor terraces, and a mobile gallery in The Village. Much like a real museum, the city's exhibits change regularly. And unlike most museums, it's all free.
And, just to round out our traveler's guide to Montreal, here's a key swear that the Quebecois love to employ: "tabernac" which is French for "tabernacle" and plays heavily into the region's French Catholic heritage. Employ it in the same manner as you would "shit" and you'll fit right in. Example: "Tabernac! I broke a shoelace!"
Editors' Recommendations