Nestled in the foothills of the Appalachian mountains of Southeastern Tennessee, the city of Chattanooga may not be high on the list of continental destinations, but if you love the outdoors, good food, and good beer, it should be.
When choosing a time to visit Chattanooga, any season will work, but the season that works best? Fall. Why?
The biggest reason is that Chattanooga is an outdoorsy city. Many refer to it as the "Boulder of the East," and they are exactly right — though if you ask native Chattanoogans, Boulder is just the "Chattanooga of the West." The temperatures in the fall are just about perfect (a high of 83 in September and 73 in October), allowing you to do everything from rock climbing — which the city is known for — to viewing the fall foliage.
We're pretty big fans of the city and we want you to be, too, so we put together a complete guide on everything you could want when planning either a long weekend or an entire week in Tennessee's fourth-largest city.
We've included both outdoor and indoor activities (in case the weather is terrible while you're there), alcohol-producing facilities, and bars and restaurants providing locally-sourced small plates, world-famous fried chicken, and locally made beers.

Outdoor Activities
Located within Lookout Mountain (yes, inside), Ruby Falls is the tallest and deepest underground waterfall in the country at 145 feet. Amazing underground waterfall aside, the Ruby Falls cave features other impressive sites such as stalactites and stalagmites, making it a hell of a place to see with your own eyes. Lantern tours are provided, allowing you to feel somewhat like the miners that first came across the falls back in 1928. Is this the most tourist-y thing on the list? Yes, yes it is. Is it sometimes fun to go full tourist? Yes, yes it is.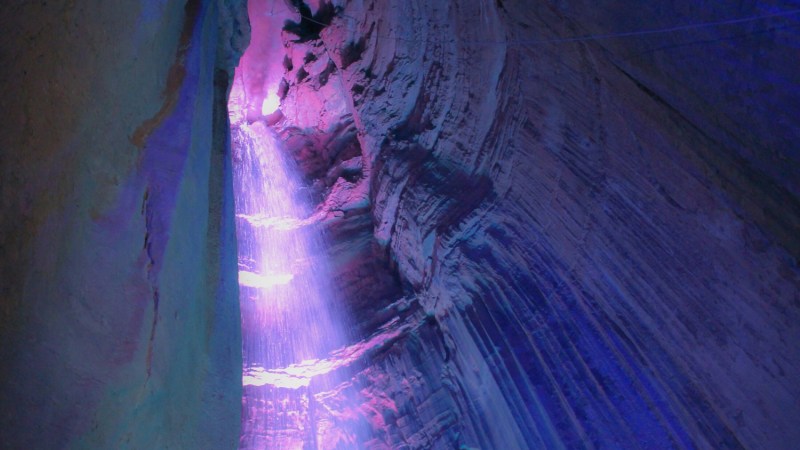 Located on the city's North Shore, Stringer's Ridge is a 92-acre urban wilderness park that was created in an effort to preserve one of the last large natural areas within the city limits. There are plenty of easy to moderate trails, some of which lead up to the ridge (which overlooks the Tennessee River). Civil War buffs will also find cannons in the park.
Running from August through the end of October, this music series brings live acts on a weekly to the lawn of the Bessie Smith Cultural Center. In its second year, the free series brings acts from around the country, acting as the perfect way to end an evening before getting a nightcap and after getting dinner at one of the places below. This year's lineup includes Big Freedia, Deaconbluz and the Holy Smoke Band, John Boy and the Surround Sound, and Seaux Chill.
Located on the rim of the Cumberland Plateau, the Tennessee Wall (or T-Wall, to those in the know), is one of the best places for rock climbing in the entire Southeast. There are over 600 routes climbers can choose from, which range in difficulty from 5.5 to 5.13. While you can climb these walls during the summer, the southwest-facing rocks tend to get too hot, making fall the perfect time.
Other options: Audubon Acres, Sunset Park, Southern Belle Riverboat, Lookout Mountain Incline Railway

Breweries and Distilleries
Producing the first legal whiskey in Chattanooga in over a century, this distillery has worked to help change laws that allowed for other distilleries in Tennessee to open. A visit to the downtown experimental distillery (they have a larger production facility that is not open to the public) ensures that you will get not only a taste of good whiskey (from their flagship 1816 Reserve and Cask to multiple special releases) but a history lesson on whiskey-making in Chattanooga. Once your tasting is over, it is imperative to stick around for a craft cocktail.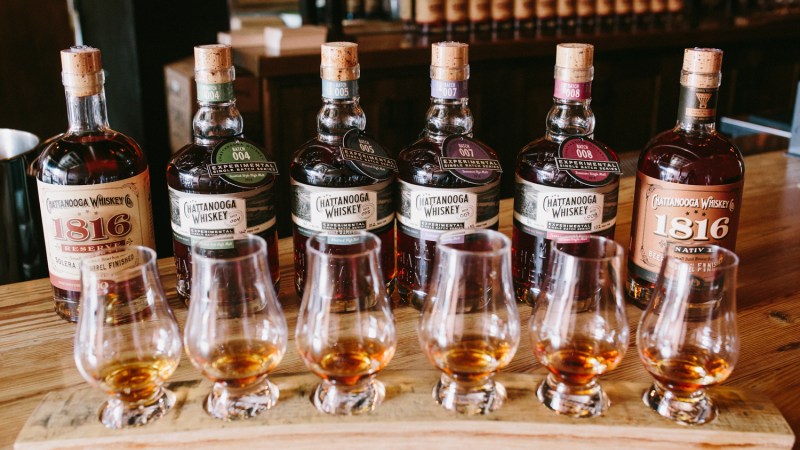 Named after the fathers of modern geology, Hutton & Smith pays homage not only to the men but the ample love of rocks (and rock climbing) in Chattanooga. Using rock- and rock climbing-related names, the brewery makes everything from a blonde to a whiskey barrel-aged brew dubbed Wee Heavy. Our favorite name of the bunch? An American pale ale named The Good Schist.
OddStory Brewing Company
At one time, Chattanooga's streets were a bit lower than they are now. That is until the waters of the Tennessee River took over and the city had to rebuild, higher than they were before. OddStory pays homage to that, well, odd story in the city's history. In addition to four flagships — a Belgian blonde ale, an American pale ale, and India pale ale, and a Vienna lager — you can expect to find up to 12 other rotating taps ranging from fresh and zesty goses to old ales to Belgian quads.
Other options: Heaven & Ale Brewing, Chattanooga Brewing, Moccasin Bend Brewing Company

Bars and Restaurants
An institution for cheap and easy food in Chattanooga, Champy's is known for the place you go when you want to get fried chicken and a forty. You heard us: forties and fowl. Don't think you can drink a forty that quickly? Champy's has forty-ounce koozies to keep your beer nice and cold while you dig into a plate of hot chicken.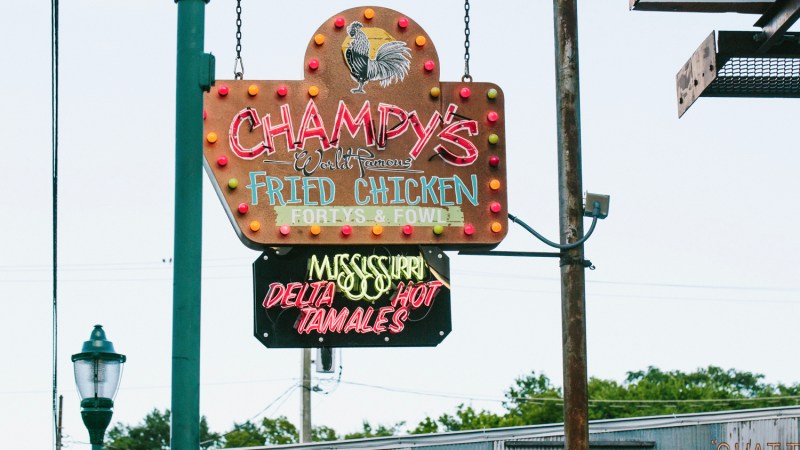 Located in The Dwell Hotel (the hippest, most eclectic hotel in town and, if you're staying overnight, the place to stay), Matilda Midnight offers up creative craft cocktails that pair nicely with the hotel restaurant's small plates. Whether you're looking for something completely new or a reinvented classic, Matilda Midnight will have it, all under a ceiling that is meant to emulate a starlit evening (aka perfect for a romantic date).
Nestled inside the Chattanooga Choo Choo station, Stir places a heavy emphasis on their ice program, which plays into their wide-ranging craft cocktail program. Not only can you get barrel-aged cocktails or fresh-made tipples, but an oyster bar and ingredients sourced largely from within 100 miles of the city make sure every bite you take is as good as the drink you're sipping.
If you need dessert, then the best place to go is one of the four Clumpie's locations in the city. Every batch of Clumpie's is made by hand (and has been since the first store opened in 1999), allowing the brand to produce a wide range of both traditional flavors (chocolate, vanilla, butter pecan) and more interesting and experimental flavors (campfire, firecracker, and whiskey caramel cornflake crunch).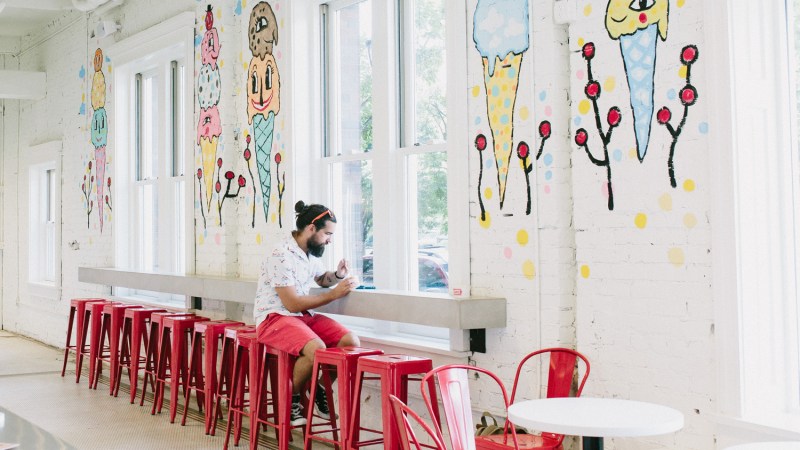 The Flying Squirrel is a bar that has a hip, modern design with a handcrafted interior. With all décor created by local craftspeople, it's as much fun to take in the aesthetics as it is to indulge in the wide-ranging cocktail list and craft beer selection. Beyond the actual beverages, the food menu still caters to drinkers with plenty of options to soak up the booze after you decide to get another round.
Owned by two-time James Beard Award semifinalist Erik and his wife, Amanda, Main Street Meats is the Niels' latest venture in the city (if you want to know more about Niel, check out his thoughts on Big Green Eggs here). Functioning as both a restaurant and butcher shop, Main Street Meats works as with local purveyors to offer delicious, sustainable meats. You can expect a deliciously-meat heavy menu featuring famous meat dishes with a Southern twist.
Other options: Tremont Tavern, Bitter Alibi, Easy Bistro & Bar, Milk & Honey, Beast and Barrel
Indoor Activities
Home to the largest collections of guitars in America, Songbirds is a music-lovers paradise. You don't have to be a guitar player to appreciate the rare and vintage guitars that track the instrument's history in America from the first Fender electric guitars ever produced through to more recent iterations (and every other type of guitar in between). In addition, Songbirds also features revolving exhibits and an extensive collection of banjos, mandolins, and mandocellos. If you're looking for live music, you're also in luck: There's a small stage inside a 500-person venue downstairs.
Centered around helping visitors experience two main experiences — freshwater and marine life — the Tennessee Aquarium sits on the Tennessee River and offers up plenty to do if it happens to be rainy or cold outside. On the freshwater side, the aquarium is built to put the visitor in the place of a raindrop slowly making its way through the water system to the sea, experiencing myriad wildlife along the way. In addition, you can watch an IMAX movie, watch numerous animals get fed, or take in one of their rotating exhibits.
Other options: Chattanooga Choo Choo, Hunter Museum of Art
Article originally published by Mike Richards on August 5, 2015. Last updated by Sam Slaughter October 8, 2018.
Editors' Recommendations