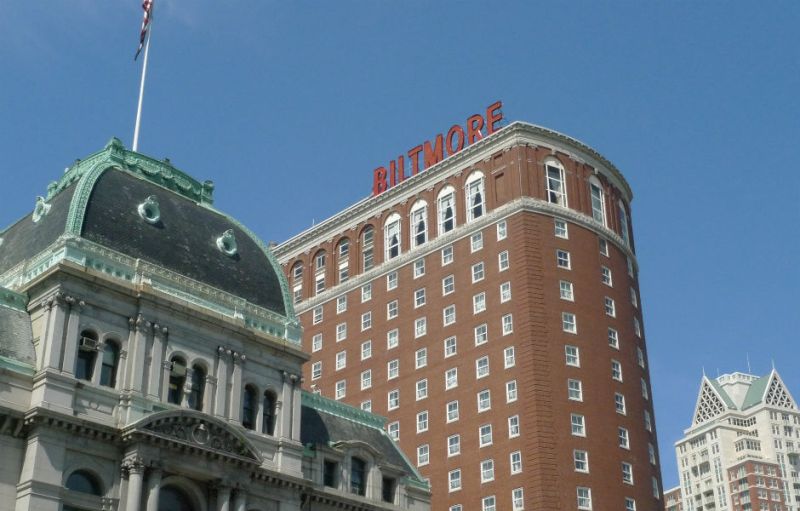 In 1922, Warren and Wetmore, the architects behind Grand Central Station in New York, unveiled a hotel in the heart Providence, Rhode Island. Tourists flocked to it when they headed to the city, and it was also the place to go to for a night out on the town. The Providence Biltmore, which just went through a multi-million dollar renovation, offers 294 guest rooms and suites, with half being over 600 square feet. Design firm Parker-Torres gave the hotel a contemporary feel, while maintaining the traditional elegance of the original rooms. Each room comes with custom-made beds and triple seating, amenities from the Biltmore Spa,  a fridge, iHome and more.

If you're need of relaxation, head to the spa for a massage or a facial. For dinner, dine at the old staple McCormick & Schmick's, where you know you'll be able to find a tasty steak and all the fixins you can imagine. For a quick caffeine fix, head to the in-house Starbucks for one of the nicest Starbucks locations in the country.
According to the hotel's there's a lot going on in the city. "Structures of note include the Rhode Island State House, The Arcade, the John Brown House, and the Meeting House of the First Baptist Church in America (all open to the public year-round), as well as the scores of immaculately preserved Colonial, Federal, Greek Revival, and Victorian houses located throughout the city. Visitors to Providence are also invited to experience the Independence Trail, a 2.5-mile self-guided walking tour that identifies and educates about historic landmarks throughout downtown, including the Providence Biltmore itself."
So next time you find yourself headed to Providence, head to the Providence Biltmore for a charming stay that transports you back in time.
For more information, visit providencebiltmore.com.
Editors' Recommendations