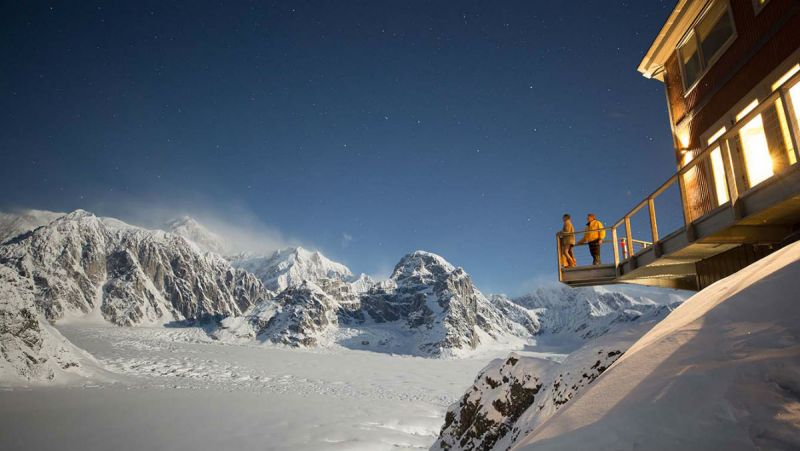 Few destinations in the U.S. are as iconic among hardcore adventure travelers as Denali National Park. It's vast, remote, and impossibly beautiful. One unique "hotel" is perfectly situated amid the millennia-old ice and granite of the park's glacial landscape — and, it may well be the best place in the country for a proper digital detox.
In the heart of the national park, surrounded in every direction by miles of the Ruth Glacier, lies an exclusive chalet only accessible via helicopter. This is Sheldon Chalet, a privately owned luxury lodge that's among the most beautiful and uniquely situated in all of North America.
The surrounding five-acre property — the only privately held parcel of land in the entire park — was claimed almost 60 years ago by one of Alaska's most renowned glacier pilots, Don Sheldon. He built the original, and now quite famous, Sheldon Mountain House by hand as a way to share the park's beauty with future generations. His family went on to build the more luxurious chalet, which is just 10 miles from the summit of North America's tallest peak, Mount Denali.
Sheldon Chalet is home to just five bedrooms, each of which features panoramic windows, plush beds, and chic, faux fur bedding. Its remote nature belies a wealth of luxe amenities, including a full kitchen, a stocked wet bar, a sauna, and a beautiful lounge with a fireplace. An outdoor observation deck offers unparalleled views of the chalet's "backyard." Through clever engineering, the structure also provides for electricity, running water, and heat, most of which are made possible via renewable energy sources.
The chalet is perfectly situated at an elevation of 5,800 feet atop a nunatak (a rocky outcropping jutting above the surrounding ice formations) uniquely perched inside the bowl of a 35-square-mile natural amphitheater. From this vantage point, guests are at the center of the park's most incredible geological and astronomical events. Avalanches create a thunderous cacophony off the surrounding granite walls; ground blizzards repeatedly tear through the gorge; and — with zero light pollution — breathtaking meteor showers and Aurora Borealis displays are common in the crystal clear skies overhead. The onsite staff also leads private excursions into the landscape, such as glacier trekking, private wine-tasting events, and even camping on the glacier in a snow cave or igloo.
Of course, such exclusive luxury doesn't come cheap. Nightly rates start at €2,300 (approximately USD $2,850) per person. Book now directly via the Sheldon Mountain Chalet website.
Editors' Recommendations