North of Los Angeles, before you hit San Jose, is an ethereal cliff-side escape perched 1,200 feet above the Pacific Ocean.
The only hotel in Big Sur with an ocean-front view, Post Ranch Inn has been called, "a sanctuary for the soul," and recognized as one of the top luxury resorts in the U.S.
Hidden along California's scenic Highway One that winds from Los Angeles to San Francisco (you must access Post Ranch Inn heading south from San Jose/San Francisco), the retreat seems to grow out of its surrounds — which include state parks, beaches, and waterfalls — to form a natural getaway complete with gourmet food, outdoor activities, basking pools, and a private on-site gallery.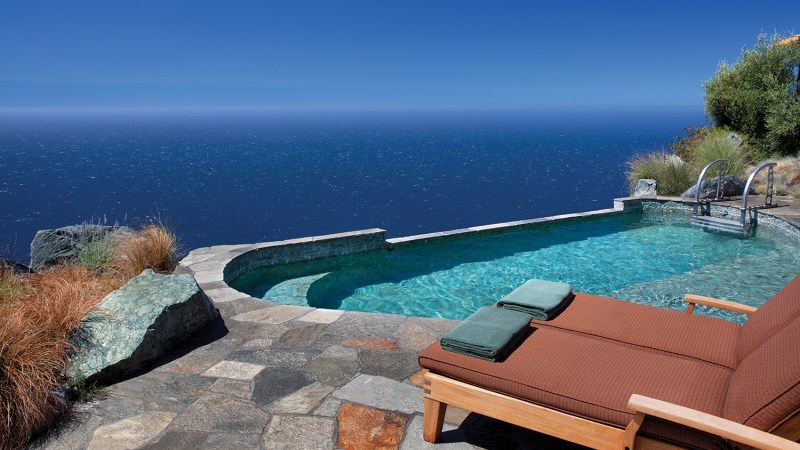 The 40 architecturally unique guest rooms and suites all differ, except for their placement along the ridge that parallels a drop to the Pacific and an expanse of mountains. No matter where you lodge, the views are aplenty. A hearty mix of earth tones, organic hues, textures, and original art form the profile for the interior, which can be defined as rustic elegant with a splash of contemporary. Examples include rugs hand-woven by indigenous weavers and reclaimed redwood from wine casks re-filled to panel the walls.
If you're going big, opt for the Post House, a 1,800- square- foot, open-concept space equipped with a kitchen, dining room, media room, master bedroom and bathroom, living room, a multi-person hot tub outside, heated slate flooring, and coastal views. However, even the most "humble" suite will gain you access to Post Ranch Inn's insane list of amenities, such as infinity and wading pools dropping off to the Pacific, complimentary morning yoga and meditation, a culinary tour through the site's organic vegetable garden, guided hikes, and night time star-gazing.
Our suggested not-to-miss activity: star-gazing. Post Ranch has one of the largest hotel telescopes in the country, and Big Sur offers some of the clearest atmospheric conditions for viewing the stars, nebulas, and even the rings of Saturn.
All that intergalactic exploration can build up an appetite, and what retreat would be complete without an award-winning dinner. (None. The answer is none.) Post Ranch Inn houses the Sierra Mar restaurant from executive head chef Elizabeth Murray, who curates her menu around "inquisitive food creations," says Post Ranch Inn. "Her dishes feature bold, primal flavors along with fresh, locally sourced ingredients."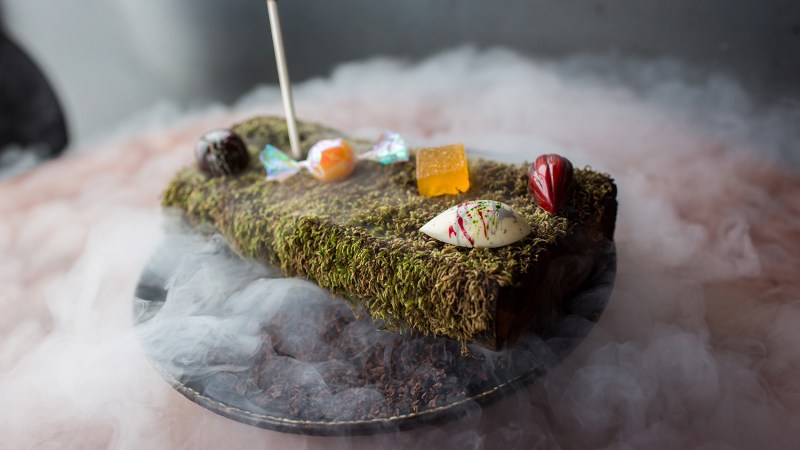 For those who fled west for wine, Sierra Mar boasts one of the largest wine selections in North America, offering more than 14,000 bottles. Wine director Dominque Da Cruz — who helped earn Wine Spectator's prestigious Grand Award the past four years — places strong emphasis on both Old and New World wines from Europe, Australia, California, and Washington, as well as artisan producers.
The level of detail and intention resonating throughout Post Ranch Inn extends to its very foundation, as the dwellings themselves feature bio-structure architecture, using natural materials like glass, wood, stone, and COR-TEN steel, and, when possible, passive solar heat. "The architects' design was intended to make onlookers feel like a part of nature, not just observers of it," says the Inn.
Other green initiatives include hybrid Lexus vehicles to transport guests around the property, water pumped onsite and bottled into renewable glass bottles, drought-resistant landscaping using native plants, and a 990-panel solar array— the largest hotel solar project in California. The grounds of Post Ranch also provide a habitat for the endangered Smith's Blue Butterfly, California Red-Legged Frog, Western Pond Turtle, and California Condor.
The feeling walking away after a stay at Post Ranch Inn? Grounded in nature and wrapped in a celestial calm. It's both out of this world and entwined deeply in its roots.
Image Courtesy of Kodiak Greenwood and Sherman Chu/Post Ranch Inn.