Cruising is rarely an "adventurous" mode of travel. The biggest daily challenges involve remembering what time happy hour starts and how many Belgian chocolate truffles you can get in before the midnight buffet closes. However, these days, some cruise lines are thinking bigger with months-long global itineraries that visit five continents and far-flung polar expeditions worthy of Amundsen and Shackleton. Now, well-heeled travelers can go even bigger and tackle both the North and South Poles on a single grand ocean voyage.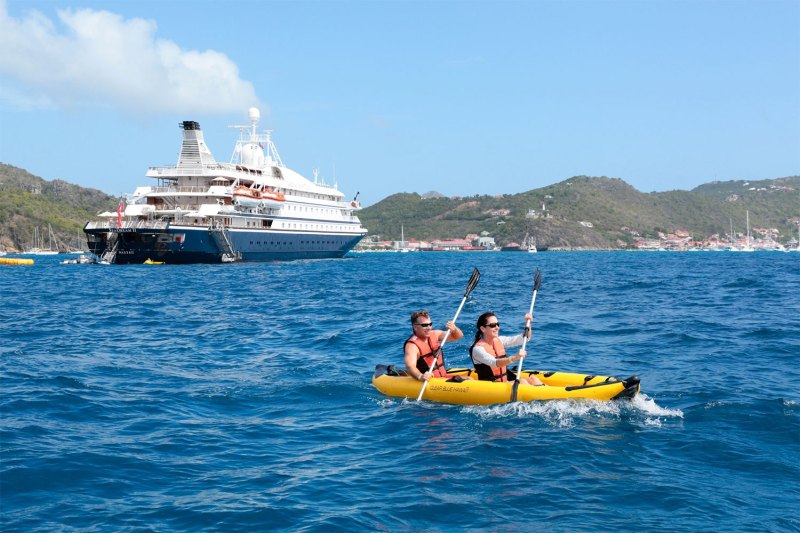 This month, SeaDream Yacht Club announced a once-in-a-lifetime, 88-day mega-expedition that will take cruise-goers to both poles. Even among the luxury line's extensive catalog, the pole-to-pole itinerary is its most ambitious yet. The journey coincides with the inaugural sailing of the stunning new SeaDream Innovation yacht. Beginning in September 2021, the ship will sail to all seven continents — 200 ports in 49 countries — in its first season alone.
The megayacht's state-of-the-art design includes luxury features and amenities unlike almost any other small cruise ship. Every passenger suite offers a generous floor plan of at least 312 square feet with a private balcony and a bathroom with a tub. Flagship suites upgrade to 1,000-square-foot living quarters with separate bedrooms, massive balconies, and multiple bathrooms. Passengers can even opt to sleep under the stars, dine alfresco, or swim in the ship's innovative, in-ocean swimming pool.
Over-the-top luxury amenities aside, the onboard experience isn't only about sipping Champagne and smoking cigars on the lido deck. It also boasts expedition-level amenities designed for hardcore outdoor enthusiasts. Three onboard marinas will house kayaks, sailboats, and wave runners, plus a seaplane and a fleet of Zodiacs for more intimate polar exploration.
Of course, such a lofty itinerary carries an equally lofty price tag. Per-person rates start at $58,000, but the all-in total (with government and service fees) pushes north of $61,000. Open bar is included, however. So, there's that.
If you fancy a more hands-on experience and money is no object, you can ski your way to the South Pole on this epic, 12-day journey for just a few thousand dollars more. On the other hand, travelers strapped for time, cash, or both can tackle the South Pole for two-thirds less on an Antarctic expedition cruise. You're still guaranteed plenty of penguins, but sadly none of the polar bears or "bipolar" bragging rights of the inaugural SeaDream Innovation voyage.
Editors' Recommendations