Located in western Massachusetts, The Berkshires is a rural mountain region that has as much to discover in its towns and villages as it does in its gorgeous scenery. Whether you're going to check out the foliage, winter sports or farm-to-table dining and drinking scene, it's the perfect place to get away if you only have a couple days. Check out our guide for the best places to stay, eat and drink while you take in the fresh mountain air.
Stay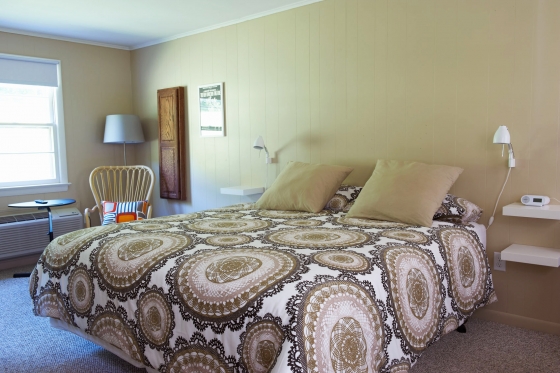 Londoners Richard and Clare Proctor fell in love with the Berkshires when they first visited in the mid-1990s. After running their own marketing agency and living in London for 25 years, they found the Briarcliff in 2010, and the rest is history. Where modern European style meets Berkshires hospitality, they combined the retro convenience of a motel experience with the excellent service of an inn. The rooms are rustic and cozy with all the modern amenities like a super comfortable bed, flat screen, wifi and locally made toiletries. In the morning, enjoy a complimentary breakfast with homemade granola, scones and muffins, fruit and hard-boiled farm eggs. At nightfall, keep warm by the fire pit while taking in the fresh mountain air.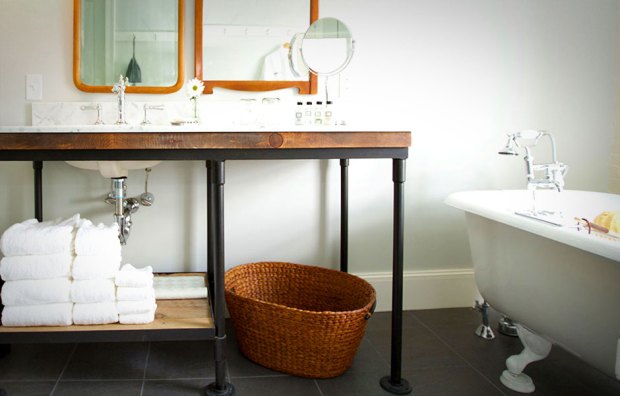 Situated in up-and-coming Pittsfield, MA — smack in the middle of the Berkshires — this gorgeous boutique hotel is a story in rustic modern design that pays homage to historic New England. The super comfortable beds are topped with Mascioni linens for one of the most luxurious sleeps in the region, and the room is stocked with local goodies from the minibar to the toiletries. The hotel's restaurant Eat on North features an oyster bar and delicious menu with everything from tripe chili poutine to a classic roasted chicken. Order food or spa services to your room if you really want to luxuriate, or check out the fitness center next door if you're feeling the need to move.
Eat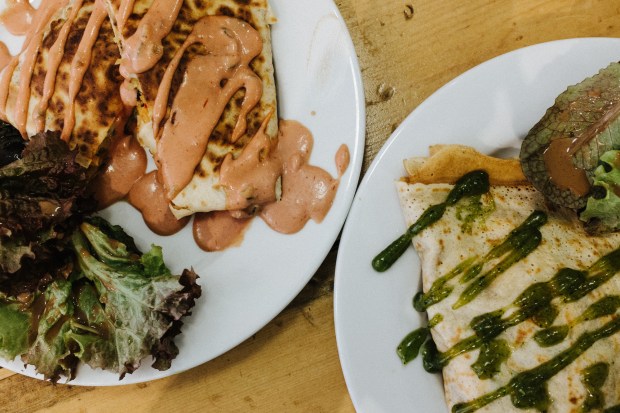 Starving Artist Café and Creperie
This delicious breakfast and lunch spot is adjacent to Good Purpose Gallery, surrounding it with unique, colorful artwork. The menu has something for everyone with lots of gluten-free, vegetarian and vegan options for those on special diets. You'll find savory and sweet crepes, panini, soups, salads, baked goods and fresh juices along with a full coffee and tea menu. Come by for the musical brunch every Sunday and enjoy bluegrass, jazz and funk while you dine.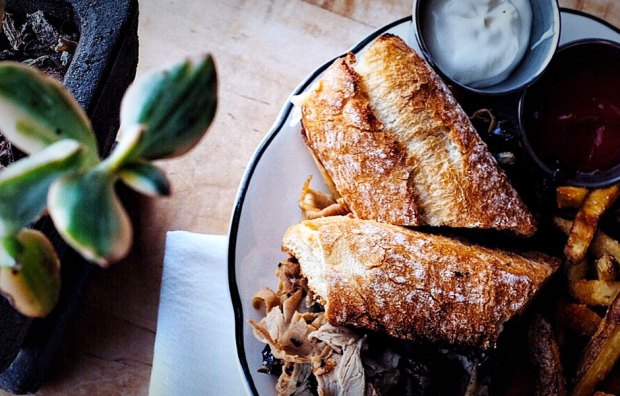 Owned and operated by Mark Firth, one of the founding members of the Brooklyn restaurant empire Marlow & Sons, Prairie Whale is one of the best meals you'll have in The Berkshires. Not only do they use the freshest produce, mainly from local farms, they only buy whole animals for a true nose-to-tail experience and menu that changes daily. We ate a delicious pig face hash with eggs and a roasted pork sandwich that was unbelievably delicious. You'll love every nook and cranny of the space whether you choose to sit at a table or cozy up to the bar.
You must stop into this whole animal butcher shop, even if you're not sitting down to eat. They work with local farmers to bring the best pasture-raised beef, pork, lamb and chicken for everything from classic American and European cuts of meat to pâtés, sausages and house-made charcuterie. But if you are in the mood for lunch, they have an excellent menu featuring soups, sandwiches, a half-pound burger and a rotating section of specials not to be missed.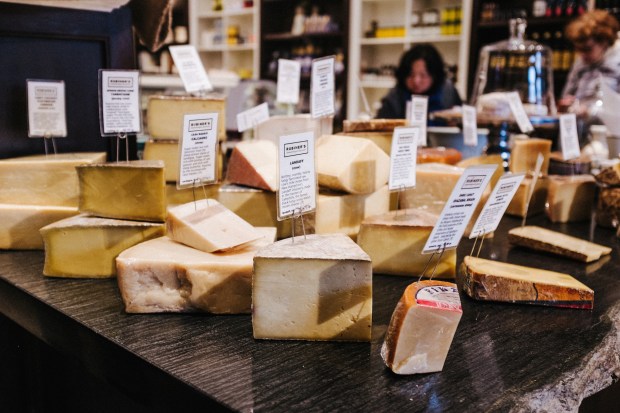 Rubiner's Cheesemongers & Coffee Shop
Curated by cheesemonger Matthew Rubiner himself, this shop is everything you could want in a specialty grocer. Not only is every cheese hand selected by Matthew, the assortment of charcuterie, locally-made grocery items like butter and jam and sustainable fish program are the best in town. Work up an appetite shopping then head to Rubi's around the corner for coffee and sandwiches like a porchetta Cuban and house-made corned beef.
Located a short walk from Hotel on North in Pittsfield, MA, this cozy spot is a great option if you're looking for a hearty, delicious dinner. Their menu is divided into small, mid and big plates for varying appetites, and they serve a range of dishes from a delicious risotto to porcini-crusted scallops. The cocktails weren't bad, but definitely not this spot's forte (but maybe it was the bartender we had during our visit), so we'd stick to the wine and beer lists here.
Related: Feasting: 3 Days of Eating in Los Angeles
Drink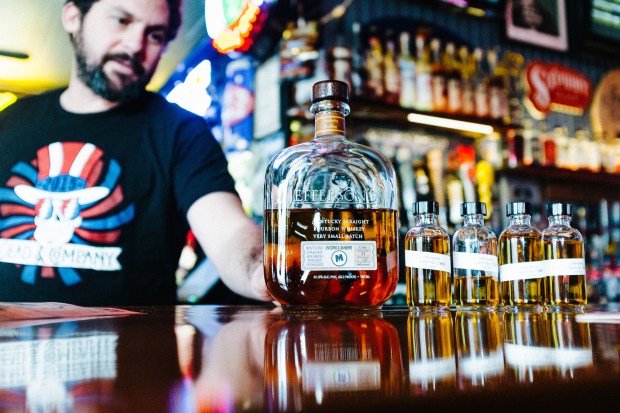 Not only was this our favorite watering hole in The Berkshires, it may be one of our favorite bars ever. Moe's has one of the best selections of American whiskey and beer we've seen, many of them hard to find. We hung out with owner Josh Cohen and tasted some of his personal favorites while one of his friends shucked and served fresh oysters across the bar. Grab some whiskeys and brews at this must-visit spot, then go buy your favorite beers at their sister store Trader Moe's around the corner.
What we love most about this small-batch distillery is they don't focus on one or two liquors – in fact, they want to perfect them all. Established in 2007, their roster of handcrafted spirits includes vodka, gin, rum, corn whiskey and bourbon, some of which are finished in beer casks for a truly unique taste. Head there for a tour and tasting, then buy your favorites in the distillery shop along with things like smoked peppercorns and maple syrup aged in bourbon barrels.
Right around the corner from Hotel on North, this was our go-to spot for great cocktails and a chic, rustic atmosphere. The place was busy from the time we arrived until we left with a young, lively crowd. And their cocktails are absolutely excellent, whether you go for something classic like an Aperol Spritz or one of their specialties like the Maple Me Crazy – made with bourbon, Carpano Antica, Cocchi Americano, fresh lemon, maple syrup, maple bitters and organic egg white. They also have an excellent wine list and killer food menu if you get a little hungry.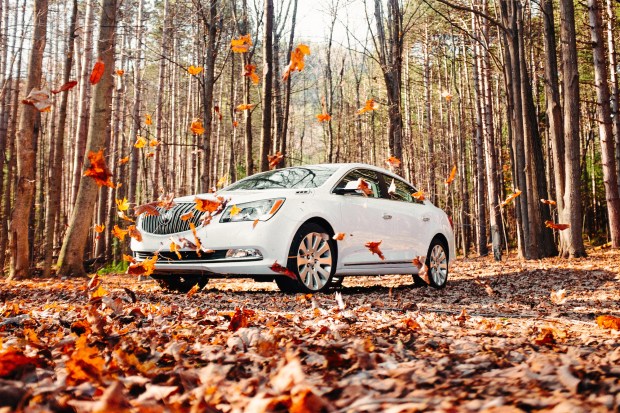 Thank you to GM for the for the awesome wheels, a Buick LaCrosse we drove on our adventure through the beautiful Berkshires. Equipped with a 4G wi-fi hotspot, Apple Car Play and display — with info like speed limit and which song is playing — reflected in the windshield, it's the perfect car whether you're driving it through the city or country.
Original photography by Max Schwartz
Editors' Recommendations