In the world of high-stakes casino gambling, there are high rollers and then there are whales. If you've ever watched 21, you know the latter refers to the elite of the elite — the sort of well-heeled big shots who think nothing of dropping $2 million in a weekend at the blackjack table just because they can. For them, Sin City beckons with a luxury vacation package that's ridiculous, even by Las Vegas standards.
The Venetian Resort bills its new Want the World Package as "a luxurious over-the-top suite package [that] provides an experience where no whim is too wild and every desire is anticipated." Indeed.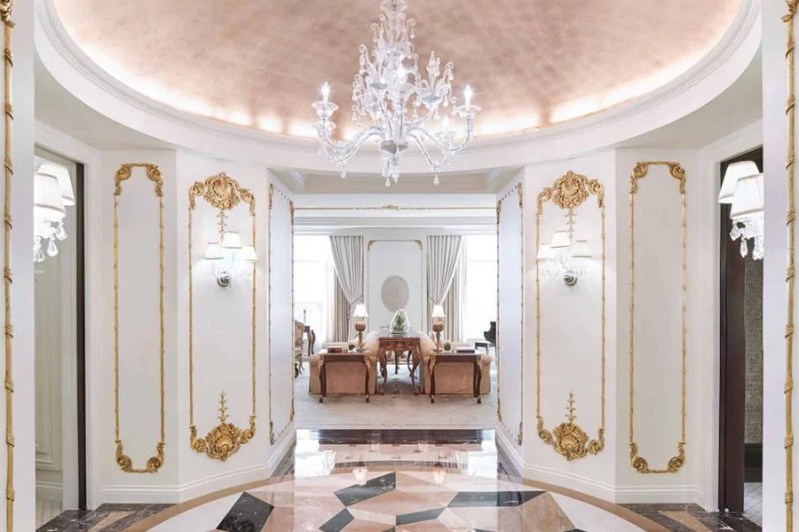 The experience starts when guests arrive by private jet in Las Vegas where a Maybach will chauffeur them to their exclusive, 6,500-square-foot Presidential Suite. The four-night stay includes all the trappings of Vegas-style VIP treatment like a private butler, concierge access, and on-call car service — standard fare for most well-comped high rollers.
But that's only the beginning. Guests are greeted with a Champagne toast poured from a crimson, Swarovski-crystal-laden magnum bottle of Moët. That's followed by a lavish relaxation ritual that includes an in-room diamond massage and Champagne pedicure before slipping into personally monogrammed, Hef-style silk pajamas. Chef Lorena Garcia caps off the night with an en-suite, four-course gourmet dinner, followed by a two-hour salsa dancing lesson.
Still not impressed? The package adds absurdly extravagant edible treats like a custom cake decorated with a 2.47-carat Burma ruby and diamond ring and a 2.5-total-carat ruby and diamond necklace, then topped with a replica of The Venetian Resort's signature armillary sphere meticulously crafted in artisan chocolate. The casino's onsite Black Tap will also prepare a Red Velvet Cake Batter CrazyShake adorned with a 5.5-carat diamond bracelet from Bellusso Jewelers. The following morning, guests can enjoy 24k Brunch and Bubbles, which includes Cristal mimosas and 24k-gold-dusted chicken and waffles. The kicker is that every Want the World Package guest is shadowed by a professional photographer to document the entire experience.
Vegas casinos are a notoriously competitive bunch and the only way to stand out nowadays is to go bigger, bolder, more lavish. Mainstay casinos like Palms are continually upping their game with swanky new nightclubs, better entertainment, and stunning rooftop bars. Massive, monolithic, mega-resorts like the 4,000-room Aria Resort & Casino are popping up every few years. That's followed by absurdly lavish suite upgrades like the Damien Hirst-designed Empathy Suite recently debuted with a world-record-setting nightly rate of $100,000. It's a neverending arms race of luxury.
The Want the World Package can be yours for just $450,000. Although, anyone who doesn't balk at that price tag probably has an accountant clever enough to write off the expense as a tax deduction. So, there's that.
Editors' Recommendations