Secreted away in Palm Springs, California, is a Moroccan oasis. Steeped in history, bathed in soft candlelight, and cocooned from the world, Korakia Pensione is an exotic getaway that doesn't require a passport. Created from the former homes of a silent movie star and a Scottish painter, Korakia seamlessly blends Moorish Morocco and breezy Mediterranean into a paradise seemingly suspended in time.
Artist Gordon Coutts was longing for his former home in Tangier, Morocco, when he built this villa, originally name Dar Marroc, in 1924. The space is straight out of one of his paintings, with massive keyhole shaped entry ways, ornately hand carved wood, and colorful lanterns all surrounding a courtyard with a deep salt water pool. His library became a gathering place for the great literary, artistic, and musical minds of his day — Agnes Pelton, Nicolai Fechin, Rudolph Valentino, and Errol Flynn all enjoyed Dar Marroc. Even Winston Churchill is said to have painted here. When was the last time you could say you slept where Churchill did anything, let alone paint?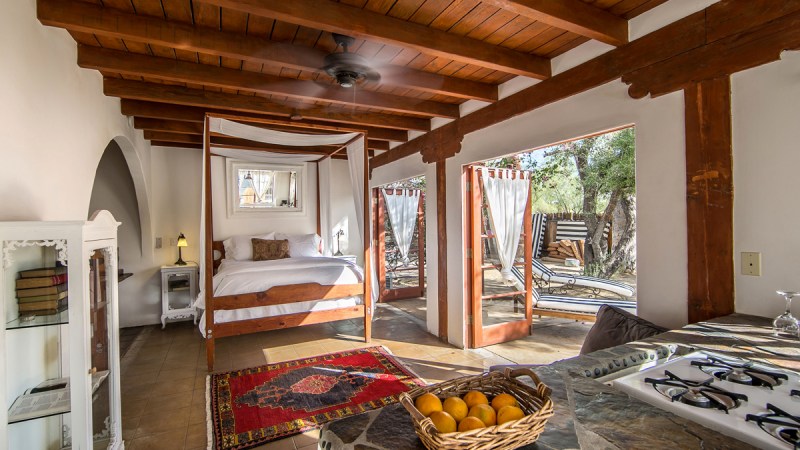 A few short years later, an Academy Award-nominated star with over 200 films under his belt, J. Carol Naish, built his own little slice of heaven across the street from Coutts, turning the California desert into a Mediterranean getaway. Naish's home has another huge courtyard and pool, lush foliage, wood beam ceilings, and a ridiculously sexy open-air shower in the Naish House room. It also has a remarkably rare 1918 California adobe.
Each suite has its own design, personality, and private entrance, making it feel like you've stolen away to a romantic, foreign apartment. The villas are beautifully simple, with whitewashed walls, stone showers and baths, and antique furniture, all flooded with natural sunlight. The kitchens, tiled in greens and yellows, have antique gas ranges and old iceboxes. No phones or televisions disrupt the serenity, but feel free to use the record player, read the books in your room, or borrow some from the library.
Guests start their morning with complimentary, home-cooked breakfast. Coffee, tea, and freshly squeeze orange juice is available, and the menu changes daily — expect dishes like avocado toast with fried egg, huevos rancheros, and granola with yogurt served in the Moroccan courtyard, shaded by blooming fruit trees, roses, and vivid bougainvillea. Every afternoon, Moroccan tea is served with nuts and candied dates. The hotel's cat might might event make an appearance.
At night, lanterns and fires are lit around the compound. In the Mediterranean courtyard, classic movies are screened under the impossibly jeweled desert night sky. On Sunday mornings, you can indulge in yoga and meditation or schedule a private class. Take a dip in either pool whenever you like — they're open 24 hours. A spa offers massages and facials. Bicycles are available to ride the few short blocks to the main Palm Springs drag, filled with shops, restaurants, museums, and bars.
Once you step through the archway into Korakia's storied, sexy, serene paradise, we're pretty sure you won't want to leave.
Editors' Recommendations