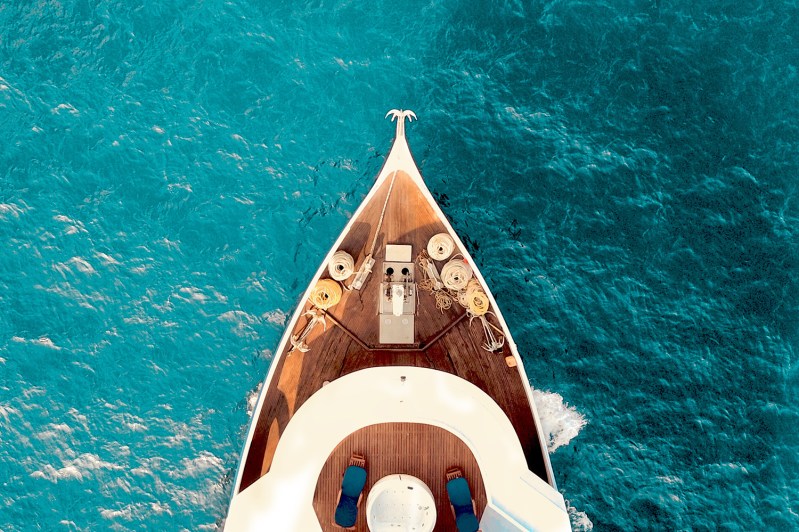 There are worse ways to spend your days than living on a luxury yacht. Getting paid to live on a luxury yacht certainly isn't one of them. Uber-luxe shopping site HushHush just announced that it's in search of one very motivated Yacht Tester. The best part: No experience necessary.
The Yacht Tester gig is exactly what it sounds like. One lucky self-employed applicant will be chosen to travel the world and spend a full week on each yacht that needs reviewing. The perks are obvious: living on some of the world's most extravagant boats in exotic destinations. That includes eating, drinking, showering, and sleeping for a full week on each boat.
However, HushHush makes clear that this is no free luxury vacation. The company is the self-described "world's leading luxury shopping marketplace and VIP concierge service." Think of it as Amazon for one-percenters. The goal of this position is to ensure that each boat is up to the site's rigorous standards. They're expecting their tester to verify that every last thing on board — bed frames, door knobs, showerheads, faucets, electrical outlets — is in impeccable order. The Yacht Tester is required to submit detailed reports and reviews of their findings for each boat knowing that HushHush's clientele expects nothing less than the best.
HushHush is now accepting applications and looking to hire ASAP. The brand is quick to point out that applicants need no previous sailing or hardcore boating experience, although that will clearly give them a leg up. They're mainly interested in hard-working, flexible workers who are at least 21 years old, have a passport, and can travel extensively on short notice. The successful applicant will earn £1,000 (approximately USD $1,300) per yacht at the completion of each week. With the potential to review 50 yachts per year, that boils down to an annual salary of more than $60,000. You'll need to bring your own sailor suit though.
If you can't commit to dropping everything for a year to travel the world (we can relate), but still want to play luxury yachtsman, Boatsetter lets you live out your one-percenter fantasies with hourly and daily yacht rentals.
Editors' Recommendations