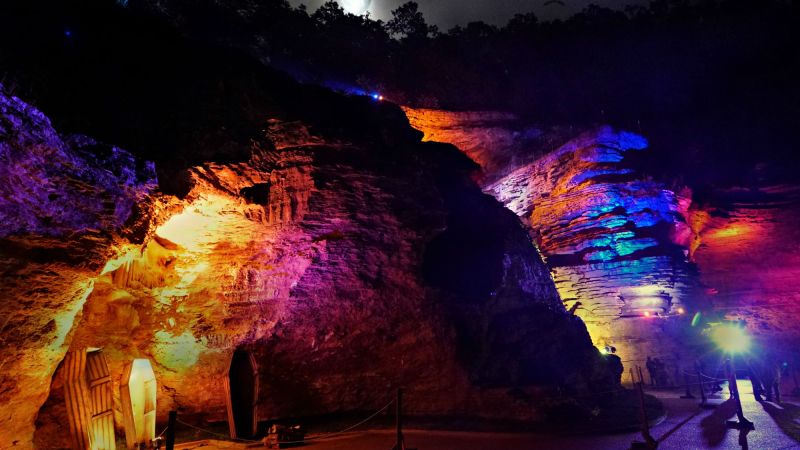 Looking for something scarier than the standard haunted house this year? Look no further than Big Cedar Lodge in Missouri. The resort is transforming its Top of the Rock attraction — a high bluff complete with a museum, hiking trails, a views of the Ozarks — into a "haunted cave experience"called Haunted Lost Caverns.
To create a premise for the haunt, the property set up a mock archeological dig that alludes to the heritage of the region. Guests ride through a four-story cave complete with more than 100 animatronic displays and plenty of other promised "spooky sights and frights." There's even a cocktail bar at the end so you can properly cool down after you've been scared.
The adventure, which lasts 45 minutes, has proven to be one of the more popular attractions at the property; Haunted Lost Caverns is entering its third year.
The critically acclaimed Big Cedar Lodge has a very real and very storied past. In the 1920s, two prominent Missourians were building lavish homes on the Long Creek arm of the White River near the modern-day resort. Shortly after, the two businessmen acquired 300 acres of forest nearby. As the area began to prosper post-Depression and post-WWII, the White River was dammed to form Table Rock Lake, which set aside land for the Lodge. The compiled history of the property adds to the overall mystique and appeal of the Haunted Caves Experience.
Once you're done being scared silly, you can head 10 miles north to Branson to experience a record-breaking roller coaster (and do some old-fashioned gambling, of course). It's a great opportunity to experience the beauty and splendor of the Ozarks in two distinctively different ways. Talk about a new twist on late-season travel.
Tickets for the Haunted Lost Caverns are on sale now and you can reserve your tour here.