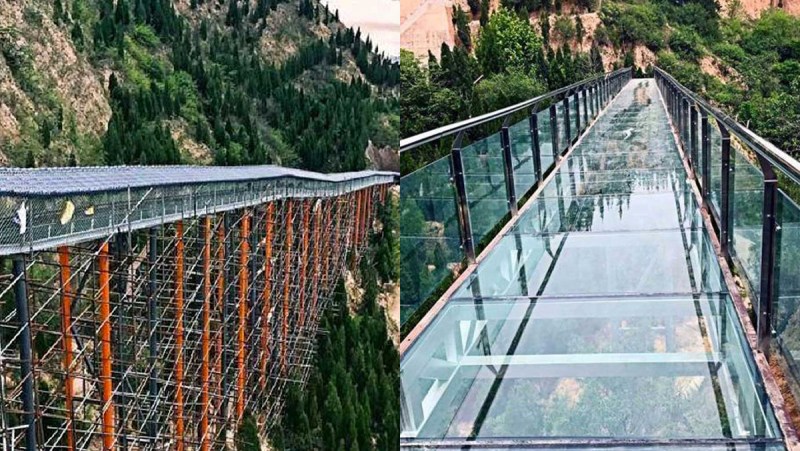 China seems intent to outdo the sheer craziness and "go big or go home" mentality of almost any other country on earth (we're looking at you, Dubai). First, they debuted the Great Wall of China toboggan. Then came the opening of the country's two longest glass bridges (one of which cracked in 2015 with tourists on it). Earlier last month, a new adventure experience opened that encourages thrillseekers to jump across a precarious "gapped bridge" suspended hundreds of feet above a valley in Chongqing. Now, they're upping the ante again with a massive glass slide that overshadows just about any other thrill ride in the country.
Newly opened in the northern Shanxi Province along the Yellow River is an impressive structure that resembles a towering roller coaster scaffolding topped with a series of glass platforms connected by walkways and slides. Riders start at the entrance by climbing a long set of stairs before reaching the viewing platform which sits at 1,300 feet above sea level. It's the highest point in the area with stunning views of the Dayudu Yellow River Scenic Area.
From the platform, the slide runs for a total of 1,640 feet with a 330-foot drop in elevation. If that doesn't sound steep enough or long enough for you, consider that the sides and bottom are constructed entirely of glass. The transparency provides a clear 360-degree view in every direction and is said to feel thoroughly disorienting. If you can slow yourself down long enough (not likely), you might even catch a view of the surrounding area which is renowned for its natural beauty.
The ride opened for a series of test runs last month, with a grand opening planned later this year.
Americans seeking a similar experience without the overseas flight to Asia can check out L.A.'s U.S. Bank Tower building which opened its own glass slide in 2016. While only 45 feet long, the SkySlide takes visitors on a brief, but dizzying drop off the side of the skyscraper on an "express ride" from the 70th to the 69th-floor observation deck. Acrophobics need not apply.
Images Courtesy chinanews.com