The difference between stressful travel and easy travel often comes down to the luggage you bring with you. Having high-quality luggage that you can depend on to keep your items safe and secure makes traveling so much easier, not to mention that having the right luggage makes packing a breeze. Investing in a good set of luggage is a decision that will benefit you for many years to come, and if you can scoop up a nice set when there's a deal — well, that's even better.
With the Fourth of July behind us Prime Day just up ahead, now is the time when all of the Fourth of the July deals are winding down as the Prime Day deals, including Prime Day luggage deals, start to roll out (pun intended). Even though our best bet is to wait for Prime Day to make any new purchases, the early Prime Day deals could still be a great way to go if you need new luggage for a trip you'll be taking sooner than later. Several of the best deals during the Fourth of July sales are still happening, and though the Prime Day deals might be a little bit better.
We made a list of some of our favorite Prime Day luggage deals, so keep reading to explore a handful of our top picks of some of the best luggage deals happening now, and don't forget to mark your calendars, because Prime Day is happening July 12 and July 13.
Best Prime Day Luggage Deals 2022
Rockland Journey Softside Upright 4-Piece Luggage Set — $132, was $219
COOLIFE 3-Piece Luggage Set — $190, was $300
American Tourister Pop Max Softside 3-Piece Luggage Set — $255, was $330
Samsonite Winfield 3 DLX Hardside Expandable 3-Piece Luggage Set — $310, was $780
Rockland Journey Softside Upright 4-Piece Luggage Set — $132, Was $219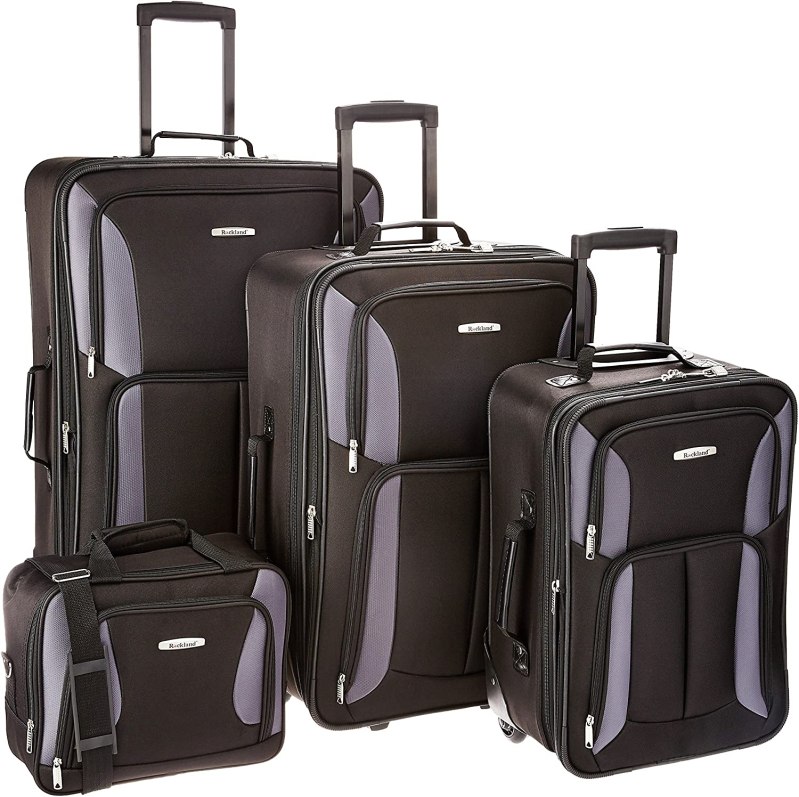 Why Buy
Expandable up to 2 inches
Telescoping handle
Sturdy inline wheels
Fully lined
Made from a patented heavy duty EVA-molded high-count fabric, the Rockland Journey Softside Upright 4-Piece Luggage Set is incredibly durable and was designed with the world traveler in mind. It comes in a variety of colors, making it easy to spot your suitcase when you arrive at baggage claim.
The Rockland Journey Softside Upright Luggage Set comes with four different-sized suitcases, meaning there's one for each member of your family, or you're more than prepared for your next big trip. The smallest piece is the Tote, which is 11 inches tall, followed by the carry-on upright, which is 20 inches tall. The two bigger pieces are a 24-inch upright and an a 28-inch upright, and among these four pieces, you will never be without the right-sized luggage again. They're super durable so you can rest assured that they will withstand all of the wear and tear that comes from checking your bags.
The three upright suitcases are expandable by up to 2 inches, so no matter where you're going you will have room to pack souvenirs with you on your return home. The upright bags are all equipped with telescoping handles, making it incredibly easy to grab it and go when you're running late to catch your flight. The sturdy inline wheels make carrying all of your luggage a breeze. The Rockland Journey Softside Upright Luggage is all fully lined, and they come with internal organizational pockets. With this four-piece luggage set, you are ready to go on just about any adventure, anywhere in the world. And picking these up for an incredible piece makes every journey that much sweeter.
Coolife 3-Piece Luggage Set — $190, Was $300
Why Buy
Lightweight, yet durable
Aluminum telescoping handle
Multidirectional spinner wheels
TSA-approved combination lock
Nothing says you're ready for your next trip quite like Coolife's Luggage three-piece set. This gorgeous luggage set comes in a wide assortment of colors and was made for life on the go. There's no journey Coolife Luggage isn't ready to join you on.
The Coolife Luggage set is lightweight and incredibly durable, so you never half worry about your luggage coming out of baggage claim in pieces, and at the same time, you won't hit the 50 pound weight limit with just an empty suitcase. This luggage set was made with durable ABS material with an impact-resistant hard shell. It's corner guard reinforcements absorb and deflect shock for maximum impact resistance. The aluminum telescoping handle makes these suitcases easy to wheel around, and the smooth, multidirectional spinner wheels ensure that these pieces move fluidly with little effort.
This three-piece luggage set comes with a 20-inch carry-on and two larger bags that would need to be checked: a 24-inch upright and 28-inch upright. Best of all, all three can be nested and stored inside one another. Interior skirted division with compression straps ensure that your clothing always stays neatly packed, so you'll be able to locate your items easily once you arrive at your destination. Each piece comes with a secure, TSA-approved combination lock for extra security, and you'll have peace of mind knowing that all of your items are safe.
Whether you're looking to have options for short trips or several pieces for a big adventures, this set from Coolife is prepared to take you anywhere you want to go. With so many colors to choose from, there's a set that's perfect for everyone.
American Tourister Pop Max Softside 3-Piece Luggage Set — $255, Was $330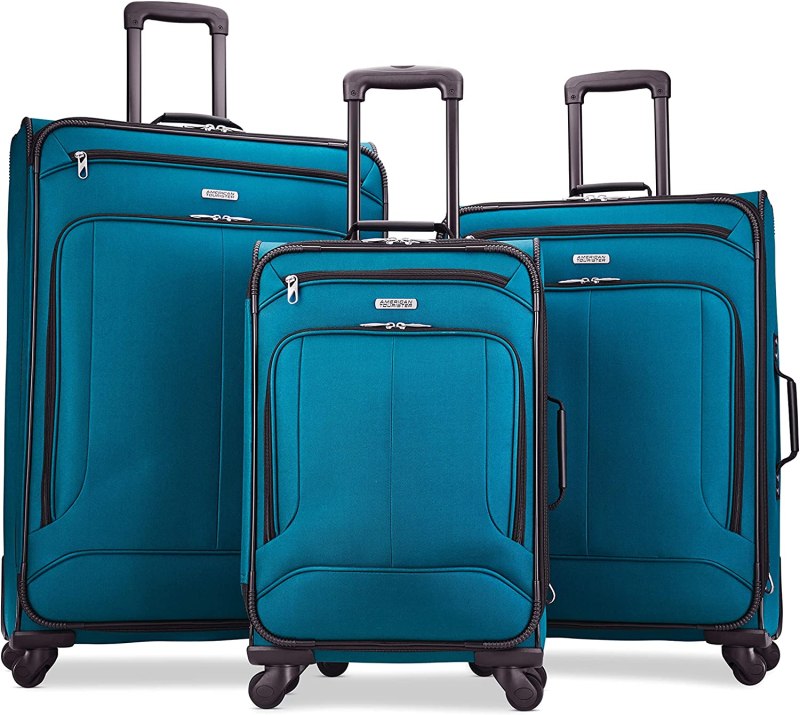 Why Buy
Four multidirectional spinner wheels
Padded top and side carry handles
Comes in an assortment of colors
10-year limited warranty
For years, American Tourister has been a household name when it comes to luggage and travel, and it is still making some of the most reliable suitcases and luggage sets money can buy. The American Tourister Pop Max Softside Luggage three-piece set packs a lot of punch for an affordable price, and has every feature you could possibly look for in a new luggage set.
The set comes with three pieces of luggage: a 21-inch upright, a 25-inch upright, and a 29-inch upright. Take the smallest piece as your carry-on or check one of the larger bags for an extended stay. All three pieces come with padded top and side carry handles in addition to push button handles, which lock when fully extended, making it easy to push and pull your case. The handle also locks whenever it's fully recessed, which dramatically reduces the risk of damage when you're not using it. Each piece has four multidirectional spinning wheels, making this set incredibly mobile, and it rolls upright, taking the weight on your arm or shoulder.
This luggage set comes in a wide assortment of colors and comes with American Tourister's 10-year warranty, which protects your suitcases against defects in both materials and workmanship. However, chances are that you won't need to use your warranty because all of its products are tested rigorously to make sure that they meet American Tourister's high standards.
Regardless of whether you're packing for a two-day trip, a weeklong trip, or an extended stay, American Tourister has got you covered with the Pop Max Softside luggage set. No matter where you go on your next journey, you'll be prepared.
Samsonite Winfield 3 DLX Hardside Expandable 3-Piece Luggage Set — $310, Was $780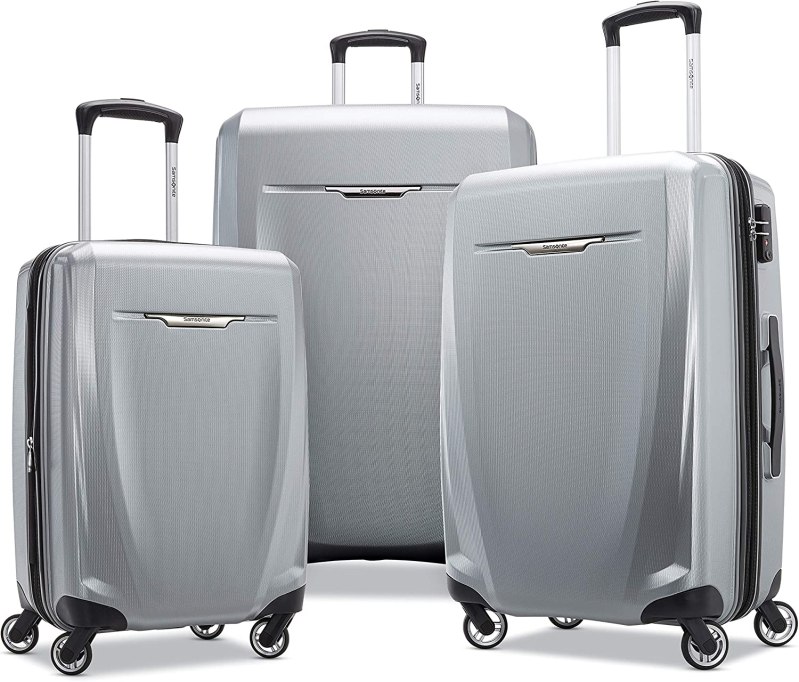 Why Buy
Scratch-resistant shell
Integrated TSA lock
Oversized, sturdy wheels
Large ergonomic pull handle
Samsonite is one of the best luggage brands of all time, and between its high-quality standards and sleek design, it's plain to see why the brand has endured for all these years. The Samsonite Winfield 3 DLX Hardside Expandable Three-Piece Luggage Set is the perfect combination of being tough and lightweight.
The exterior of these suitcases is made from a durable, 100% polycarbonate, scratch-resistant shell, and each one has oversized, effortless wheels, which make it easy to wheel your luggage around through the airport or train station. Another key feature is the large economic pull handle on each suitcase is ergonomic for smooth handling. Each piece comes with an integrated, TSA-approved lock, so you know that your items will be secure and protected until you arrive at your destination.
The inside of these suitcases is as well-designed as the inside. Each piece of luggage contains a reversible packing divider and a bunch of zipper pockets so no matter what you've packed or where you're going, there's a place for everything. There's no shortage of ways to to arrange, combine, and assemble all of your items inside the suitcases.
Investing in the Samsonite Winfield 3 DLX Hardside Expandable Three-Piece Luggage Set is a decision that will make it so much easier to take on every adventure. No matter how long you plan to stay away from home, you have the suitcases you'll need to pack for the journey.
Prime Day Luggage Deals FAQ
There are seemingly endless luggage options available, which make it incredibly hard to choose when set is best for you. We are positive that Amazon is going to host some really wonderful Prime Day luggage deals, and we're guessing that you may still have some questions before you take the plunge and make your luggage purchase during Amazon's biggest event of the year. Before you add a luggage set to your cart, check out our answers to some of your most frequently asked questions about Amazon's Prime Day deals.
Is Prime Day a Good Time To Buy Luggage?
Most definitely! Prime Day isn't just a good time to buy luggage — it might very well be the best time to buy luggage. Prime Day is the biggest sale Amazon hosts all year long, and it's known for having some great deals on all kinds of luggage sets. We're sure that this year we're going to see much of the same. If you've been considering upgrading your luggage for a little while now, Prime Day might just be the inspiration you need to click "add to cart."
When Do the Prime Day Luggage Deals Start?
While Prime Day doesn't officially start until July 12, Amazon has slowly but surely already started rolling out some of its Prime Day deals. As the event gets closer and closer, you'll begin to see even more deals popping up. We anticipate that we'll see the best Prime Day luggage deals on July 12 and 13, but that doesn't mean we won't see a ton of great promotions before then.
And here's an insider tip: Keep your eye on the competition. Over the last several years, Amazon's biggest competitors have figured out that the only way to keep up with Amazon during its annual Prime Day event is to start offering sweet deals of their own. You can count on the same thing happening this year, too. So don't miss out on all of the deals that other retailers are sure to offer. Check out the websites of Amazon's competitors as the big event draws nearer, and you are sure to see some great deals that way, too.
Should You Shop the Prime Day Luggage Deals Now or Wait Until July 12?
It's hard to tell you if you should shop Prime Day luggage deals now or hold out until the main event. Really what it comes down to is how immediately you need a new set of luggage. If you need it right now, then it's better to take the deal that's in front of you, especially because you can't really travel without it. However, if you have the ability to hold out, we definitely suggest that you do. Amazon's best Prime Day deals always turn up during the main event, and we'd hate to see you miss out on an opportunity for even bigger savings. While the choice is obviously yours, our advice is to hold out if you can. It's only a few days longer and the savings might justify the wait. One thing is for sure, and it's that we're waiting until Prime Day to make all of our major luggage purchases.
Editors' Recommendations