Indianapolis may not be the first city that comes to mind when you think of great boutique hotels and arts & culture. But, there are plenty of reasons why it should. Travelers seeking relaxed, one-of-a-kind boutique lodging in Indiana's capital city needn't look further than these three options.
Nestle Inn (Massachusetts Avenue Cultural District)
Aside from the "cutesy" name, the Nestle Inn is the perfect antidote to the stodgy, traditional, and cringe-worthy bed and breakfasts of decades ago. The inn's website is quick to point out that this is "not your grandma's B&B!" Indeed, they eschew the Victorian-era seating, the army of doilies on every bit of furniture, and the typical busy-body innkeepers who never seem to leave you alone. Although it's located in a converted 1896 guesthouse, this is a thoroughly modern experience designed for today's traveler. The Wi-Fi is fast and free, breakfast is on your own schedule, and they even offer gourmet cooking classes (with chefs from the city's Ivy Tech Culinary Program) that cover everything from French pastry to a Mac-n-Cheese Boot Camp. The owners have their own private quarters, so guests needn't try to relax in someone else's living room. Discreet, 24-hour self-check-in is also available for guests to arrive whenever they like.
Alexander Hotel (Downtown Indianapolis)
You may not know it, but the fabric of Indianapolis' history and culture is tightly woven with the art world. The Alexander hotel is keenly aware which is why it celebrates some of the city's best works. From the lobby to the halls to the chic Plat 99 Mixology Lounge, there's a distinct focus on modern art, inspired by and sometimes playfully poking fun at the city and its locally famous figures. One large wall sculpture, for example, cleverly uses nearly 4,000 combs to create a portrait of Madam C.J. Walker, the city's one-time hair-care tycoon. Another work by Mark Fox uses shards of stainless steel to spell out random messages, including one that marks the hotel's rooms as areas of "mirrors and copulation." Guestrooms are beautifully adorned in contemporary and transitional-style furnishings, plus a multitude of modern amenities (free Wi-Fi, flat-screen TVs, and suites with full kitchens). What's more: it's conveniently situated along the city's bike path which, incidentally, follows its 8-mile Cultural Trail as well.
Hotel Broad Ripple (Broad Ripple Village)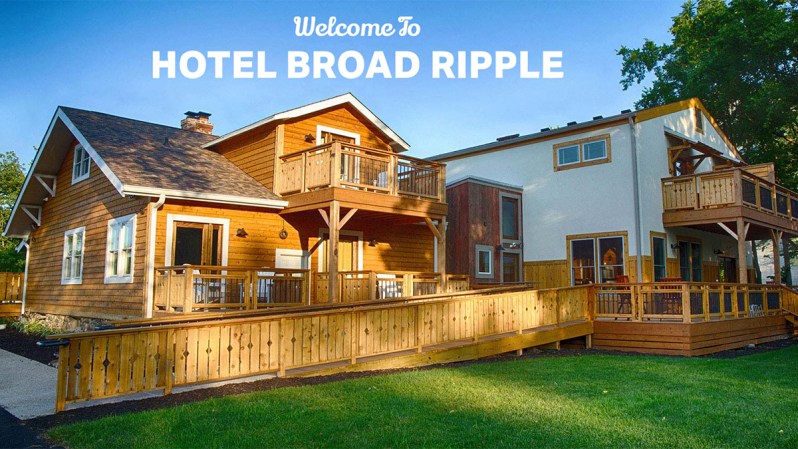 Hotel Broad Ripple isn't the largest, fanciest, or most luxurious lodging in Indianapolis, but it's not trying to be. The nine-room property offers just the right mix of features including modern in-room amenities, lodge-inspired styling, and a relaxed bar/lounge with movie nights and live music when the weather warms up. It's just a 20-minute Uber ride to downtown — far enough for travelers to sidestep the hustle of the city but still near enough to the action. Its biggest selling point, however, is its adjacency to the city's famous Monon Trail. This trailroad is an 18-mile path that connects downtown Indy to Westfield, Indiana in the north. It's an ideal route for hikers, bikers, and runners to take a leisurely escape from the city.
Editors' Recommendations