You know the name Eddie Bauer. You've seen the signature on Ford cars, mall storefronts, and fishing vests owned by old men. But did you know Eddie was a real person and a total badass?
"Eddie learned to fish before he was in school," Eddie Bauer historian Colin Berg tells The Manual (Berg has been with the company 19 years). "He learned to hunt before he was out of grade school."
As a young'un, Eddie took great pride in having been born in a cabin at the end of the wagon road leading up to Mt. Constitution, which is the highest point of Orcas Island in Washington. So no, he didn't grow up in a coddled mansion with a trust fund — quite the opposite. Coming of age at the turn of the 19th century, life for Eddie was rural and rough, Berg says.
After moving to Seattle with his parents, "Eddie dropped out when he was 14 — about 1914 — and went to work for the biggest sporting goods store in Seattle. To think people are impressed by Bill Gates dropping out of Harvard. Apprenticing with the best hunters and fishermen in the Pacific Northwest, Eddie honed his skills and went into business for himself in at 20 years old, opening Bauer Sports Shop." (Twenty!)
Back to the Beginning
Eddie launched his store in February 1920. Around Labor Day he put up a sign that said, "Eddie Bayer's gone hunting, back February 1."
"He shut the door, and people thought he was crazy," Berg says. "But to him it made sense. The whole reason he was in business was so he could go hunting and fishing." The reason so many people eventually turned to Bauer gear was because he began to develop apparel concepts while out on his wilderness adventures. "Extended fishing and hunting trips were his laboratory," Berg says.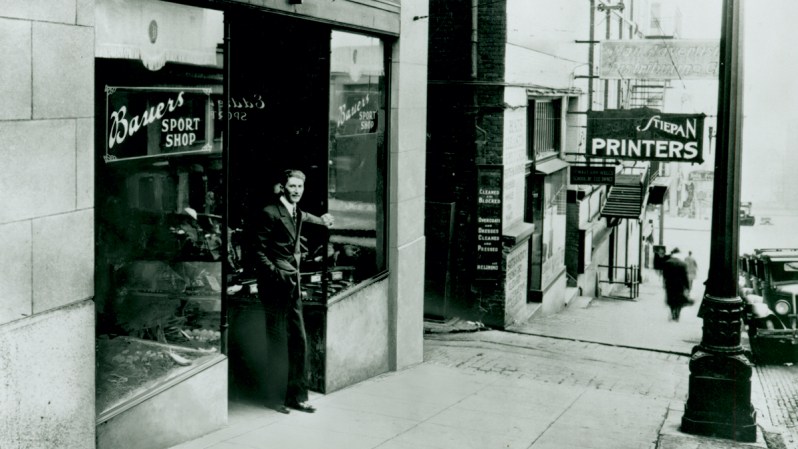 Eddie hired expert outdoorsmen to work at Bauer Sports, testing and learning the gear, which transformed his shop into not only an apparel store, but a place to buy equipment and get guide service. "He'd go out with customers and show them where to hunt," says Berg.
On one of these hunting trips, he fell in love with a wilderness babe.
Along Came a Woman (and a Whole Women's Department)
It was 1927, and Eddie went to one of his favorite hunting sports in eastern Washington to find another group already there. He was pissed off, until he saw one of the hunters was a young woman, Christine Heltborg (Eddie called her Stine), who came along as the camp cook. Eddie got her digits, and on their first date, he took her on a cold, wet fishing trip in early spring (guys, this is risky). But she didn't complain and they became what Eddie called "wilderness companions," eventually marrying in 1927.
"He taught her how to shoot a shotgun, and she won eight consecutive women's trap shooting championships, setting a gold standard for active outdoor women. Plus, every time she won, she was in the news wearing Eddie Bauer gear. She also created the women's department for the store," Berg adds. "Here was this attractive young woman who could talk the talk with all the men, but outshoot and outfish most of them, earning her stripes among the hardcore customer base. And she started bringing women in, because women needed high-quality gear as much as the men."
The Evolution of the Brand
In the 1930s, Eddie and Stine created the first down jacket patent in the U.S. Fast forward to the '50s and the Himalayan peaks were being summited by world-class climbers who turned to Bauer for down parkas and sleeping bags.
So how in the heck do people today get the sense that Eddie Bauer is a frumpy old man's brand?
The company sold to General Mills in the '70s and then to Spiegel Inc. in the '80s, who were interested in making the hardcore apparel name into a lifestyle brand. Leadership moved away from the outdoors and partnered with Ford, but as more people came to learn Eddie's name, the heritage got watered down. "The new generation came to know Eddie Bauer as casual sportswear," Berg says.
In 2007, a new CEO had the mind to stop all the madness and bring back the badassery of technical Eddie Bauer. This was the genesis of First Ascent, a new collection of gear and a return to serious technical outerwear that would be worn on professional guides around the world.
So next time you think of dissing Eddie, know he was (and the brand still is) cooler than you.
Especially these jackets that ace style and technical function:
EverTherm Down Jacket – $297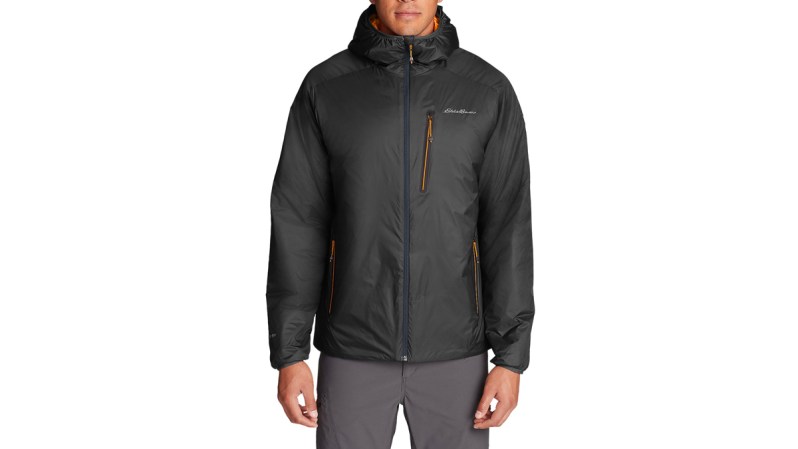 Fall 2017 saw the visionary release of EB's Evertherm Down Jacket— the most award-winning piece of apparel in the history of the brand. What's so cool about goose down is that it doesn't require being quilted. Instead, the down is bonded to two thin scrim layers of fabric so it's a sheet of warmth. (It won an ISPO Red Dot award… nbd.)
1936 Skyliner Model Down Jacket – $139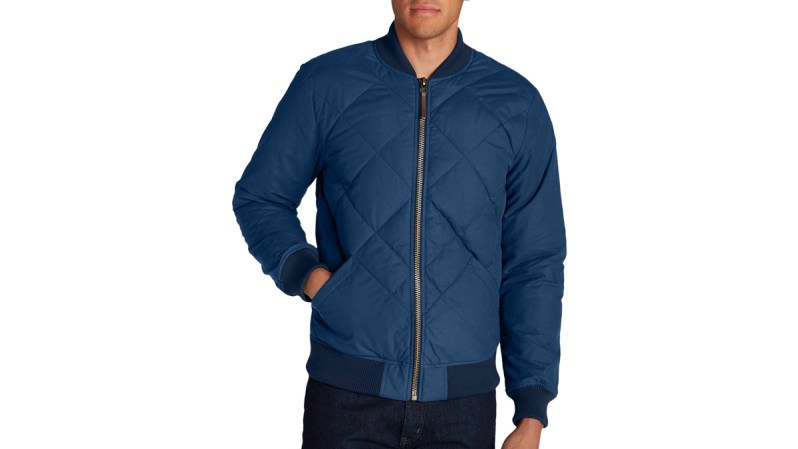 As the name indicates, this super-trendy lifestyle jacket is a throwback to the first down jacket made by Eddie Bauer: The Skyliner. While most brands started using down for huge puffy parkas and serious winter coats, EB came out with this Goldilocks jacket fawned over by mountaineers. Today, it's warm as ever but still fits in on the urban street.
BC Alpine Lite – $262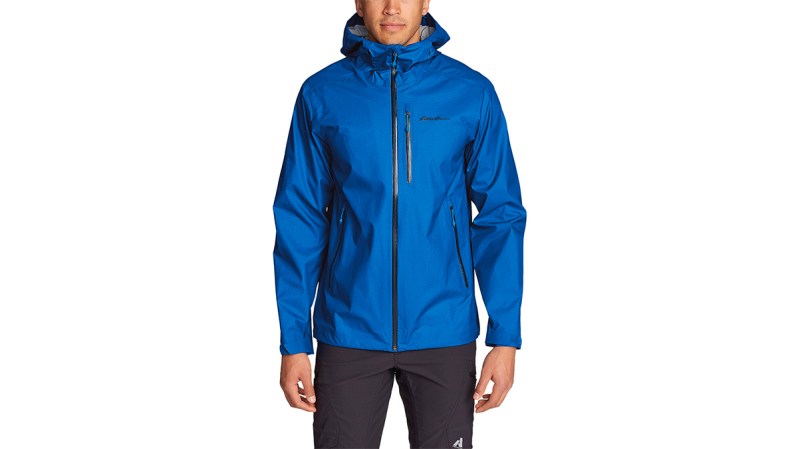 Spring in the Teton's anyone? This piece of technical magic is a lightweight, three-layer waterproof jacket. Seth Waterfall, an Eddie Bauer Alpine Climbing Guide, tested the BC Alpine Lite while teaching an Avalanche Level 1 course at Crystal Mountain Ski Area. His thoughts: "My group ascended from the base area at Crystal in a heavy snowstorm. After the first 20 minutes of skinning uphill, everyone else was wet, either from sweat or from the snow melting and soaking through their jackets. The precip was beading on my jacket and the breathability allowed me to keep relatively cool while ascending."
Editors' Recommendations