Your first ski lift ride is usually a chilled experience — for skiers, at least; it's a different beast for beginner snowboarders. It's also usually your first chance to leave the bunny slopes behind you and get your head into the clouds, riding high and looking down over the entire ski resort. But not everyone's ski lift experiences are that positive.
If you've never ridden a ski lift and want your first experience completely untainted, then now is probably a good time to skip over to some of our other ski and snowboard-related content. Ski lift malfunctions are not commonplace, but the terrifying viral video below shows that they can be chaotic and highly dangerous when they go wrong. But just what happened for this chair to go out of control in the first place?
Why did the Gudauri ski lift malfunction?
In short, it was human error that caused this chaos to unfold. According to Agenda.GE — a news outlet run by the Administration of the Government of Georgia — a group of experts was invited to investigate the ski lift malfunction within two days of the accident.
These experts analyzed the memory device stored within the ski lift and found that a voltage drop had caused the lift to stop spinning. Immediately, the ski lift operator should have fired up the backup diesel generator, allowing the skiers and snowboarders riding the lift to continue to the top of the mountain safely before the lift was shut down. There is no mention of brake failure.
This human error led to severe and non-serious injuries to eleven people, most of whom were fortunately discharged from the hospital the same day. In reality, the consequences could have been far worse, and it's no surprise — given the findings — that the two operators faced charges and a potential prison sentence for their negligence.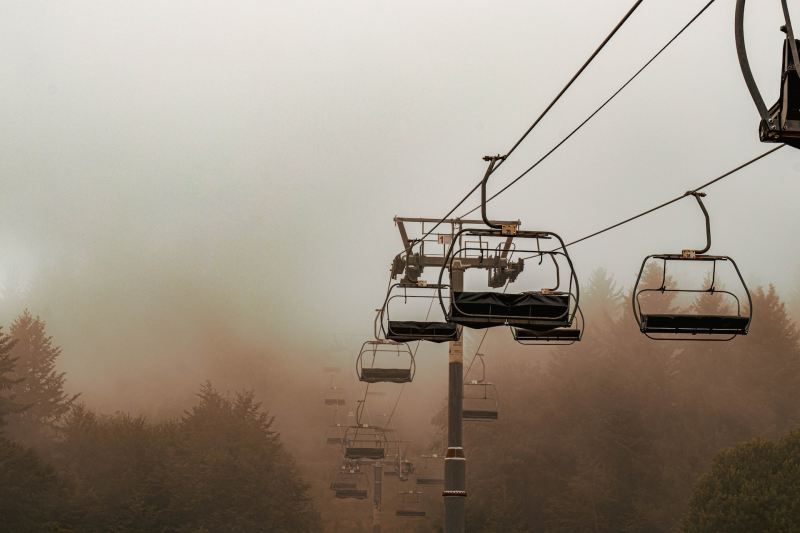 Are ski lifts dangerous?
The overwhelming majority of ski-related accidents do not happen on a ski lift, and these kinds of accidents are uncommon. The fact that this viral video is still doing the rounds when it happened back in 2018 should indicate how rare these events are. What's more, it was a human error that caused this incident. Most ski lifts have mechanical fail-safes and do not rely on the ski lift operator.
In reality, the main danger on a ski lift is the rider. Riders who ride without the bar, swing the lift, or wriggle around on slipper seats all risk falling from a height that can cause serious injuries.
Here are a few tips for ski lift safety:
Make sure you know what you're doing, and tell the lift operator if you're unsure or if it's your first time riding a lift.
Wait your turn, and don't try to rush to catch a lift — a swinging lift can cause injuries, and there's a reason you should be at the 'load here' line when the operator asks you to.
Sit back on your seat and make sure any children do the same. This stops you from sliding forward and under the bar.
Always ride with the bar lowered, and don't raise it too early. There will usually be signs telling you to raise the bar.
Editors' Recommendations