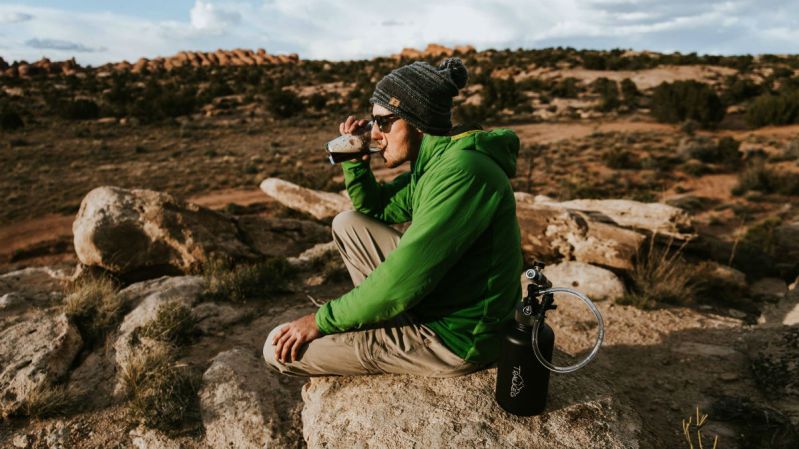 Hiking is awesome, and craft beer is awesome. However, marrying the two in a way that makes sense has long been a sticking point for outdoorsy hop-heads. TrailKeg is looking to tackle that problem with the world's most innovative, trail-ready growler.
TrailKeg is a high-tech growler that's designed to go anywhere. The entire unit is constructed of durable, double-wall stainless steel to ensure that it can withstand a beating on the trail. It's also vacuum-insulated and guaranteed to remain cold for up to 24 hours.
TrailKeg's most significant selling point — and what differentiates it from other growlers — is the CO2 pressurization. Like with a full-size home kegerator, the CO2 ensures the beer stays well carbonated and pours like fresh tap beer. The manufacturer promises that the tech your beer remain perfectly carbonated for weeks.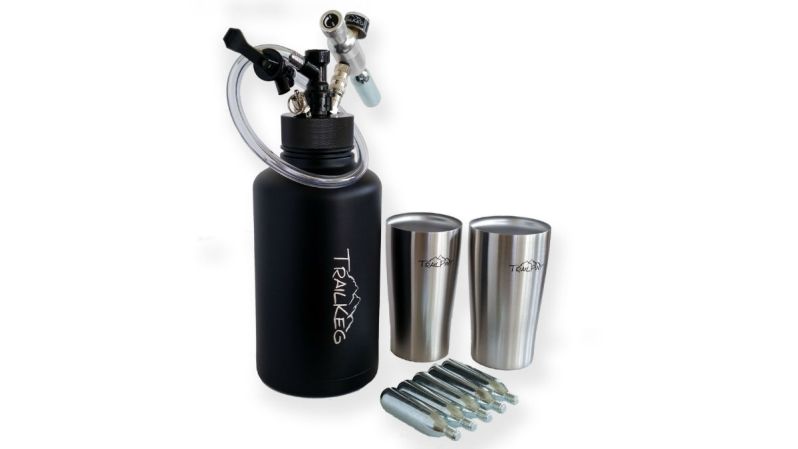 The portable system is designed to be used with industry standard equipment. Keezers, kegerators, permanent beer taps, and other gas systems can all connect directly to TrailKeg. If your local laws allow, the growler can be filled like any other at your favorite craft brewery or brewpub. The included lid will fit almost any standard barrel-style growler from Hydroflask, Lifeline, Reduce, and more. The TrailKeg lid can also be used to upgrade internal thread-lidded growlers like those from RTIC and Yeti.
At 4 lbs empty, the gallon growler is portable, but, for weight-conscious backpackers, it certainly isn't light. It is, however, a clever solution in the same vein as previous "portable beer" products like the line of beer concentrate packets from Pat's Backcountry Beverages. TrailKeg is clearly for the outdoorsmen who values good beer on the trail, and is willing to dump other essentials like fruit, water, and a tent from their pack to get it.
The base, 64-ounce TrailKeg Package (pictured above) starts at $99; the supersized gallon TrailKeg Package can be pre-ordered for $135. Both are available for purchase online and include the TrailKeg lid with a manual pressure vent, tap, and regulator, plus the stainless steel growler itself. CO2 cartridges are sold separately.
While we're on the subject of brews and the outdoors, check out are our favorite beer accessories for camping.
Feature image courtesy of TrailKeg/Facebook.
Editors' Recommendations