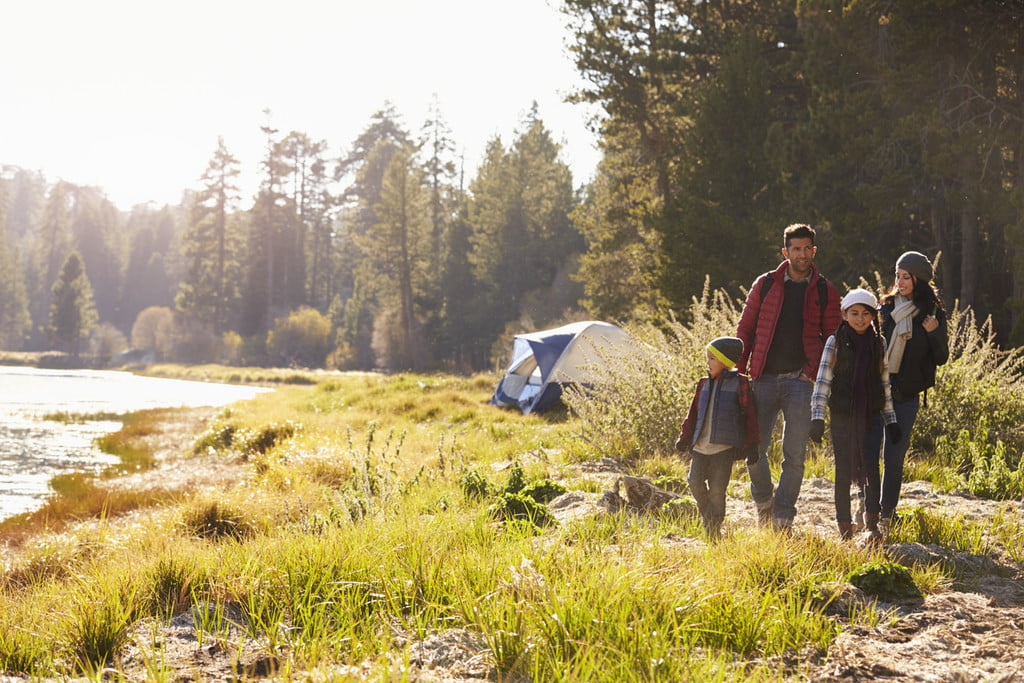 Family camping is one of the best ways to get away from the daily grind, immerse in the beauty of nature, and create lasting memories. It's easy to book a cabin or rent an RV for the weekend, but the most immersive experiences are those that involve just a thin layer of nylon between you and the elements. Tents and hammocks are the shelters of choice for the most adventurous families. Which is best? The debate continues.
Either tent or hammock camping can offer a great night's sleep. Factoring in all of the required gear for a warm, dry setup in average weather, plus the amount and weight of the gear, is necessary. Both can be set up in minutes without a high level of skill.
If you're concerned about hammock camping and bears, don't be. Tent and hammock camping can be equally safe in bear country as long as proper food handling protocol is followed. But hammock lovers often claim that they have the superior shelter. Let's take a look at how tent and hammock camping work out for families and find out if there's a true winner.
Tent camping requires less gear
With family tent camping, you need a tent and possibly a ground tarp. The size of the tent dictates the number of people who can comfortably sleep inside. Families with young children usually sleep in the same tent. Older kids may want to sleep separately. Either way, it's pretty simple to pack the tent or tents and be ready to go.
For a family to camp in hammocks, each person needs a hammock, tree straps, and a rainfly. These items may be sold as a set or individually. In summer, add bug netting. If temperatures will drop below 60 degrees, add an insulating layer such as an underquilt. The amount of individual gear makes hammock camping more flexible on the one hand and slightly more complicated on the other.
Hammock camping may be more comfortable
Tent camping provides a greater sense of security for some. Sleeping on the ground requires no special training, and with everyone in the same tent, there is less concern over nighttime fears. From the standpoint of physical comfort, tent camping is warmer in cold weather, but sleeping on the ground is often less cozy than a hammock. A soft yet supportive camp bed is elusive for many tent campers.
In a properly hung hammock, anyone can sleep comfortably because it offers better support in a variety of sleep positions. However, 360 degrees of air circulation means that staying warm in cold temperatures requires extra gear. The increased feeling of exposure and slight sway while sleeping may feel less secure to some. Although hammocks may be arranged quite close to one another, some children may experience an uncomfortable sense of aloneness. It's best to practice at home in advance and possibly have a tent available as a backup plan before that first family hammock camping trip.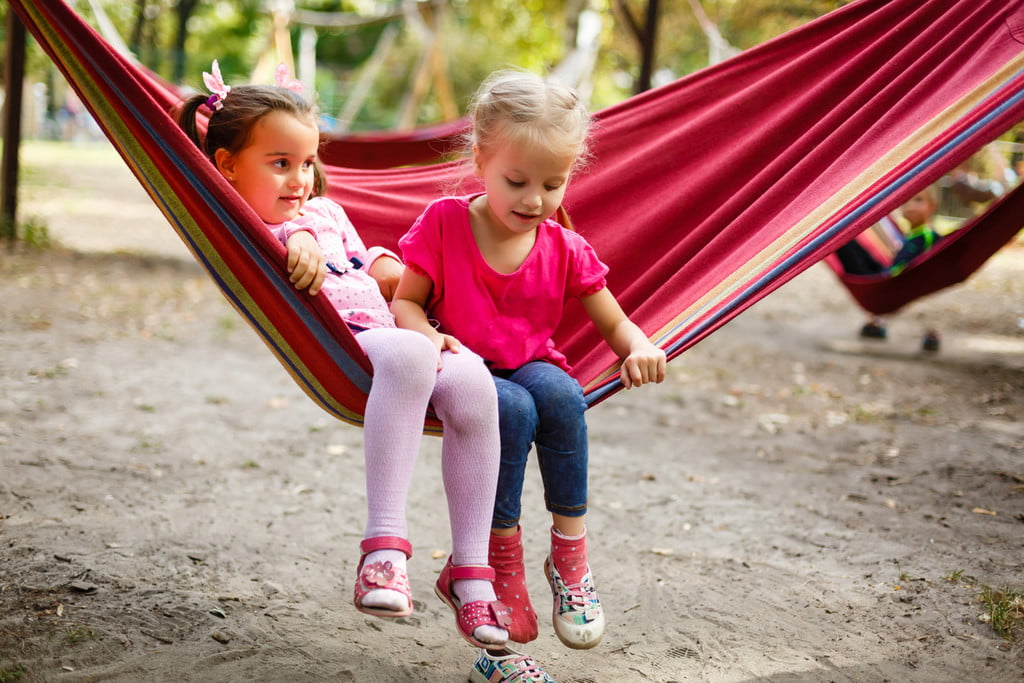 You'll stay drier in a tent
A waterproofed tent will stay dry inside through wind and rain. Hammocks are far more open to the elements. Although falling rain may be shed by the hammock's rainfly, other entry points include water that runs down the ropes, rain that blows in through the ends, or drips and splashes wetting the hammock from below. For an adult, rain may be miserable, but for kids, it may be a minor disaster. The consistently most reliable protection from foul weather comes from a tent.
You'll get more use from a hammock
A tent is a tent. It is great for sleeping and waiting out the rain. It can even be fun to use as a backyard fort. In the end, it is a nylon room.
A hammock fills the role of a tent but can be much more useful throughout the day. It is a fun place to sit around, read a book, or take a nap and a comfortable place to sleep under the stars. It may not be physically much more than a tent, but it's more fun.
Let the conditions determine your choice
Tents require no special environment. They may be the only way to find shelter in open places like a treeless prairie or alpine or beach environments. They are most comfortable where the ground is level, rock-free, and dry.
Hammocks work wherever there are trees. They hang level even on steep mountainsides. If the ground is soggy or full of rocks, the hammock is just as cozy.
The winner
Traditional tent camping is an excellent way to get young kids interested in the outdoors. A tent offers home-like security and reliable protection against cold and rain. This is the best first choice for most families.
Experienced campers who want a fun new challenge will love the feeling of freedom from camping in hammocks. For the best experience, take the time to orient kids with the equipment and the feeling of sleeping in a hammock before going all-in. For adventurous families who love the outdoors, this could be an awesome vacation.
Editors' Recommendations