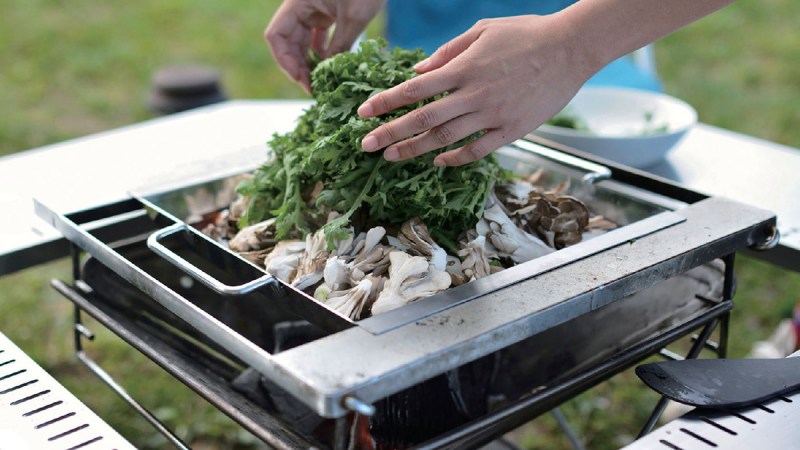 Whether it's in the backyard or five-miles deep off a mountainous trail, a campfire cookout is about more than just eating, but being together as a tribe. This is one of our happiest of places, and it might be yours too, until the food is done and you're forced to play balancing act on your lap with your plate.
The Japanese outdoor gear company Snow Peak— famous for its Giga Power outdoor stoves— has solved this ever-annoying problem with a hibachi-meets-BBQ table, the Jikaro Table ($325).
Despite being sold at REI, many outdoorists still don't know about Snow Peak. (That changes NOW.) The company began in 1958 when Japanese mountaineer Yukio Yamai started making his own climbing gear out of discontent for what was offered on the market.
For reference, ski bindings and neoprene wetsuits were considered groundbreaking at that time… so the category of outdoor gear didn't have the techy or quality engineered super-products we revel in today.
Yukio's son Toru was the one who really brought Snow Peak to the masses from the 80s on, and in every new product the brand releases you see both a harmony in vision and a new boundary broken.
In the case of the Jikaro Fireing Table, its stainless steel, made-in-Japan frame is clean and modern, yet the piece fully functions toward the goal of bringing users closer to nature and the outdoors. In fact, Jikaro is so devoid of embellishment that it almost looks like the skeleton of a deconstructed table.
But that's the point.
Snow Peaks entire mission is to build products that help us find a harmony with nature.
Jikaro can be built to form either a square or octagon table for small or large groups, turning an outdoor grill into an immediate social and sitting area. If you find yourself needing more table space, there's an extension for an add-on bamboo table, so invite the neighbors.
At sitting-height (perfect for camping chairs), the Jikaro creates the perfect outdoor dining table. No debate. Transfer your food directly from the grill and onto your plate. Heck, if you're eating chicken and vegetables don't even use a plate (Snow Peak makes some great utensils that I would recommend however).
And once the adventure is done, the Jikaro packs down into a portable, space-efficient nylon case (weighing about 23 pounds). This allows us to take the table on epic camping adventures, but also use as the mainstay table in the backyard for Sunday BBQs.
Set up is about six steps, so no it's not the plastic fold-out you got from Walmart… but since when did you ever enjoy eating off of that?
Editors' Recommendations