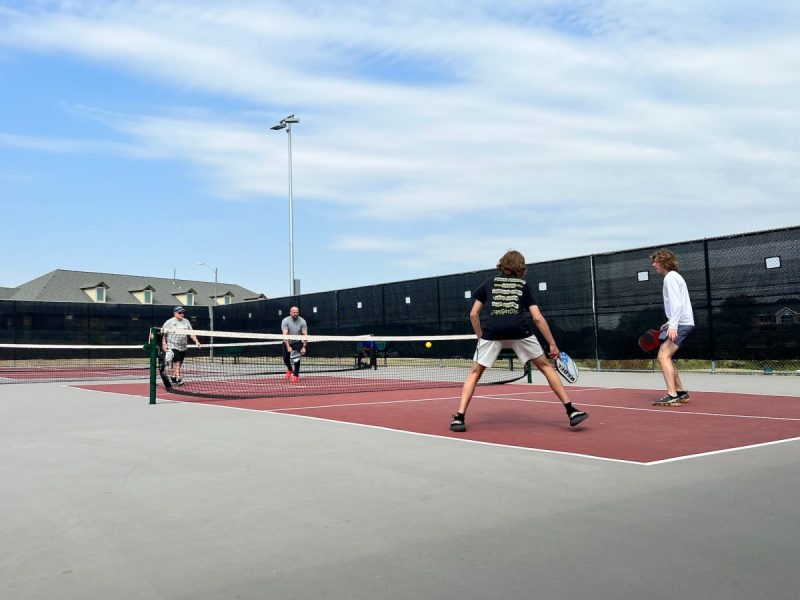 The stats are in for 2023, and it tells us that Pickleball is the undeniable frontrunner in growth over the past four years. According to the Sports & Fitness Industry Association (SFIA), the racket sport has grown over 170% in the past four years. But it's not alone in seeing enormous growth. Sports participation has continued to grow as we move out of the pandemic, including several outdoor activities — most notably winter sports — and previously fringe sports.
Ingrained in our human nature is the need to feel part of something big that connects us to others. Movements, sports, and ideologies all fit this bill, and the more people who take part, the more we feel validated in our desire to play or push ourselves in that sport. Marginalized or new sports may appeal to those willing to take a risk on an all-new activity, but until that sport gets some traction, you might end up spending hundreds of dollars on a short-lived hobby.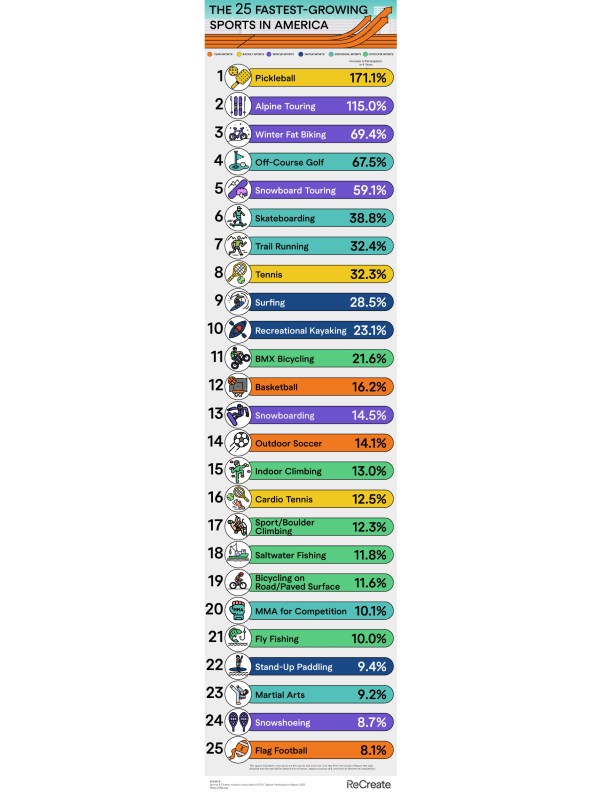 What is Pickleball?
Believe it or not, Pickleball originated in the '60s and has seen steady growth over the past decade. But in 2022, the sport saw a massive boom in popularity as a social and inclusive racket sport. Pickleball is like tennis, with a net dividing the two players — or pairs — and a court divided into zones. But there are elements of both ping-pong and badminton added into the game that add to the fast-paced and fun nature.
The gameplay of Pickleball is simple, but the rules can get complex. The serving team hit the whiffle ball diagonally into the far quarter, and the returning team then initiated a rally. There's a 'no volley' zone seven feet on either side of the net, so you can't go for the volleyball-style spike into the ground, and like in ping-pong, only the serving team can score a point.
Which winter sports have seen the most growth?
While Pickleball may have taken the top spot, winter sports have claimed three top-five positions. In second place, alpine touring has grown 115%, while in fifth, splitboarding has seen a growth of almost 60%. If you categorize these two together into backcountry skiing and snowboarding, that is some serious growth. On top of that, snowboarding has significantly increased by over 14%. Has there ever been a better time to get started on snow?
As manufacturers continue to create even better alpine touring and backcountry splitboarding gear, more and more people will likely spend winter earning their turns. While this is only a good thing — seriously, more people would do well to venture beyond the groomer and experience the true essence of being in the mountains — remember that the backcountry is an environment filled with hazards. Increased participation in winter sports has the potential to lead to more accidents and more rescue operations. The backcountry is phenomenal, but avalanche training and experienced guides are a must-have.
Editors' Recommendations