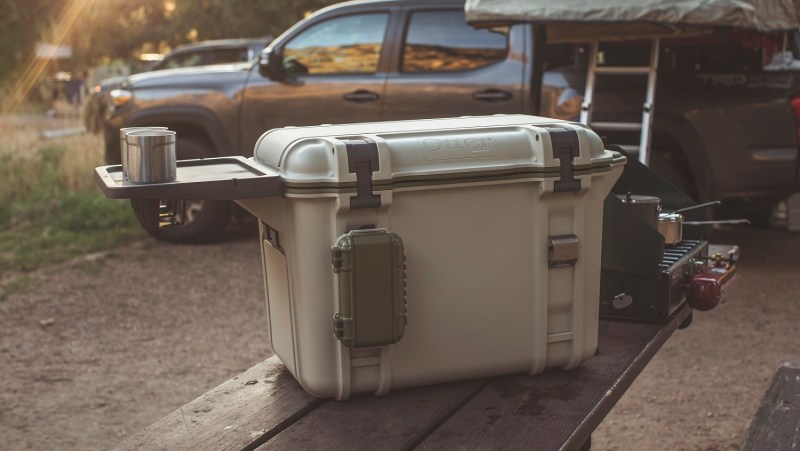 Nothing puts a damper on a trip in the outdoors like a cooler full of melted ice and soggy bread. With the new line of virtually indestructible coolers from OtterBox, you won't have to worry about that anymore, since these bad boys are capable of keeping ice frozen for a cool 14 days.
The Fort Collins, Colorado-based company's just-launched cooler collection is a welcome addition to its trusted (and well-loved), injection-molded cases and dry boxes. In keeping with OtterBox's other sturdy wares, the U.S.A-designed and manufactured Venture coolers are drop-tested on each side and edge while both empty and full. That durability (coupled with secure latches) means these coolers are immune to even the harshest bumps and tumbles that come with a life of adventure.
Available in three sizes — 25, 45 and 65 quarts — the coolers are equipped with anti-slide rubber feet, handles that perform double-duty as tie-down anchors, and interior nesting grooves.
The two larger sizes include a dry storage tray that's BPA-free and detaches for no-drama cleaning. The tray prevents sogginess by keeping whatever you want dry up and out of the ice and protected from impact by other items. If you've ever had a messy cooler mishap, you know exactly why this is important.
"Being outdoors is about having fun, not worrying if you're doing it the way the pros do or following a set of unwritten rules," said Curt Richardson, who founded OtterBox in 1998 with the company's maiden dry box.
And the Venture coolers only get better, by way of a raft of ingenious add-ons sold separately.
Campers headed for bear country will want the locking kit, whose 5-inch shackle lock renders the coolers certified bear-resistant. The cutting board add-on ($29.99) sits perfectly in a groove under the lid, so you'll never forget it at home again and always have a place to chop veggies. And gourmands will definitely want the side table, an attachment to the cooler that gives you three cup holders and ample prep space for your outdoor kitchen ($69.99).
You can also opt for a double cup holder ($29.99), a separator to keep foods apart inside the cooler ($24.99), a dry box clip for miscellaneous easy-to-misplace items ($4.99), a tie-down kit with everything you need to strap down the cooler to 2,100-pound breaking strength ($39.99), and more.
Editors' Recommendations