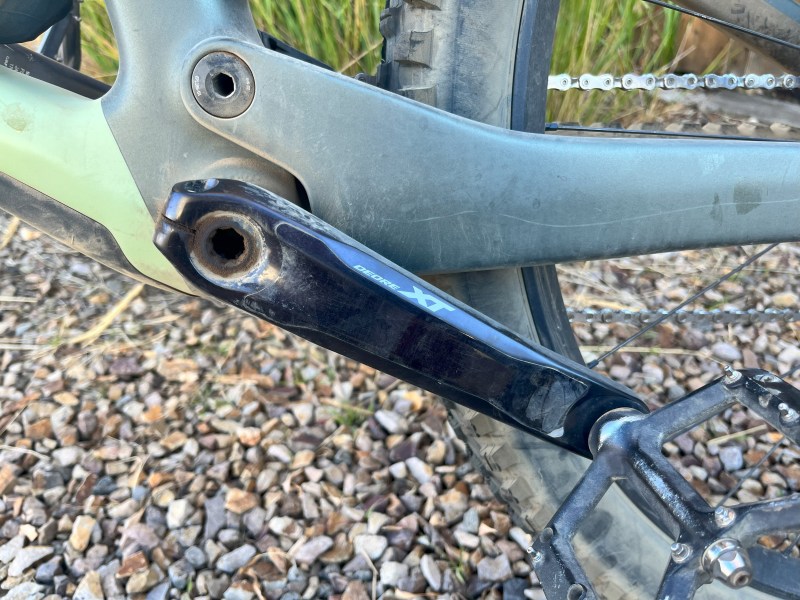 When it comes to mountain bike components, like a drivetrain, two industry giants lead the way: Sram and Shimano. In fact, go into your garage and look at your mountain bike right now. I bet you will have a Sram or Shimano drivetrain staring back at you.
But is one better than the other? Is Shimano leaps and bounds above Sram, or vice versa? If you're buying a new bike, how much should you base your decision off of what drivetrain brand is spec'd on the bike?
Let's look at comparable Shimano XT and Sram X01 drivetrains to figure this out. These are both mechanical drivetrains … no fancy Bluetooth shifting. Fortunately, I've spent quite a bit on both drivetrains and can speak to how they perform. We'll also compare weight, price, and features.
For clarity's sake, a mountain bike's drivetrain consists of the derailleur, shifter, cassette, chain, chainring, and cranks.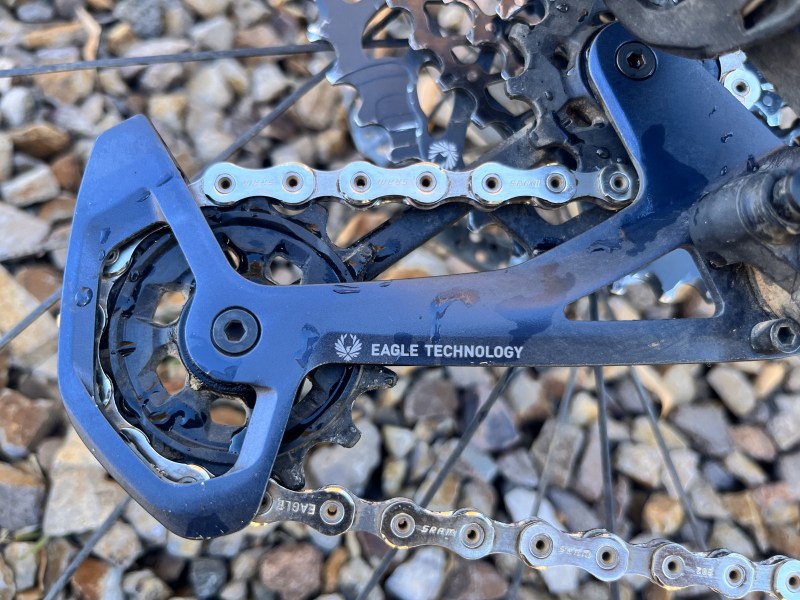 Sram X01
Sram is the company that really pushed drivetrain innovation. It introduced mountain biking to wireless shifting via Bluetooth and completely changed mountain bikes with the universal derailleur hanger.
For this comparison, I stayed away from wireless shifting (mainly because I don't have it) and stuck to mechanical shifting, wires and all. While wireless shifting is becoming more popular, most bikes are still coming with mechanical drivetrains.
But that doesn't mean that either drivetrain in this comparison is outdated. Many mountain bikers have tried Sram's wireless shifting and switched back to the feel of a mechanical drivetrain. It comes down to preference, not performance. A Sram X01 mechanical drivetrain is at the higher end of Sram's portfolio and performs very well.
Cranks and chainring: The cranks will be one of the biggest things that sets Sram X01 apart from Shimano XT — Sram's X01 cranks are carbon fiber. While carbon and aluminum

aren't that far apart in performance any longer, carbon will be a bit lighter, stiffer, and more expensive.

Cranks and chainrings are typically sold together. For Sram X01 cranks and chainring, expect to pay $377. The weight will vary, based on the length of cranks you desire, but not significantly. This setup will be around 480 grams.
Cassette:

Sram's X01 cassette consists of 12 cogs (12-speed has become somewhat of a standard for modern bikes) ranging from 10 teeth on the smallest cog to 52 teeth on the largest. Sram boasts this range of gears "provides an expanded gear range of 520%." It weighs

350 grams and costs $415.
Derailleur:

The X01 derailleur will not only work on Sram's newer 52-tooth cassettes but older 50-tooth ones as well. MSRP is

$214

and weighs

276 grams

. Paired with the rest of the groupset, you can expect clean, crisp shifting.

Shifter:

Sram's X01 shifter delivers accurate single-click shifts, but also allows you to shift multiple gears at once by pushing the shift lever deeper. However, shifting multiple gears only works on going into easier, or bigger, cogs. The cost is

$96, and the weight is 125 grams.
Chain:

An X01 chain from Sram will set you back

$64 and the weight is 239 grams. Sram brags that the technology in this chain will last four times longer than lower-end models.
If you want to upgrade to a complete Sram X01 drivetrain, expect to pay $1,166. You can expect to add 1,470 grams to your mountain bike, minus the weight of your old drivetrain.
Shimano XT
Comparable to Sram X01 is the Shimano XT drivetrain. This high-end groupset is relatively similar to its Sram counterpart, with a few exceptions.
Cranks and chainring:

Unlike Sram, Shimano XT cranks come in aluminum. And while they are nothing to scoff at performance-wise, they do add some weight in comparison. Weight is

724 grams, but you will only pay $220 for them. Aluminum is heavier but cheaper.
Cassette:

Shimano has more options than Sram when it comes to cassettes. You can choose from a nearly equal to Sram, 10-51 tooth range or 10-45 tooth, both 12-speeds. People like options. For comparison's sake, let's look at the higher ranged 10-51 tooth XT cassette:

470 grams and $165.
Derailleur:

Shimano's XT derailleur glides through gears easily when paired with other XT drivetrain components. This comes at a relatively inexpensive price of

$119, weighing 284 grams.
Shifter:

The Shimano XT shifter is similar to Sram's in that it can shift multiple gears simultaneously. However, the XT shifter can change multiple gears, shifting into bigger cogs

and

smaller cogs, unlike Sram. It costs

$63 and weighs 117 grams.
Chain:

Finishing off the comparison is an XT chain with its Hyperglide technology, helping the transition from one cog to the next. The chain weighs

252 grams and costs $49.
A Shimano XT drivetrain will set you back $616 financially and 1,847 grams weight-wise.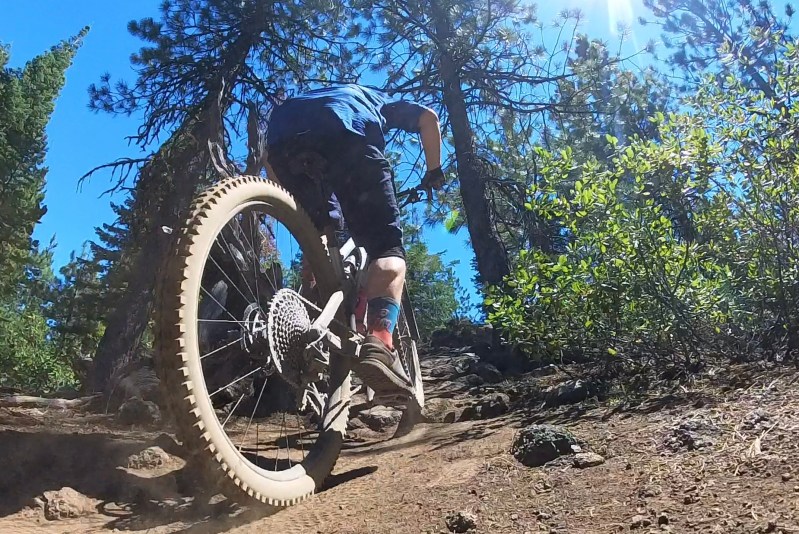 So, which is better?
As with many things in mountain biking, there really isn't a cut-and-dry answer to this question. The truth is that both Sram X01 and Shimano XT drivetrains perform phenomenally. Yes, they have their differences and quirks, but overall, having one or the other shouldn't stop you from buying a particular bike.
When it comes down to personal preference, I choose Sram. My Sram X01 drivetrain has treated me very well, thus far, and is more robust in my experience. The shifting feels cleaner and crisper, even when in between washing my bike. I have to adjust and fiddle with the Sram X01 drivetrain much less than the Shimano XT setup.
Speaking of crisp shifting, this is where Sram shines. Despite being able to shift multiple gears at once, I prefer single shifts. With Sram, the shift is clear and concise, a satisfying "click" you can both hear and feel. That "click" isn't there as much with the Shimano XT shifter. I often pushed the XT shifter a bit too far, ending up stuck between gears.
But, there is the issue of cost. Sram X01 is nearly twice the price of Shimano's XT-level drivetrain. While Shimano is almost 1 pound heavier, 1 pound gained doesn't have the same sting of nearly $600 more.
An easy way to remedy this and still get the quality ride of Sram is to drop down to the GX-level components. You may not even notice the difference between GX and X01. Mixing and matching Sram GX and X01 is a great option. GX cranks have an aluminum option, saving you hundreds.
All told, I prefer Sram's shifting feel and accuracy, even if I have to step down from the lofty X01 platform.
With either Shimano or Sram, you'll be in good shape. If it is within your budget, maybe consider the performance and weight savings of Sram X01. If you need to save a bit, Shimano XT is a high-performance option that won't break the bank.
Editors' Recommendations