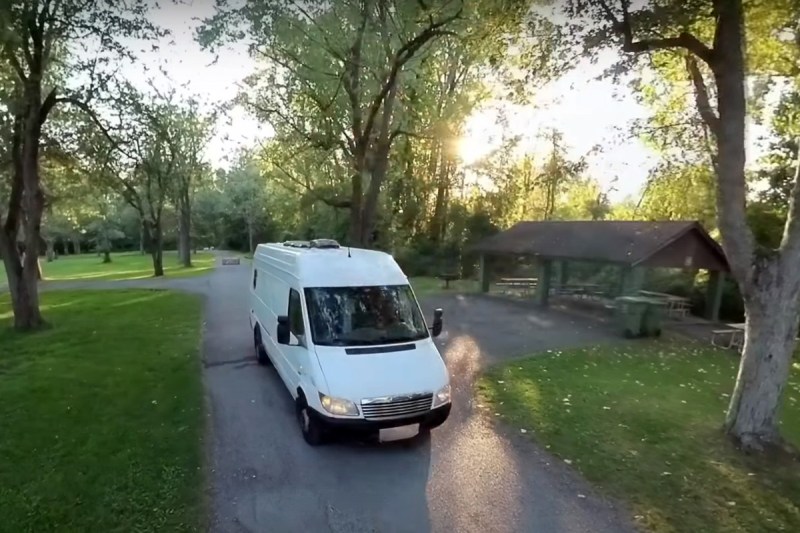 Living the van life is a dream for many. But custom vans — especially today's most full-featured, off-the-rack vans from the likes of Mercedes-Benz and Volkswagen — can easily top out north of six figures. That's why so many van lifers opt for the DIY route. If you're willing to put in a little (OK, usually a lot) of your free time and a healthy dose of manual labor, you can put together your own made-to-order conversion van, mostly on the cheap. Case in point: This Mercedes Sprinter camper van, kitted out with security cameras, a full kitchen and bathroom, and more — all for around $10K.
Last month, YouTuber DualEx (a.k.a. Sharrieff Fareed) shared his latest project van conversion, and it's a stunner. To keep costs down from the outset, the popular van customizer started with a 2004 Mercedes Sprinter van with 229,000 miles. It's a proven, time-tested platform that's built to last for several hundred thousand miles if cared for properly. Fareed also opted to keep the exterior and the cockpit almost entirely stock. It's a unique choice, and one that he purposely made to ensure this van is ready to stealth camp just about anywhere. Because it looks like any ordinary work van, it's easy to park on downtown city streets, in suburban neighborhoods, or overnight in a Walmart parking lot where no one will be the wiser.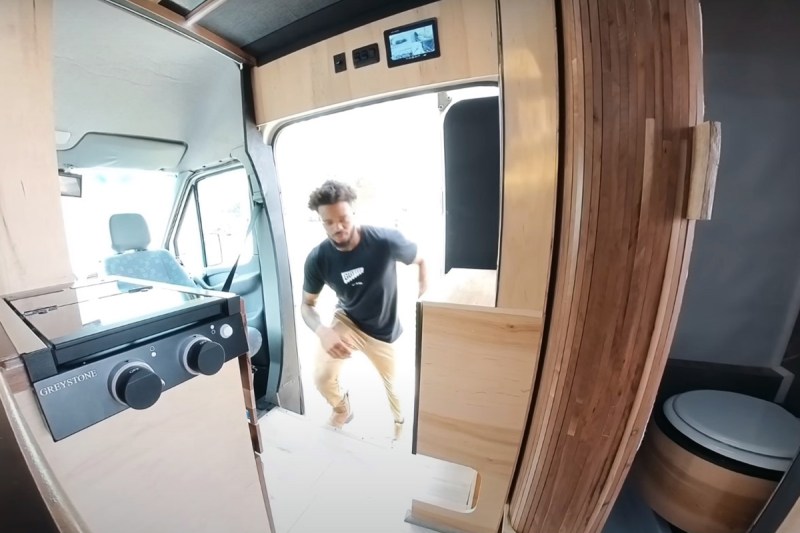 But the inside rear of this camper van is a whole other story. DualEx worked hard to ensure that every space, surface, and fixture pulls double duty. He demonstrates how the front passenger captain's chair spins a full 180 degrees to face a slide-out workstation. A pop-up cover over the desktop allows that desk to also serve as extra countertop space for the adjacent kitchen.
In the cooking area just behind the cockpit, DualEx managed to fit a fully functional kitchen, including a small sink with a drying rack and cutting board cover, a two-burner propane gas stove with a folding glass cover that works as a backsplash, and even more counter space. There's even a compact camp fridge tucked into the bottom drawer. It's all bolstered with tons of storage for pots, pans, dishes, utensils, and more.
Across from the kitchen is a sliding door that hides a full wet bath, complete with a custom-built composting toilet (again, to save money compared to an off-the-rack model). A quick-release hose connects to the kitchen water supply across "the hall" and serves double duty as the bathroom shower head.
On the tech side, Fareed spared no expense. The abundant power outlets throughout the cabin of this Mercedes Sprinter van are all powered by a beefy Bluetti 3,072Wh portable power station connected to a sizable solar panel array on the roof. A hidden TV in the rear living/bedroom slides out at the push of a button. To protect his investment (and himself), he also installed side-view cameras that provide a better all-around view on the highway and also double as security cameras when the van is parked.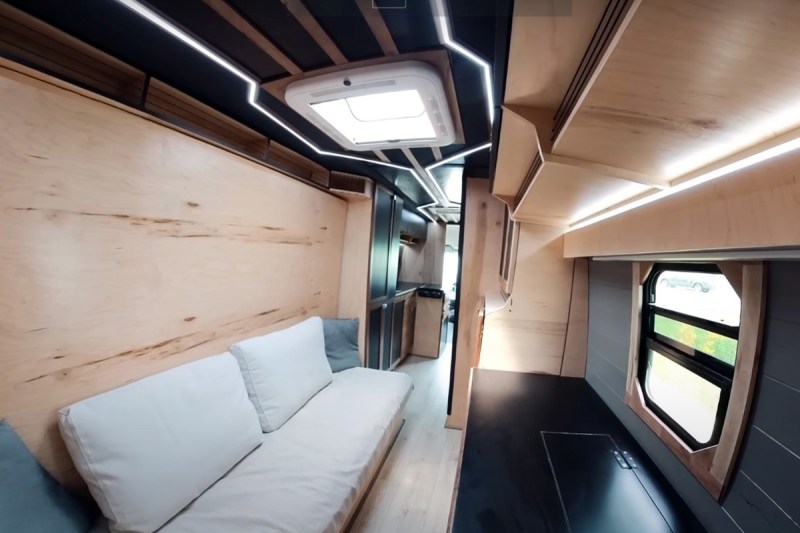 Ordinary conversion vans are rarely well-insulated. Here, Fareed proves that his is, in fact, no ordinary van. Pulling from his previous van-build experience, he decided to add 1.5 inches of foam insulation to the floor and a plywood subfloor. He also packed the ceiling and walls with 1.5 inches of batting insulation to make this a potential year-round mobile home.
The bad news is, less than a month after posting this video, Fareed had this tricked-out, budget-friendly camper van sold. So, if you were already reaching for your wallet, you're sadly out of luck on this one. But maybe he's inspired you to work on your own DIY build. Check out our tips for living comfortably out of your car (or van or SUV) and how to gear up for van life to make your time on the road easy.
Editors' Recommendations