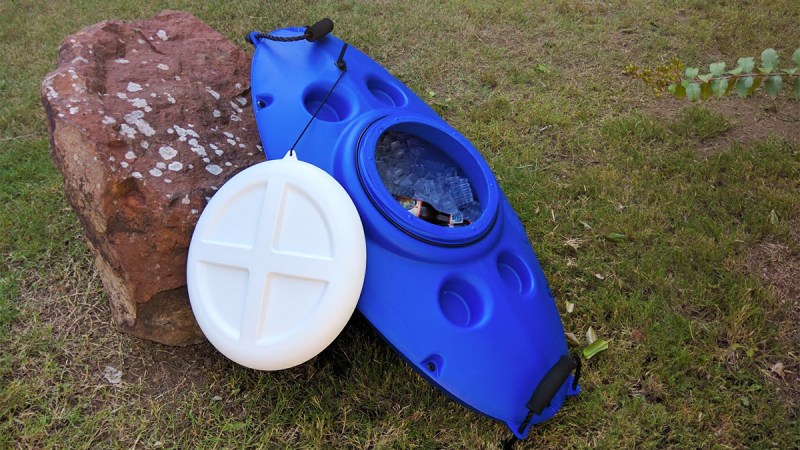 Even though we're heading into winter, allow us to take a moment to bask in one of summer's best activities: floating the river. Lazy, sunny days call for friends, your favorite rubber floater, and cold beverages (of course).
Instead of trying to pile in beers into your limited tube space, why not float a small trailer with you to keep things separate, but still within arms reach?
Enter the CreekKooler Pup. The model, which is a smaller version of their flagship design, is built with a 25-pound capacity in mind. This is enough room for 15 12-ounce cans and up to 10 lbs of ice to keep everything chilled. It's perfect for a three to four hour outing on the river.
The prototype design is fairly simple. A buoyant, kayak-like hull forms the shell for an uninsulated core that holds your favorite beverages. It has two cup holders and two handles on either side to attach to your preferred floating vessel (tubes, kayaks, paddleboards, canoes, etc.). A lid attaches to the hull and securely locks in place during transport, because nothing would be worse than losing your prized beverages on the way downstream.
It's an interesting Kickstarter project from CreekKooler that would make for a fun canoeing or kayaking accessory. The company says that typical tow lengths run three to eight feet with a nylon rope or similar shock cord. A solid carabineer is a must.
It's a tidy, compact version of the company's bigger model, which comes in at 14 pounds (unloaded) and has a capacity weight of 50 pounds (enough for a 30-pack and 12 lbs of ice). The original model also has sturdier handles and more cup holders on account of the larger capacity and weight. So far, the flagship cooler has received great reviews online and seems worthy of the mid-range investment.
The CreekKooler Pup still has a few weeks to go on its Kickstarter, which you can support by clicking here. Delivery is expected in May 2018.